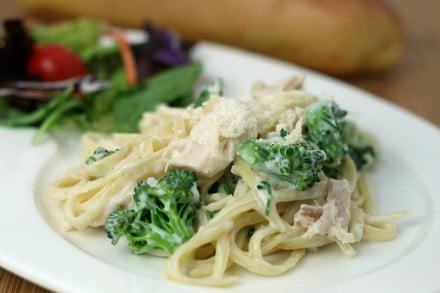 Chicken Pasta Alfredo
Ingredients:
2 Tablespoons butter
1 1/2 cups heavy cream
3/4 cup grated Parmesan cheese, divided
12-1/2 ounces can white chunk chicken breast
1 cup frozen broccoli florets, thawed
8 ounces fettuccine, cooked and drained
Directions:
1. Heat the butter and heavy cream in a 10-inch skillet over medium heat to a boil, stirring constantly.
2. Stir in 1/2 cup Parmesan cheese. Reduce the heat to low. Cook for 5 minutes.
3. Add the chicken, broccoli florets and fettuccine to the skillet and toss to coat. Heat through.
4. Sprinkle with the remaining cheese and serve immediately.
5. Serve with tossed salad and warm, crusty Italian bread.