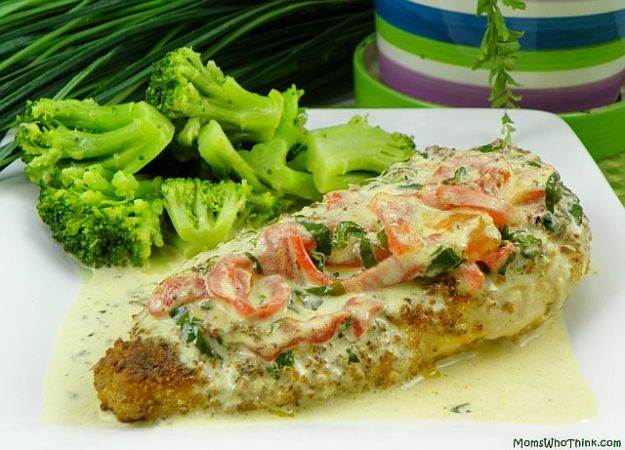 Easy Basil Cream Chicken
Stuffing
Buttered Broccoli
Let's Get Ready for Baby!
Sign up for our monthly pregnancy email series, and you'll get regular updates on your baby's development, helpful timelines to get ready for their arrival, must-have baby needs and so much more! PLUS, you'll get instant access to the MomsWhoThink "Ultimate Guide to Baby Naming in 2022."
CLICK HERE
to get started!
 
Basil Cream Chicken Ingredients:
¼ cup milk
¼ cup dry bread crumbs
4 boneless skinless chicken breast halves (4 ounces each)
3 Tablespoons butter
½ cup chicken broth
1 cup heavy whipping cream
1 jar (4 ounces) sliced pimientos, drained
½ cup grated Parmesan cheese
¼ cup minced fresh basil
⅛ teaspoon pepper
 
Directions:
 
1. Place milk and bread crumbs in separate shallow bowls.
2. Dip chicken in milk, then coat with crumbs.
3. In a skillet over medium-high heat, cook chicken in butter for about 5 minutes on each side or until a meat thermometer reads 170° Remove and keep warm.
4. Add broth to the skillet. Bring to a boil over medium heat; stir to loosen browned bits.
5. Stir in the cream and pimientos; boil and stir for 1 minute. Reduce heat.
6. Add Parmesan cheese, basil and pepper; cook and stir until heated through. Serve with chicken.
7. Serve chicken with stuffing (Stove Top or other packaged brand) and broccoli.