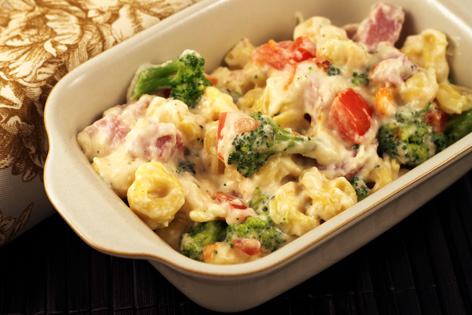 Creamy Tortellini and Ham
Ingredients:
1 package (9 ounces) refrigerated cheese tortellini
1 cup chopped fresh broccoli
¼ cup reduced-fat butter, cubed
¼ cup all-purpose flour
¾ cup fat-free milk
¼ cup half-and-half cream
1½ cups cubed fully cooked lean ham
4 ounces reduced-fat cream cheese, cubed
½ cup grated Parmesan cheese
1 teaspoon dried basil
½ teaspoon garlic powder
¼ teaspoon freshly ground black pepper
1 medium tomato, seeded and chopped
Directions:
1. In a large saucepan, cook tortellini according to package directions, adding the broccoli during the last 5 minutes of cooking.
2. Meanwhile, in a large nonstick skillet over medium heat, melt butter. Stir in flour until smooth; gradually add milk and cream. Bring to a boil; cook and stir for 1 minute or until thickened.
3. Add the ham, cheeses, basil, garlic powder and pepper; cook and stir until cream cheese is melted.
4. Stir in tomato. Drain tortellini mixture; add to the pan and heat through.
Serves 6
Serving size: ¾ cup mixture
Per serving
Calories 334
Fat 16g
Saturated 9g
Cholesterol 66mg
Sodium 865mg
Carb 29g
Fiber 2g
Protein 19g
Try one of our fan-favorite Healthy Meals: