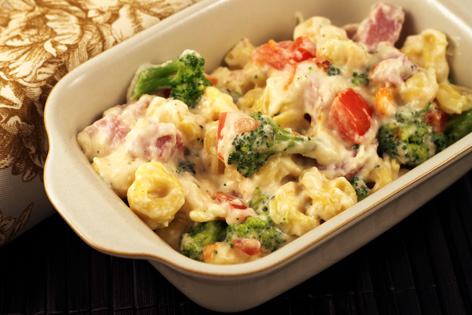 Creamy Tortellini and Ham
Let's Get Ready for Baby!
Sign up for our monthly pregnancy email series, and you'll get regular updates on your baby's development, helpful timelines to get ready for their arrival, must-have baby needs and so much more! PLUS, you'll get instant access to the MomsWhoThink "Ultimate Guide to Baby Naming in 2022."
CLICK HERE
to get started!
Ingredients:
1 package (9 ounces) refrigerated cheese tortellini
1 cup chopped fresh broccoli
¼ cup reduced-fat butter, cubed
¼ cup all-purpose flour
¾ cup fat-free milk
¼ cup half-and-half cream
1½ cups cubed fully cooked lean ham
4 ounces reduced-fat cream cheese, cubed
½ cup grated Parmesan cheese
1 teaspoon dried basil
½ teaspoon garlic powder
¼ teaspoon freshly ground black pepper
1 medium tomato, seeded and chopped
Directions:
1. In a large saucepan, cook tortellini according to package directions, adding the broccoli during the last 5 minutes of cooking.
2. Meanwhile, in a large nonstick skillet over medium heat, melt butter. Stir in flour until smooth; gradually add milk and cream. Bring to a boil; cook and stir for 1 minute or until thickened.
3. Add the ham, cheeses, basil, garlic powder and pepper; cook and stir until cream cheese is melted.
4. Stir in tomato. Drain tortellini mixture; add to the pan and heat through.
Serves 6
Serving size: ¾ cup mixture
Per serving
Calories 334
Fat 16g
Saturated 9g
Cholesterol 66mg
Sodium 865mg
Carb 29g
Fiber 2g
Protein 19g
Try one of our fan-favorite Healthy Meals: