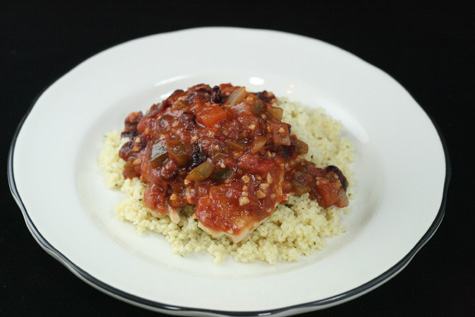 Cranberry Salsa Chicken Breasts
Cranberries and salsa mingled together over chicken give it a flavor that rivals a traditional Thanksgiving turkey dinner. Couscous is the surprise element in this meal, replacing tired old stuffing or potatoes.
While we all know chicken is good for us, and it's something we should eat more of (instead of quickie take-out food), it can get boring. The key to serving chicken is to keep it adventurous and interesting…this recipe fits the bill.
Cranberry Salsa Chicken Breast
Ingredients:
4 boneless skinless chicken breasts halves (4 oz. each)
1 Tablespoon olive oil
1 16 ounce jar chunky salsa
1 cup dried cranberries
1/4 cup water
1 Tablespoon honey
2 garlic cloves, minced
3/4 teaspoon ground cinnamon
1/2 teaspoon ground cumin
2 cups hot cooked couscous
Directions:
1. In a large non-stick skillet, saute chicken in oil until browned on both sides.
2. In a small bowl, combine the salsa, cranberries, water, honey, garlic, cinnamon and cumin. Mix well and pour over chicken.
3. Cover and cook over medium-low heat for 10-15 minutes or until chicken juices run clear.
4. Serve over couscous.
You might also like: