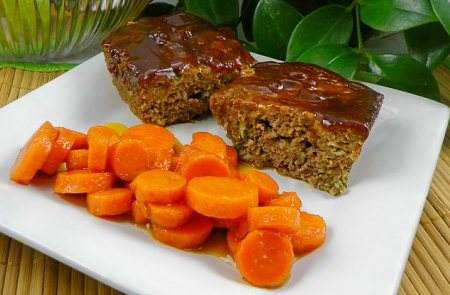 Mini Meat Loaves with Brown Sugar Glazed Carrots
Meat Loaf Ingredients:
2/3 cup finely crushed saltine crackers
¼ cup milk
1/3 cup minced fresh parsley
3 Tablespoons Worcestershire sauce
1 large egg
1½ Tablespoons Dijon mustard
1 teaspoon onion powder
1 teaspoon garlic powder
Salt and pepper
1½ pounds ground beef or ground meat loaf mix
2 teaspoons vegetable oil
½ cup ketchup
¼ cup packed light brown sugar
4 teaspoons cider vinegar
Meat Loaf Directions:
1. Preheat oven to 500 degrees F.
2. Stir cracker crumbs, Belk, parsley, Worcestershire sauce, egg, mustard, onion powder, garlic powder, 1 teaspoon salt, and ½ teaspoon pepper together in a large bowl.
3. Add meat loaf mix or ground beef, combine until well blended.
4. Divide meat mixture into four portions. Form oval-shaped loaves from each portion.
5. Heat oil in 12 inch nonstick oven safe skillet over medium-high heat. Brown meat loaves well on one side, 3 to 5 minutes.
6. Carefully flip the loaves over, brown on other side.
7. While meat loaves are browning, mix ketchup, brown sugar, and vinegar in a bowl until smooth.
8. Spoon this mixture on top of meat loaves after they have been flipped over.
9. Transfer skillet to oven, bake until centers of loaves are no longer pink (about 15 minutes). Makes 4 servings.
While meat loaf is baking prepare brown sugar glazed carrots.
Brown Sugar Glazed Carrots Ingredients:
1 pound carrots, sliced ¼ inch thick
½ cup chicken broth
3 Tablespoons sugar
salt and pepper
1 Tablespoon unsalted butter
2 teaspoons lemon Juice
Brown Sugar Glazed Carrots Directions:
1. Bring carrots, broth, 1 Tablespoon brown sugar, and ½ teaspoon salt to simmer, covered, in a 12 inch nonstick skillet over medium-high heat.
2. Reduce heat to medium and cook until carrots are almost tender (about 5 minutes).
3. Uncover, increase heat to high, and simmer rapidly until liquid is reduced to about 2 Tablespoons, 1 to 2 minutes.
4. Stir butter and remaining 2 Tablespoons brown sugar into skillet and continue to cook, stirring frequently, until carrots are completely tender (about 3 minutes).
5. Remove from heat, stir in lemon juice and mix well. Season with salt and pepper to taste. Makes 4 servings.
Try one of our favorite 30 Minute Meals: