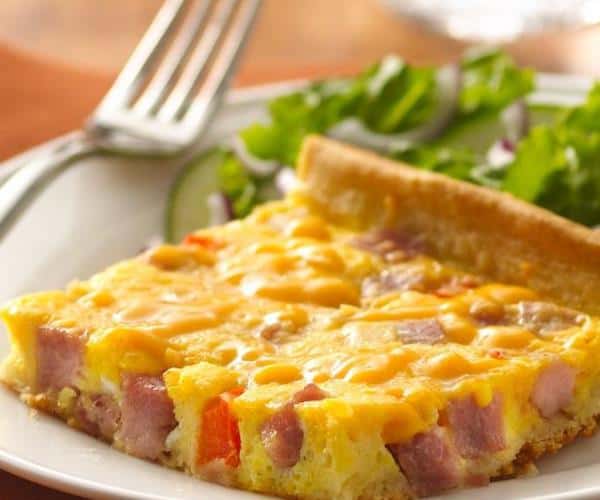 Ham and Egg Pizza
Home Fried Potatoes
Breakfast for dinner gets even easier when you can eat your eggs with your hands. Add a side dish of southern-diner-worthy home fries and you have a dinner everyone will love.
Ham and Egg Pizza Ingredients:
1 can (8 oz) refrigerated crescent dinner rolls
6 eggs
1 cup diced cooked ham
1/2 cup chopped red bell pepper
1 1/2 cups shredded cheddar cheese or Colby-Monterey Jack cheese blend (6 oz)
Directions:
1. Heat oven to 375°F. Unroll dough, and press into bottom and 1 inch up sides of ungreased 13×9-inch (3-quart) glass baking dish. Press perforations to seal. Prick all over with fork.
2. Bake 7 to 9 minutes or until dough is set but not browned.
3. In medium bowl, beat eggs; pour into dough-lined pan. Top with ham, bell pepper and cheese.
4. Bake 17 to 22 minutes longer or until eggs are set and crust browns. Serve with Home Fried Potatoes.
 
Home Fried Potatoes Ingredients:
4 red potatoes
1 Tablespoon olive oil
1 onion, chopped
1 green bell pepper, seeded and chopped
2 Tablespoons olive oil
1 teaspoon salt
¾ teaspoon paprika
¼ teaspoon ground black pepper
¼ cup chopped fresh parsley
 
Directions:
 
1. Bring a large pot of salted water to a boil.
2. Add potatoes and cook until tender but still firm, about 15 minutes.
3. Drain, cool cut into ½ inch cubes.
4. In a large skillet, heat 1 Tablespoon olive oil over medium high heat. Add onion and green pepper.
5. Cook, stirring often, until soft; about 5 minutes.
6. Transfer to a plate and set aside.
7. Pour remaining 2 Tablespoons of oil into the skillet and turn heat to medium-high.
8. Add potato cubes, salt, paprika and black pepper.
9. Cook, stirring occasionally, until potatoes are browned; about 10 minutes.
10. Stir in the onions, green peppers and parsley and cook for another minute.