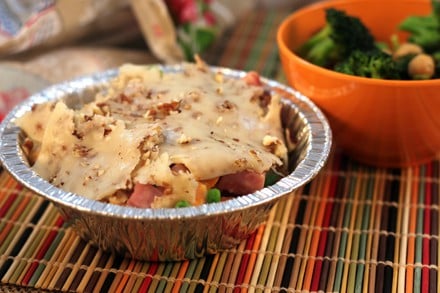 Ham and Sweet Potato Pot Pies
Pan Roasted Broccoli and Chickpeas
Let's Get Ready for Baby!
Sign up for our monthly pregnancy email series, and you'll get regular updates on your baby's development, helpful timelines to get ready for their arrival, must-have baby needs and so much more! PLUS, you'll get instant access to the MomsWhoThink "Ultimate Guide to Baby Naming in 2022."
CLICK HERE
to get started!
Ham and Sweet Potato Pot Pies Ingredients:
1 cup chopped onion
2 cups peeled, cubed sweet potatoes
1 cup chicken broth, divided
½ cup all-purpose flour
1 cup skim milk
2 cups cubed, cooked lean ham
⅓ cup frozen peas
1 9-inch refrigerated pie crust
⅓ cup chopped pecans
Supplies needed:
6 foil pot pie pans
Directions:
1. In a large nonstick pot coated with nonstick cooking spray, sauté the onion over medium heat for 5 minutes.
2. Add sweet potatoes and ⅔ cup broth. Bring mixture to a boil and simmer over medium heat for 10 minutes or until sweet potatoes are tender.  
3. Add flour, stirring. Gradually add milk and remaining broth, stirring until well combined.
4. Add ham and peas, and bring mixture to a boil. Remove from heat and transfer mixture to pot pie dishes coated with nonstick cooking spray.  
5. Unfold crust and sprinkle pecans on top. Fold the crust in half, and roll with a rolling pin, pressing pecans into the crust until it is big enough to cut into 6 circles to cover pies.
6. Cut into 6 circles and lay over top of pies.
7. To prepare and eat now, preheat the oven to 350°F. Bake for 25 to 30 minutes or until the crust is brown.
Makes 6 pot pies
To freeze:
Do not bake before freezing. Cool to room temperature, wrap, label, and freeze. Freeze up to 1 month.
Label:
Remove from freezer to defrost. Bake at 350°F for 30 to 40 minutes or until the crust is brown and mixture is heated through. If crust browns too quickly, cover with foil.
Nutritional facts:
Calories 302
Fat 10g
Cholesterol 81mg
Sodium 787mg
Carbohydrate 18g
Fiber 2g
Protein 34g
Diabetic Exchanges: 4 lean meat, 1 starch
Pan-Roasted Broccoli and Chickpeas Ingredients:
5 teaspoons olive oil
1 bunch broccoli (about 1½ pounds), florets cut into bite-sized pieces, stems peeled and sliced ¼ inch thick on the bias
3 tablespoons water
1 cup rinsed canned chickpeas
1 teaspoon minced garlic
2 tablespoons minced fresh parsley
1 tablespoon fresh lemon juice
Salt and pepper
Directions:
1. Heat 2 teaspoons of the oil in a 12-inch nonstick skillet over medium-high heat until just smoking.
2. Add the broccoli stems and cook, without stirring, until they are browned on the bottoms, about 2 minutes.
3. Stir in the florets and cook, without stirring, until the florets begin to brown on the bottom, 1 to 2 minutes.
4. Add the water, cover, and cook until the broccoli is bright green but still crisp, about 2 minutes. Uncover and chickpeas and garlic to the skillet. Continue to cook until the water has evaporated and the broccoli is just tender about 2 minutes.
5. Off the heat, stir in the parsley, lemon juice, and remaining 1 tablespoon olive oil. Season with salt and pepper to taste and serve.
Yield: 6 servings, ¾ cup serving
Nutritional facts:
Calories 110
Fat 4.5g
Cholesterol 0mg
Sodium 170mg
Carbohydrate 14g
Fiber 5g
Protein 5g