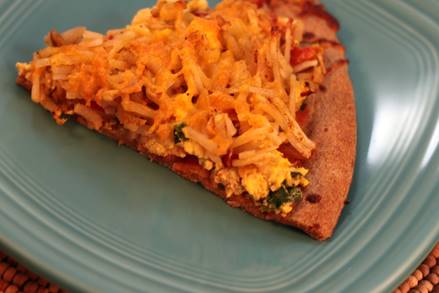 Southwest Breakfast Pizza
Let's Get Ready for Baby!
Sign up for our monthly pregnancy email series, and you'll get regular updates on your baby's development, helpful timelines to get ready for their arrival, must-have baby needs and so much more! PLUS, you'll get instant access to the MomsWhoThink "Ultimate Guide to Baby Naming in 2022."
CLICK HERE
to get started!
Ingredients:
2 cups frozen shredded hash brown potatoes
¼ teaspoon ground cumin
¼ teaspoon chili powder
2 tablespoons canola, divided
1 cup egg substitute
2 tablespoons fat-free milk
¼ teaspoon salt
2 green onions, chopped
2 tablespoons diced sweet red pepper
1 tablespoon finely chopped jalapeno pepper
1 garlic clove, minced
1 prebaked Italian bread shell crust (16 ounces)
½ cup salsa
¾ cup shredded reduced-fat cheddar cheese
Directions:
1. In a nonstick skillet, cook hash browns, cumin, and chili powder in 1 tablespoon oil over medium heat until golden. Remove from skillet and keep warm. Set skillet aside for later.
2. In a bowl, beat egg substitute, milk, and salt; set aside.
3. In the same skillet, sauté the onions, peppers, and garlic in remaining oil until tender.
4. Add egg mixture to skillet. Cook and stir over medium heat until almost set. Remove from heat.
5. Place crust an ungreased 14 inch pizza pan. Spread salsa over crust. Top with egg mixture. Sprinkle with hash browns and cheese. Bake at 375°F for 8 to 10 minutes or until cheese is melted.
Serves 6
Per serving
Calories 375
Total Fat 12g
Sat 2g
Protein 19g
Carb 50g
Fiber 1g
Cholesterol 10mg
Sodium 748mg
Diabetic Exchanges: 3 starch, 2 fat, 1 lean meat