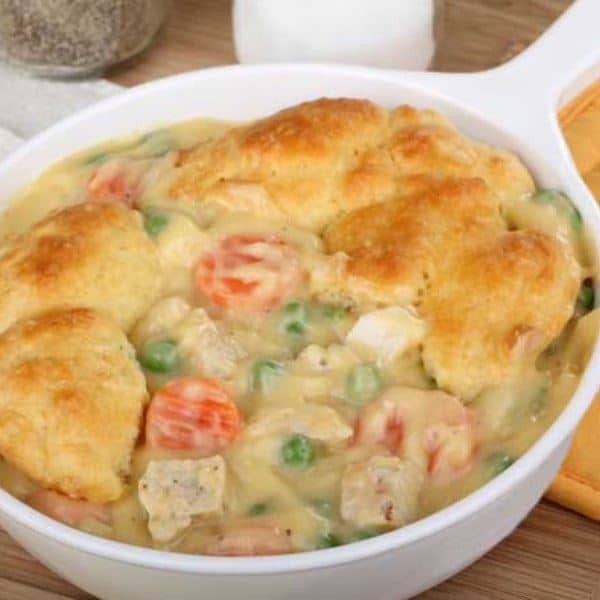 Chicken with Garlic Cheese Biscuits
Garlic cheese biscuits are always a restaurant bread basket favorite, but using them in this recipe makes a chicken filled, creamy, hearty main dish with all the comfort of homemade pot pie but much easier (and tastier).
Ingredients:
2 cans (5 oz each) chicken or tuna in water, drained, flaked
1 can (103/4 oz.) condensed cream of chicken or cream of mushroom soup
1½ cups frozen mixed vegetables, thawed, drained
⅔ cup milk
1¼ cups Bisquick
⅓ cup shredded Cheddar cheese
½ cup milk
2 Tablespoons butter or margarine, melted
⅛ teaspoon garlic powder
 
Directions:
 
1. Heat oven to 425 degrees F. In ungreased 2-quart casserole, mix chicken or tuna, soup, vegetables and ⅔ cup milk.
2. Bake uncovered 20 minutes.
3. In medium bowl, stir Bisquick mix, cheese and ½ cup milk until soft dough forms.
4. Drop dough by 6 spoonfuls onto hot chicken or tuna mixture.
5. Bake uncovered 10 to 12 minutes or until biscuits are golden brown.
6. Mix butter and garlic powder; brush over warm biscuits.