[addtoany]

Spaghetti makes for a great staple at every meal. It is filling, it can give you energy and it is extremely versatile. You can serve it with almost anything and add any type of sauce to give your meals a variety of flavors sure to please even the fussiest of eaters.
If you like to experiment with your pasta dishes, one meal you will want to try is baked spaghetti. It is a rich type of Italian pasta casserole that is a bit like lasagna. The spaghetti noodles work together to create a layer that can substitute for lasagna noodles and meat and cheese are then added. The smaller noodles allow for the taste of the pasta, sauce, cheese, and meat to come through in every bite.
Spaghetti is a staple food in Italian cuisine. It is made of milled wheat and water and it is sometimes enriched with other vitamins and minerals. Authentic Italian spaghetti is made using durum wheat semolina, but it may be made using other kinds of flour as well.
Spaghetti can be traced back to Talmud in 5th century AD. This was the first mention of uncooked pasta that can be eaten once it is boiled. It is believed that Sicily was responsible for working it into the long, thin form we are familiar with today.
As time went on, spaghetti factories began to pop up allowing the food to become mass-produced. This, along with the pasta's versatility and terrific taste are the main reasons why it has grown in popularity throughout Italy and the United States.
Spaghetti Casserole
Of course, the spaghetti bake, our version of the spaghetti casserole, is just one of the many variations that can be created. If you are thinking of making a spaghetti dish in your home, here are some you may want to consider.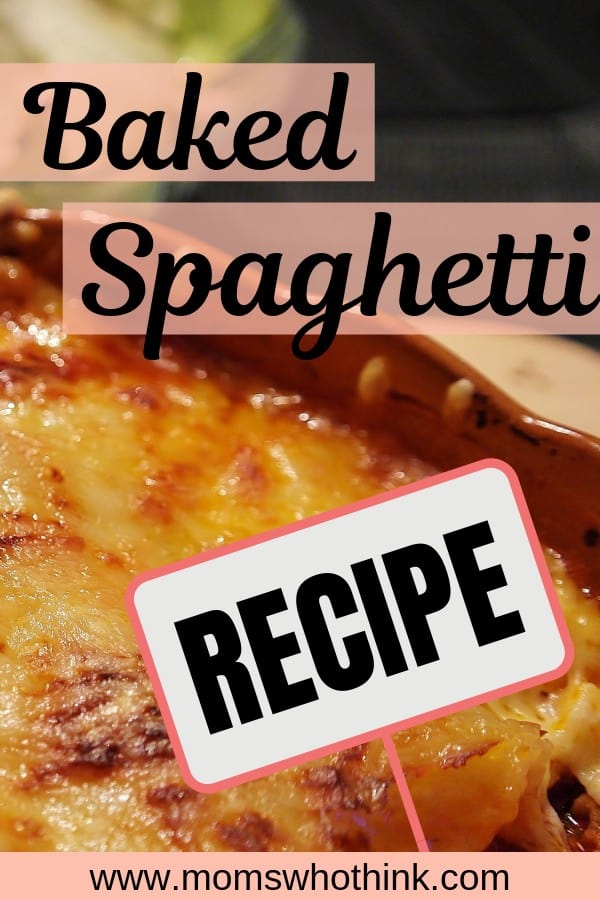 Skinny Baked Spaghetti: This is a lighter version of our baked spaghetti which features whole-grain spaghetti, low-fat cheese, ground turkey instead of ground meat and plenty of vegetables.
Two Cheese Two Meat Baked Spaghetti and Meatballs: This dish features both mozzarella and parmesan cheese as well as ground beef and ground turkey. The spaghetti makes up both the top and bottom layers and meat and cheese are added in the middle.
Spaghetti Squash: Another healthy variation is to serve the ingredients inside the squash. Simply carve out one side of the squash to make room for your meat, cheese and pasta mixture.
Pasta Frittata Muffins: This is a great way to use leftover pasta and it can even be served for breakfast. Eggs are mixed with the pasta to form a great little cup which can then be filled with meat, cheese, and other choice ingredients.
Spaghetti Sauce
If you're making an Italian dish, many will argue that the sauce is the most important ingredient. Though some may just buy sauce from the grocery store, a homemade sauce can elevate your dish taking it to the next level.
If you are making a homemade spaghetti sauce for your baked spaghetti, here are some great tips.
Some may make tomato sauce using canned sauce and paste and add in their own ingredients. This can be a way to make some tasty sauce, but to really get that authentic taste, you can make it using fresh tomatoes.
You can use any variety of ingredients to create a taste that is pleasing to you, but a preferred recipe will include onion and carrot along with great seasonings like basil, oregano, garlic, thyme, bay leaves, parsley, sea salt, and honey.
All ingredients should be sautéed and left to simmer so that the flavors can really absorb and make a perfect consistency. Then serve to take your meal to the next level.
Many chefs will not want to take this extra step of preparing tomato sauce from scratch. However, the preparation does not take long. On the other hand, because the sauce needs a lot of time to simmer, the whole process can take up to an hour.
So, while preparing homemade spaghetti sauce can be time-consuming, it also provides that extra deliciousness to the dish that lets everyone know the recipe was made with love.
The baked spaghetti recipe we are providing is one that we feel will make the perfect meal. It starts with a layer of spaghetti. Ground beef is added as well as a three cheese blend that consists of parmesan, ricotta, and mozzarella. Another layer of spaghetti is added for a meal that your entire family is sure to love.
Serve with warm garlic bread and a light salad to take your dinnertime to the next level.
If you enjoyed this recipe, make sure to check out our Baked Rigatoni with Sausage Recipe and our Broccoli Ricotta Mozzarella Stuffed Shells Recipe.

Print
Baked Spaghetti
---
Author:

Total Time:

45 minutes
Description
Baked spaghetti is a richer type of Italian pasta casserole. Similar to lasagna but with smaller noodles so every bit of sauce and cheese is included in each bite you take of this family favorite meal.
---
1

(8 ounce) package spaghetti, cooked

2 Tablespoons

butter

1 cup

grated Parmesan cheese, divided

1

(24 ounce) carton ricotta cheese OR cottage cheese

1

pound ground beef

1

(25.75 ounce) jar Italian-Style spaghetti sauce

1

(8 ounce) package shredded mozzarella cheese
---
Instructions
Preheat oven to 400 degrees F.

Line a 13x9x2-inch baking pan with aluminum foil. Spray with non-stick cooking spray (coat well).

Combine hot cooked spaghetti with butter; stir until butter melts and coats spaghetti.

Add ½ cup Parmesan cheese; stir to coat. Arrange spaghetti in an even layer in foil-lined pan.

Spread ricotta cheese over spaghetti. Sprinkle with ¼ cup Parmesan cheese.

Brown ground beef, drain; add pasta sauce and heat until bubbly. Spoon over cheeses.

Top with mozzarella cheese and remaining Parmesan cheese.

Cover with foil. Bake 30 minutes.

Remove foil cover and continue baking 15 minutes or until cheese is lightly browned. Let stand 10 minutes before serving. Serve with tossed salad and warm Italian bread.
Prep Time:

15 Minutes

Cook Time:

30 Minutes

Category:

Main Course

Method:

Baking

Cuisine:

Italian
Keywords: spaghetti casserole, spaghetti sauce