Mmmm, who doesn't love a nice, hot dish of lasagna? Hearty and cheesy, this meal can be made in many ways so it's sure to please a wide variety of taste buds.
Although most associate the dish with Italian cuisine, lasagna did not originate in Italy. Rather it is Greek in origin. The word is derived from the Greek word laganon which was the first known form of pasta. It was not made with traditional ingredients, but it was composed of layers of pasta and sauce.
Since then the dish has been perfected in many cultures. Though Italians would like to stake claim to creating the best recipes, Britain is also a strong competitor as a British cookbook was found with a lasagna recipe that dates back to the 1390s.
Best Lasagna Recipes
There are so many different types of lasagna recipes you can choose from. You can use different types of sauces like tomato or white. Cheese can be mozzarella, ricotta, or even American.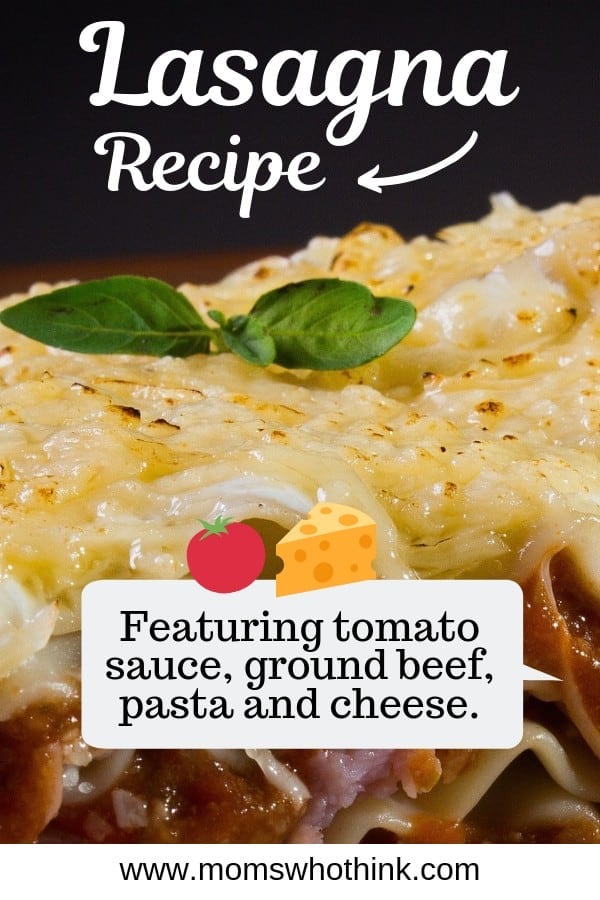 And when it comes to fillings, the possibilities are endless. Chicken can be used, or you can substitute meat for vegetables to suit vegetarians and vegan diners. Pasta can be whole wheat, gluten-free or you can even use tacos for a Mexican spin on the dish. Some ultra-traditional lasagnas were made with pesto rather than tomato sauces!
Although there is no accounting for tastes, there are certain things you can do to ensure your lasagna will be the best it possibly can be. For one, you can make your own pasta. That way you can be sure your pasta has exactly the right thickness and the perfect blend of ingredients.
Using the right pan is also important. Some like to use a narrow bread loaf pan which makes the lasagna thinner and taller. The smaller surface area can help to make the lasagna moister.
Lasagna is a great way to make the most of your leftovers and many say that using leftover meat is even better than making it fresh! Leftover ribs are highly recommended as their taste actually improves after sitting in the fridge for 2-3 days.
For best results, add the meat directly to the sauce so it can absorb the flavor.
Another way to improve your lasagna is to thicken the ricotta before adding it. You can do this by lining a colander with a clean cloth and pouring the ricotta into it. Allow it to drain for a few hours stirring every so often. This will help the water escape to make it hold together better and provide a rich creamy taste once it's cooked.
You can also add lemon juice or salt to the ricotta while it's thickening to give it an extra bite. You can add different cheeses to enhance the flavor but avoid adding too much or your cheese will be stringy. 
Home Made Lasagna
Lasagna can be delicious when eaten at a restaurant, but there is something about homemade lasagna that really takes it to the next level.
Making lasagna at home allows you to create a dish that is customized to the tastes of your family. You can add the ingredients you love, allow for dietary restrictions, and more.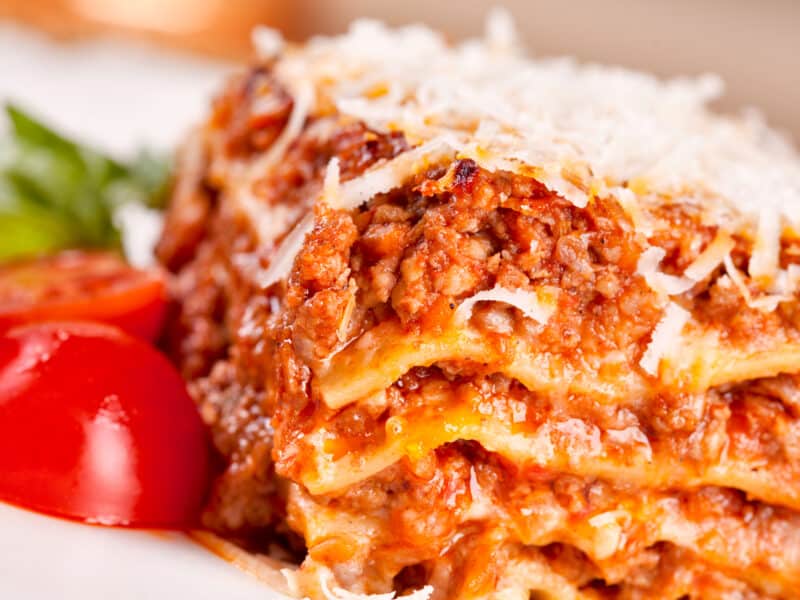 It is also a great recipe to make with those you love. Are the kids home from school and bored? Have a loved one visiting from out of town? No matter what your situation may be, cooking is a great way to bond and spend some time together. You can also learn each other's recipes and cooking tips.
A great big pan of lasagna can feed your family for days. If you make some at home, you are sure to have enough for dinner, and maybe a few snacks and lunches as well.
Another great thing about making your lasagna at home is the lack of portion control. So, go ahead and make a nice big pan and take a slice that's as big as you want! If you can't finish it, you can always do so at tomorrow's lunch! But perhaps the best thing about making homemade lasagna is that it is guaranteed to always be made with love!
Our recipe is for a basic lasagna featuring tomato sauce, ground beef, pasta, and cheese. Although lasagna is typically a bit more complicated to make as compared to some other dishes, it is well worth it because it just tastes so delicious!
The use of cheese, ricotta, and mozzarella makes for rich, gooey irresistible goodness. The classic trio of garlic, oregano, and basil found throughout Italian cuisine and in this lasagna recipe, plays a major role as well.
This is the perfect lasagna recipe that will please even the pickiest eaters time after time. Enjoy!
Print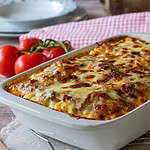 Lasagna Recipe
---
Author:

Total Time:

70 Minutes
Description
Our recipe is for a basic lasagna featuring tomato sauce, ground beef, pasta and cheese.
---
16

pieces (about

16 oz

.) lasagna noodles, uncooked

1

pound ground beef

1

jar (about

28 oz

.) spaghetti sauce

1/2 cup

water

16 ounces

ricotta cheese

2 cups

shredded mozzarella cheese, divided

1/4 cup

grated Parmesan cheese

2

eggs

2 teaspoons

chopped oregano

2 teaspoons

chopped basil

1 teaspoon

salt

1/2 teaspoon

garlic powder

1/4 teaspoon

ground black pepper
---
Instructions
In large skillet, brown meat; drain.
Stir in spaghetti sauce and water; simmer 10 minutes.
Cook pasta according to package directions; drain. Lay flat on foil to cool.
Heat oven to 350°F.
In large bowl, stir together ricotta cheese, 1-1/2 cups mozzarella cheese, Parmesan cheese, eggs, oregano, basil, garlic, salt and pepper.
Spread about 1/3 cup meat sauce on bottom of 13 x 9 glass baking dish. Arrange 4 pasta pieces lengthwise over sauce, overlapping edges. Spread one-third cheese mixture over pasta; spread with about 3/4 cup meat sauce.
Repeat layers, beginning and ending with pasta. Top with remaining meat sauce; sprinkle with remaining 1/2 cup mozzarella cheese and additional Parmesan cheese, if desired.
Cover with foil. Bake 45 minutes or until hot and bubbly. Remove foil; bake about 10 minutes longer, or until lightly browned. Let stand 10 minutes before cutting.
Prep Time:

25 Minutes

Cook Time:

45 Minutes

Category:

Main Course

Method:

Baking

Cuisine:

Italian
Keywords: best lasagna recipe, homemade lasagna
The image featured at the top of this post is ©Bru-nO / Pixabay.