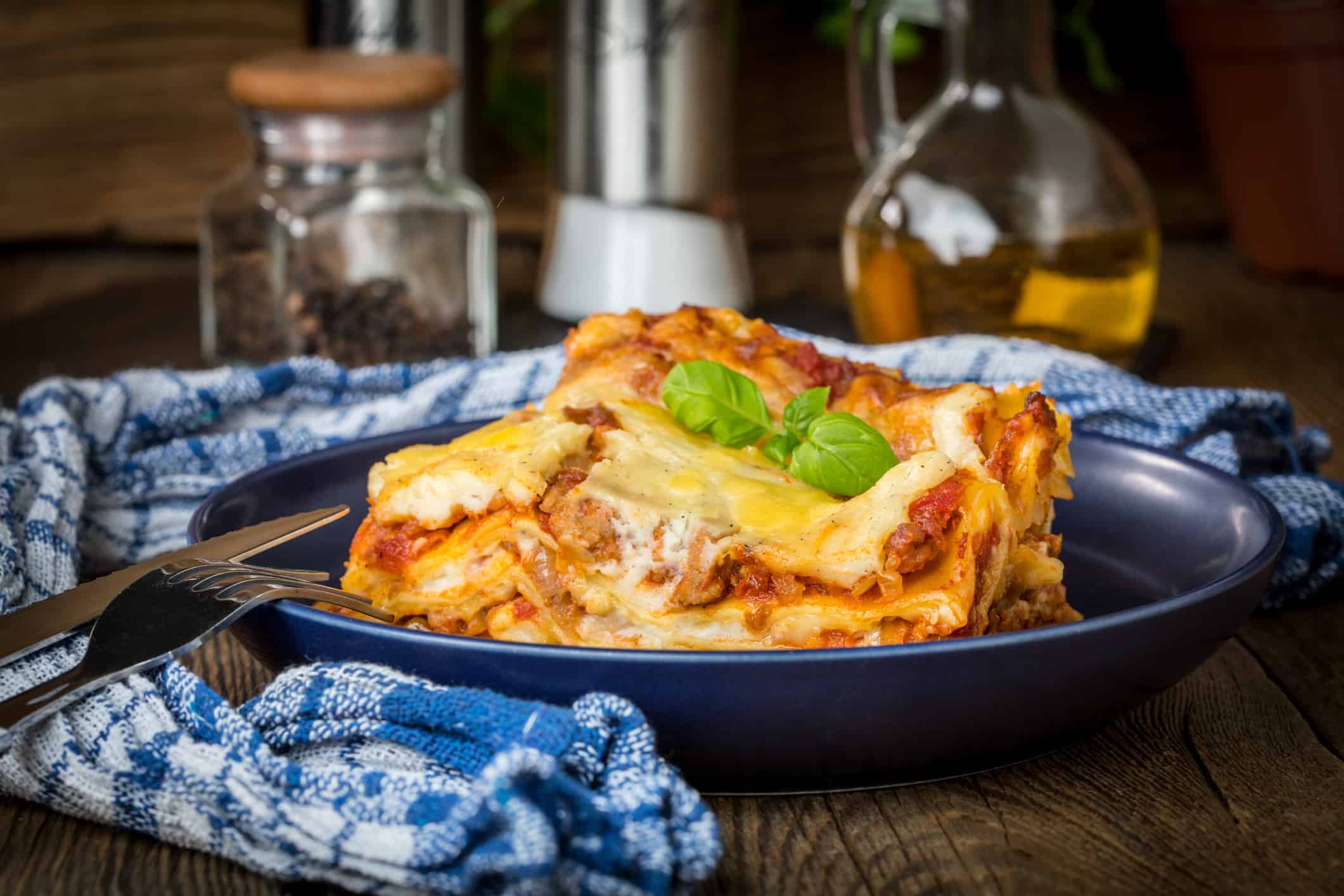 [addtoany]
Nothing says Italian food quite like Bolognese lasagna. The recipe gets its name from the Bologna region of Italy and this one stays pretty close to the original. In Italy, Bolognese lasagna is a classic choice for Sunday dinner or a special occasion.
Today, this recipe is popular all around the world, thanks to its hearty and complex flavors. It's perfect for serving to company or for Sunday dinner for your own family. Learning how to make traditional Bolognese lasagna isn't hard.
Traditional Bolognese lasagna is a time-consuming recipe to make. But this saves time over other Bolognese lasagna recipes because you don't have to spend hours simmering the sauce. It's not a 15-minute meal from kitchen to table, but it still makes a company-worthy dish in a shorter period of time.
Lasagna with Bolognese Sauce
One of the real secrets of this recipe is the blend of three types of meat. Using a mixture of beef, pork, and veal adds richness and depth to the dish. The three types of meat are what really makes this dish stand out.
But because of the variety of meats included, you can't tell that the dish is otherwise incredibly easy to make. Jarred vodka pasta sauce is a step above basic spaghetti sauce. Using the no-boil noodles makes the recipe come together even faster.
Adding whole milk ricotta cheese and Italian blend cheese adds even more depth and richness to this version of traditional Bolognese lasagna. It will taste like you spent all day slaving over a hot stove, but no one will ever know how quickly and easily you made it.
Traditional Bolognese Lasagna
Making traditional Bolognese lasagna is an all-day affair. You start it in the morning, simmering bones to make the meat sauce, or gravy, as the Italians call it. You also use fresh San Marzano tomatoes, straining and stewing them. And because it's Italy, of course, they add some wine to the sauce. Some Italians even make their own pasta from eggs and flour for their lasagna.
In Italy, different regions have their own variations on Bolognese lasagna, too. In Sicily, they make it "alla Norma," which means that they add grated eggplant. In the mountain areas of Italy, they add mushrooms to Bolognese sauce. Other regions use pesto, add chicken, or include spices like cloves.
Because there are so many variations on this recipe even in Italy where it comes from, that gives you some freedom. Play around with the recipe if you're feeling creative or have a little bit of extra time. Try adding a couple of cloves of garlic if your family likes it. To make it extra authentic (and sneak in some veggies to your family), add some grated zucchini or eggplant or diced celery.
The best thing about this recipe—besides the deliciously rich taste—may be the fact that it's a complete meal in itself. You don't have to worry about making side dishes for your family to feel full and satisfied. Of course, you can serve it with a side salad or breadsticks if you want to offer more variety.
Another great thing about this recipe is that you can prepare it in advance and freeze it. Whether you serve it to your family later or take it to a friend as part of a meal train, it will be easy to just throw it in the oven.
Not everybody loves eating leftovers, but Bolognese lasagna is sure to be the exception. Lasagna reheats well and tastes nearly as good as the first time around. Keep this recipe in your personal file of go-to meals that are always special.
If you enjoyed this recipe, make sure to check out our Easy Bacon and Tomato Pasta Recipe and our Broccoli Ricotta Mozzarella Stuffed Shells Recipe.
Print
Classic Bolognese Lasagna
---
Author:

Total Time:

33 minute
1

pound ground meatloaf mix (ground pork, veal and beef)

1 cup

finely chopped onion

1 cup

grated carrots

24 ounces

vodka pasta sauce

6

no-boil lasagna noodles (1/2 of an

8 ounces

packages) or 6 long lasagna noodles

2 cups

whole milk ricotta cheese

2 cups

shredded italian blend cheese
---
Instructions
1. Preheated oven to 375°F.
2. Cook meat in a large skillet with onion and carrots until no longer pink, stirring frequently; drain. Stir in pasta sauce; simmer 5 minutes.
3. Spoon 1-1/2 cups meat sauce onto bottom of 13×9-inch baking dish or pan.
4. Layer 3 noodles, half of the ricotta cheese, 1 cup meat sauce and 1/2 cup Italian blend cheese.
5. Repeat layers, topping with all of remaining meat sauce.
6. Cover with foil. Bake in preheated oven 40 minutes.
7. Uncover dish; top with remaining 1 cup Italian blend cheese. Continue baking 10 minutes or until bubbly.
8. Remove from oven and let stand 5 minutes before serving.
Prep Time:

15 Mintues

Cook Time:

40 Minutes

Category:

Main Course

Method:

Baking

Cuisine:

Italian
Keywords: lasagna with bolognese sauce, traditional bolognese lasagna