When you think of spaghetti, do you automatically assume they are noodles? Noodles vs. spaghetti – It's a common misconception that spaghetti and noodles are the same thing. However, some key differences make them uniquely suited to different dishes.
So, noodles vs. spaghetti – what's the difference? Spaghetti and noodles are delicious and versatile. Both are types of pasta but differ in origin, shape, and cooking method.
Difference Between Spaghetti and Noodles
There are many different types of pasta, and some varieties get rolled, stretched, or stuffed. They are also boiled, fried, and grilled to make delicious classic dishes in almost every culture. Let's examine the main differences between these two pasta types.
| | Spaghetti | Noodles |
| --- | --- | --- |
| Origin | Italy | Asia |
| How its made | Milled wheat and flour | Flour, eggs, and water |
| Served | Commonly served with a sauce | Served in various dishes, including soup |
| Shape | Long, cylindrical in various thicknesses | Various shapes, including shells, tubes, waves, helices, strings, etc |
Main differences between noodles and spaghetti.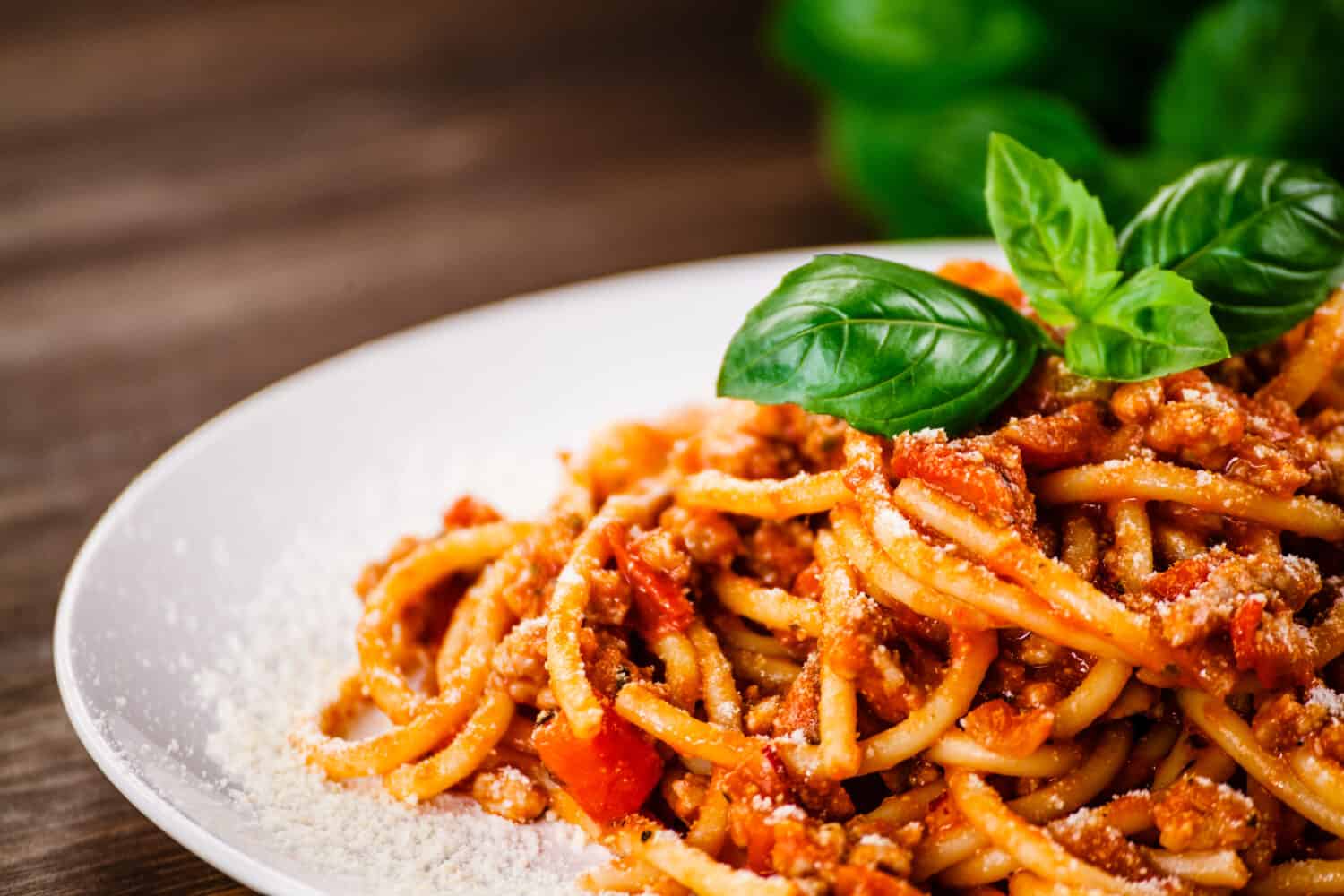 What Is Spaghetti?
Spaghetti is a tasty pasta originating from Italy and got its name after the Italian 'spaghetto,' which means "little cord." The name traces back to 1874, likely introduced in Sicily in the 8th century by Arab conquerors. Spaghetti got eaten with butter and cheese, which is still popular today. However, tomatoes became popular in the 19th century in Italy.
Italians make spaghetti with milled durum wheat and water, but other countries use different types of flour. Additionally, spaghetti's slightly chewy texture makes it ideal for absorbing sauce flavors. In true Italian fashion, you can eat spaghetti with Aglio E Olio, which means garlic and oil, or with tomato sauce.
In the United States, spaghetti is commonly made with a bolognese sauce that contains ground meat, blended vegetables, and tomato sauce. Top your meal with basil and parmesan cheese for a dish full of flavor and nutrients.
How to cook spaghetti:
Boil water in a large pot.
Add spaghetti to the boiling water without breaking it.
Give gentle stirs occasionally.
Follow the cooking time on the package. These can vary between 8 to 10 minutes.
Ensure the spaghetti is 1-2 minutes undercooked, as it will finish cooking in the sauce.
Drain the spaghetti in the sink, but don't rinse it as the starch gets used to make the sauce.
Lastly, heat the preferred sauce in a pan and add the spaghetti. Stir vigorously to mix the starch from the noodles in the sauce. Garnish with basil or parsley and parmesan cheese. There you have it – a delicious basic spaghetti dish.
What Are Noodles?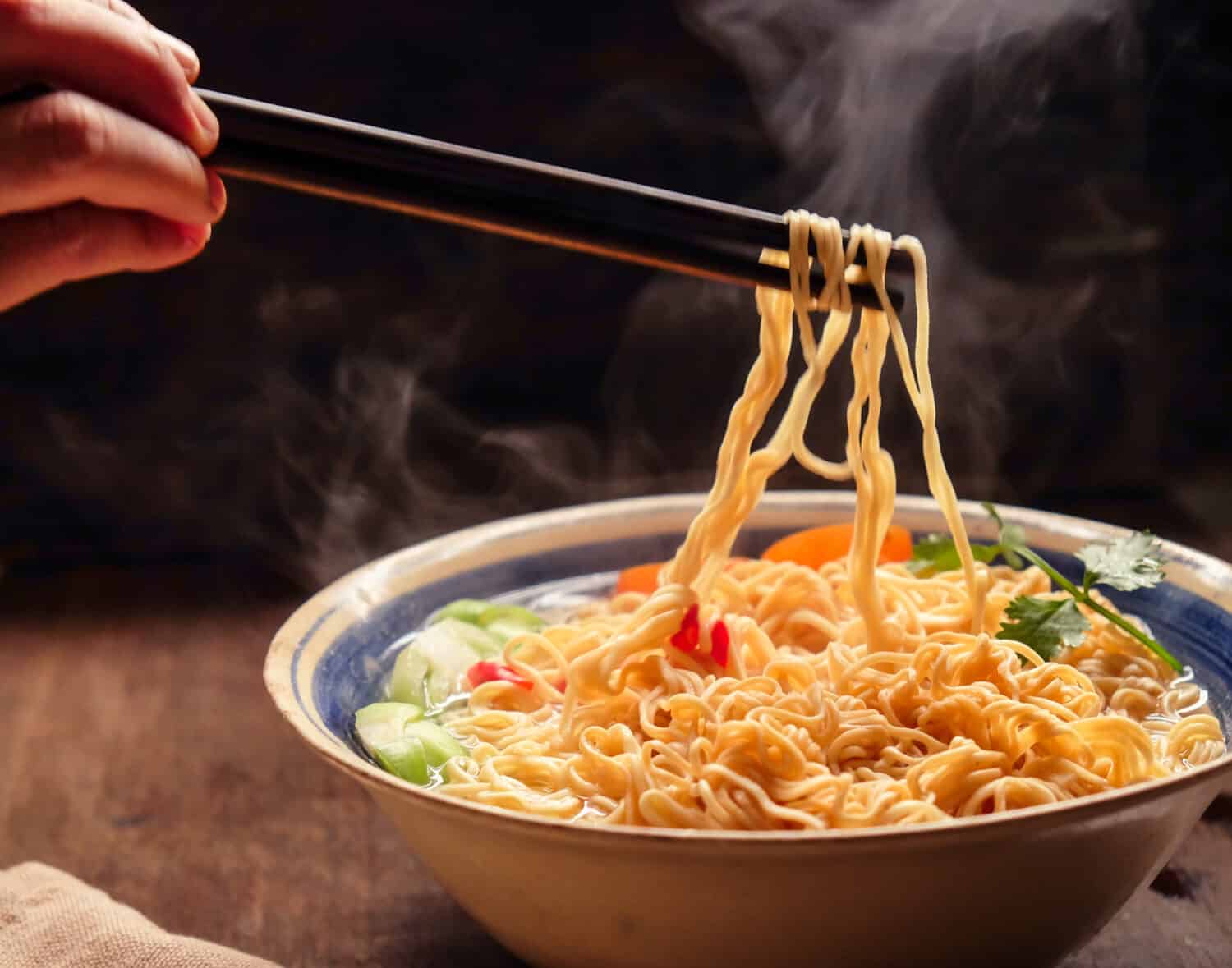 Noodles originated in Asia, with the oldest records of noodles dating back 4,000 years in China. Today, there are roughly 1,200 types of noodles in China due to natural, social, and cultural factors. In addition, modern technology had a huge effect on how noodles are made, and one of the most notable noodle types from these changes is instant noodles.
Noodles are made from unleavened dough that can be stretched, cut, or rolled in various thicknesses and shapes. In traditional Asian cuisine, noodle is a paste made from egg and flour that is elongated to a ribbon-like form.
Making noodles is simple – cooking them in boiling water, sautée in a sauce, or deep frying them. Noodles are intended to add volume to a dish, such as soups or broths, for example, the Japanese miso udon noodle soup or the Chinese dish Luosifen.
Remember that you can cook noodles in many ways depending on what dish you're making. However, let's take a look at how to cook simple buttered noodles:
Boil water in a large pot and add salt generously.
Add noodles to the boiling water without breaking it.
Gently stir the noodles occasionally.
Cook the noodles according to the package's time – usually around 5 minutes.
Drain the noodles and put them in a bowl.
Immediately add butter and parmesan cheese.
Garnish with parsley or chives, and sprinkle more parmesan cheese.
Nutritional Value of Spaghetti and Noodles
While the nutritional value of pasta dishes increases significantly according to what you add to the meal, spaghetti and noodles can enhance your diet.
| | Spaghetti | Noodles |
| --- | --- | --- |
| Calories | 221 | 219 |
| Fat | 1.3 g | 3.3 g |
| Carbs | 43.2 g | 40.02 g |
| Dietary fiber | 2.5 g | 1.9 g |
| Protein | 8.1 g | 7.22 g |
Nutritional value for 1 cup of cooked spaghetti and noodle comparison table.
Which Is Better, Spaghetti or Noodles?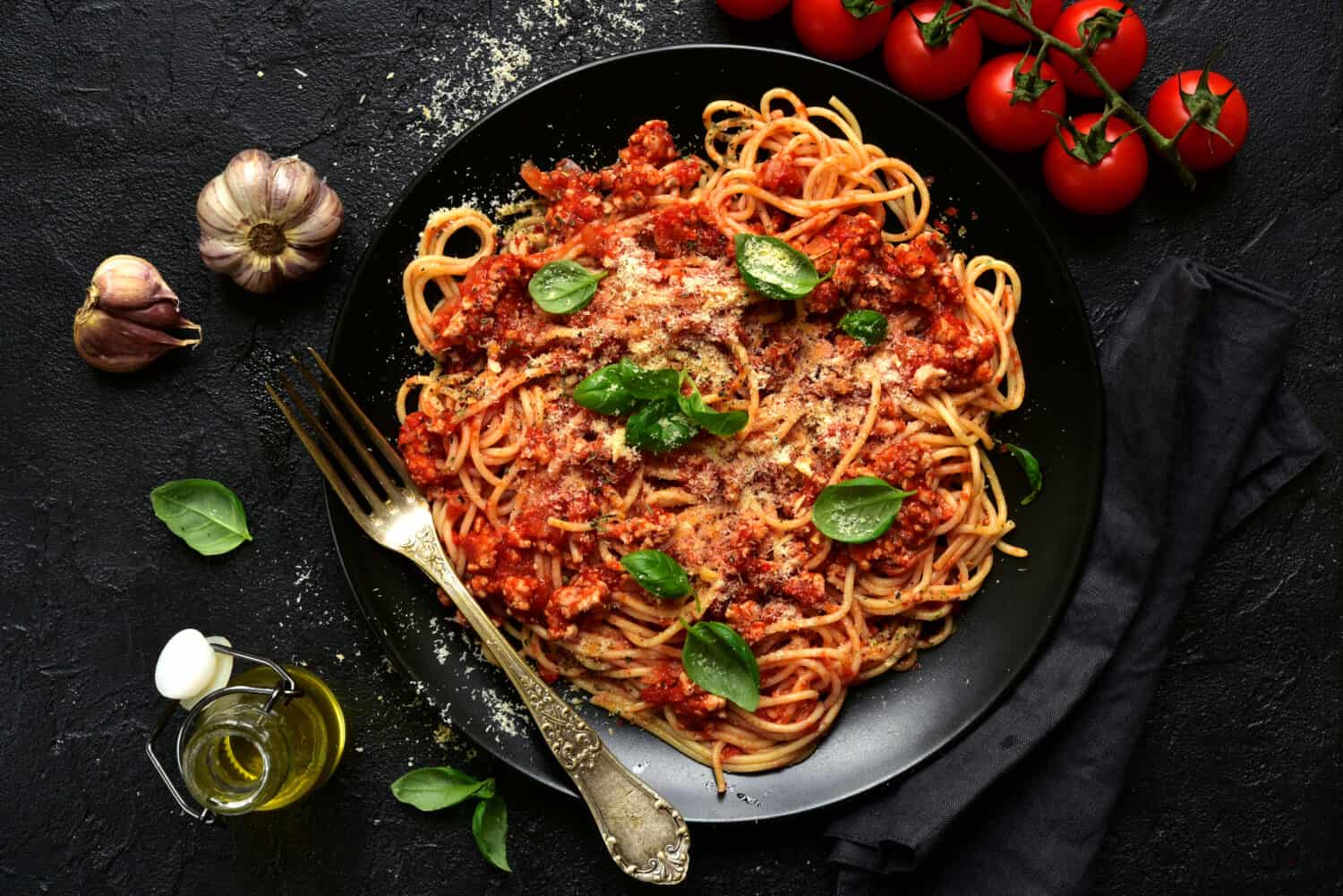 Spaghetti comes from Italy and noodles from China, but today, the two are popular all over the world. This is a long pasta that can be served in various ways, such as with meatballs or other meaty toppings, but it can also be served with vegetables or even as an alternative to noodles in soups. However, if you use spaghetti instead of noodles, expect the dish to have a stiffer texture.
Noodles are made of flour and water and are typically cut into short lengths. They are more delicate than spaghetti and require less cooking time (usually just a few minutes). They're often used in Asian cuisines, like ramen or Japanese udon soup. Noodles also have a smooth texture that works well with light sauces or soups.

Spaghetti has a bit more protein and fiber than noodles, but both are good sources of nutrients. Both offer cooking versatility, so you can't go wrong with either!
Recipes
Final Thoughts
Traditionally, spaghetti comes in a long, thin shape. In addition, it is sturdy and won't fall apart when cooled, making it great for casseroles and the base of a dish. Noodles are versatile and shaped into many noodle styles. This is certainly the best choice if you're looking for a broth or soup filler.
Both spaghetti and noodles are delicious pasta from two very different cultures. Don't be afraid to explore a variety of Asian and Italian cuisines using either pasta.