Pasta is a prevalent dish that's versatile and easy to make. However, people often get confused by the many pasta variations available in different shapes and sizes. Fusilli and rotini are among the types you can find. Fusilli pasta is shaped like small springs or curly spirals, while rotini has an extruded twisted shape. These Italian kinds of pasta are hard to tell apart as some manufacturers even label fusilli as rotini and vice versa. You must confirm what's in the box or bag before buying.
This post will help you differentiate these two kinds of pasta in more ways other than the shape. We'll examine their significant differences, origin, preparation, possible substitution, etc. Ultimately, you'll understand them better and be ready to purchase or make the correct form of pasta.
Fusilli Pasta vs. Rotini: How Different Are They?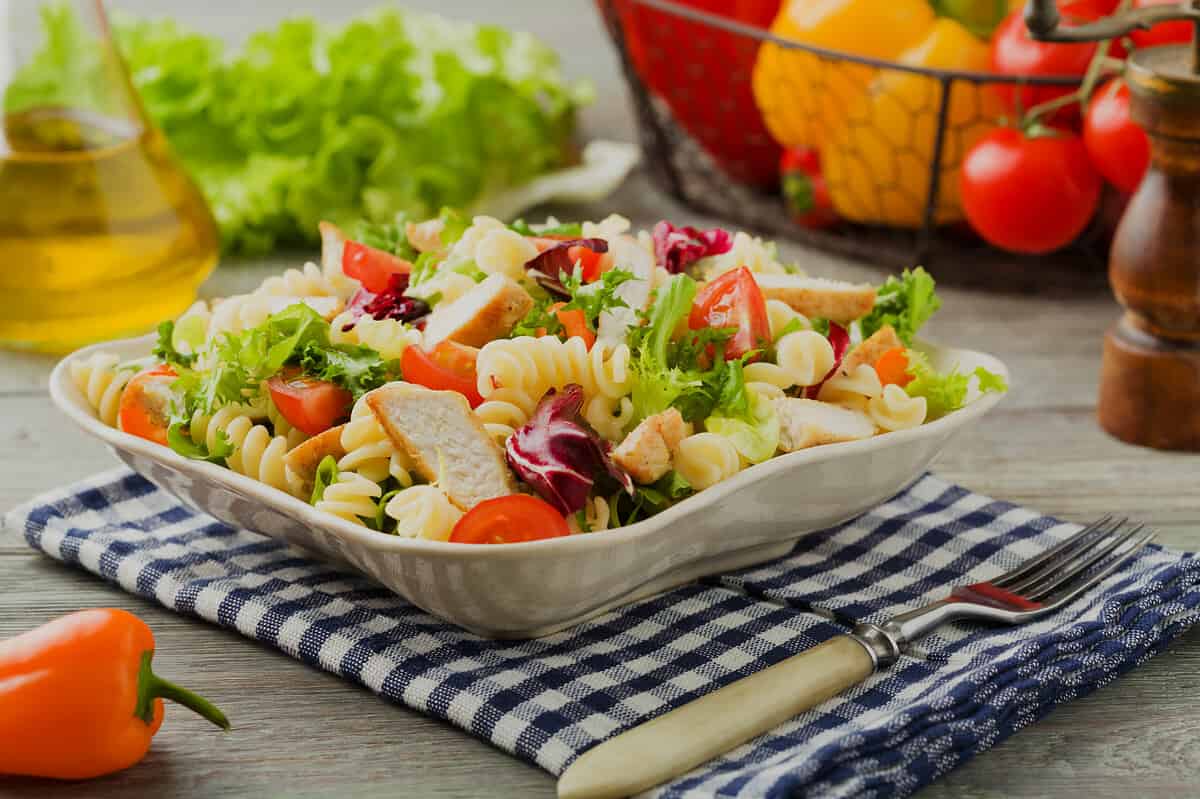 At first glance, fusilli and rotini pasta look the same. However, there are important differences. Fusili has larger spirals while rotini has a tighter helix shape with more compact spirals. Because of these shape differences, fusilli is ideal for thicker, heartier sauces whereas rotini is ideal for catching lighter sauces or use in pasta salads.
You can find both kinds of pasta in the usual cream or white color. But, fusilli is available in multiple variations of different flavors and colors from natural elements. So, if you want a colorful pasta dish, fusilli is your ideal choice.
What is Fusilli Pasta?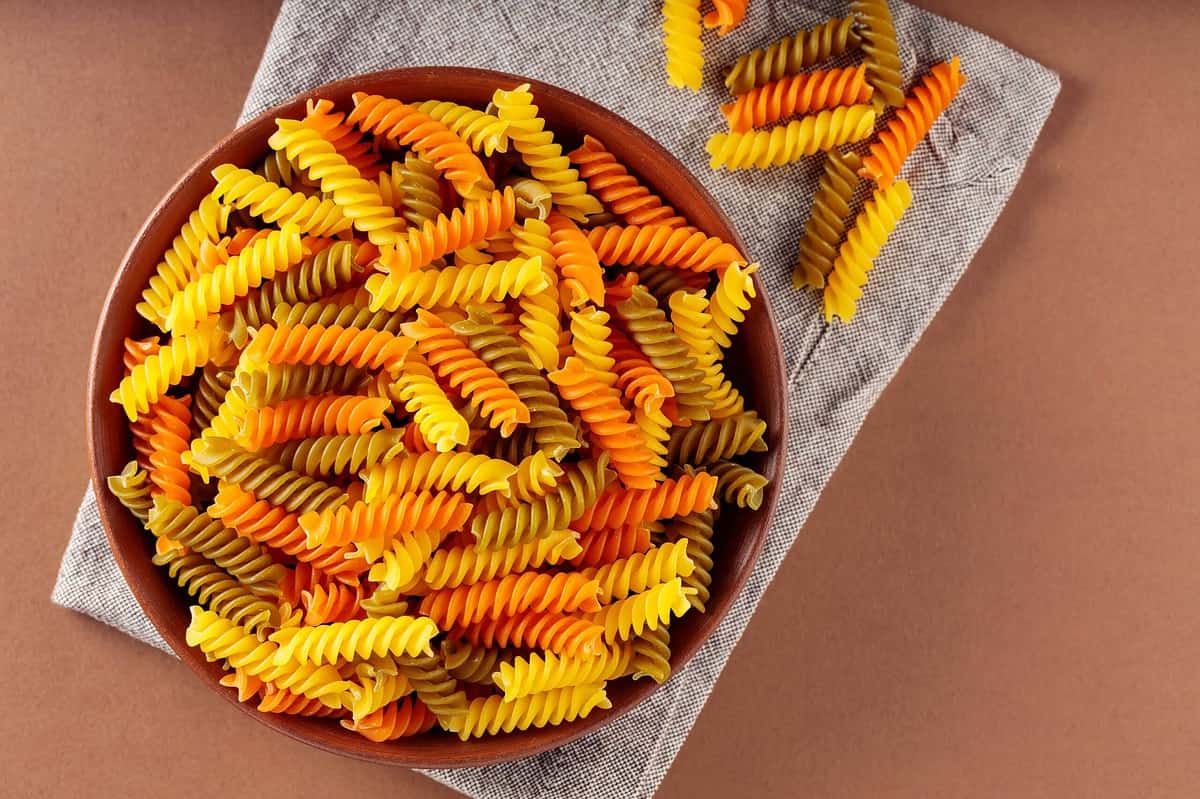 Fusilli pasta originated in Southern Italy. The pasta's name comes from the word 'fuso,' meaning spindle. It began by rolling up fresh spaghetti around a rod and giving it time to dry. As mentioned earlier, fusilli is now made of flat pasta strands made from semolina flour. After making the dough, it is rolled out, and the strands are spun around a thin rod to give it its shape. Though longer than rotini, fusilli falls in the category of short-cut pasta. The gaps between the curls allow them to trap or hold sauces; hence they are best served with thick sauces or creams.
Fusilli pasta is available in dried form or fresh in stores. You can also buy the plain variety, whole wheat, or the fun-colored type. When mixing the dough, ingredients such as tomato or beetroot are added to give it a red color. Spinach is also famous for that green shade, and those with black have cuttlefish ink added.
In addition to the colorful options, fusilli has several variants, e.g., fusilli bucati and lunghi. Fusilli bucati appears as little springs formed after twisting hollow pasta tubes. Fusilli lunghi pasta is as long as spaghetti, making them easier to identify.
How to Make Fusili Pasta from Scratch
If you want to make fusilli at home, this is for you. Ensure you have a pasta shape press machine to get the correct helical shape.
You'll need a hundred grams of flour, one egg yolk, and three eggs for the dough. In a bowl, put the flour and make a well at the center. Crack the eggs, pour them into the well, and then beat using a fork. Keep mixing till the flour mixes well with the eggs. At this point, use your hands to form a ball with the dough, then knead for approximately ten minutes. Once done, cover it and leave it to rest for 20-30 minutes at room temperature.
After resting, roll the dough into thin cylinder-like pieces that can pass through the pasta shape press. Since the dough will come out as long as spaghetti, cut it into your desired length and keep it untouched for 10 minutes to stop the stickiness. In a large pot, add water and salt and bring to a boil. Add the fusilli pasta for 2-3 minutes, remove, and cook as desired.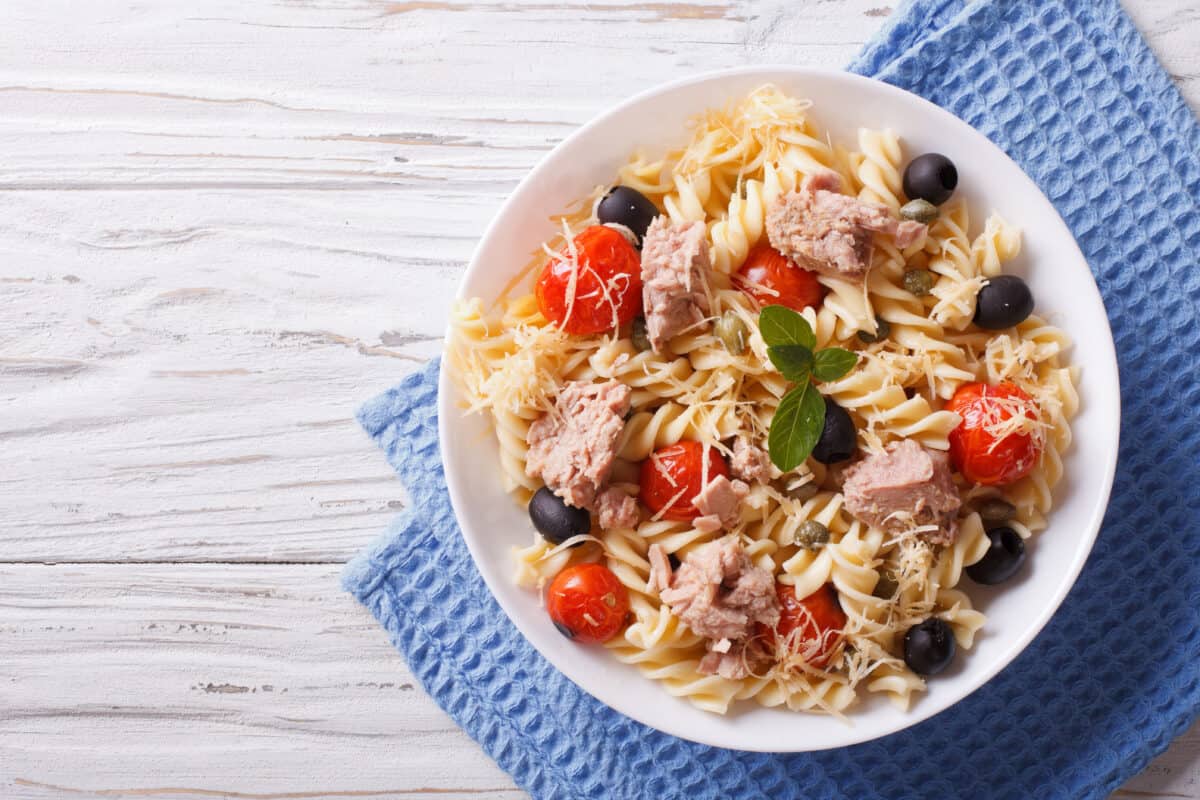 How to Cook Fusili Pasta
Fusilli makes the perfect pasta dish when cooked right. Boil water and add a good amount of salt. Add the dried fusilli and set the timer based on the cooking time on the box to prevent over-cooking. Stir occasionally during the first few minutes, then leave it to cook. Cook for at least 12 minutes, then drain in a colander. Add your preferred sauce or heavy cream immediately to stop them from sticking together. To add flavor, use sage, parsley, cilantro, thyme, rosemary, or oregano.
What is Rotini?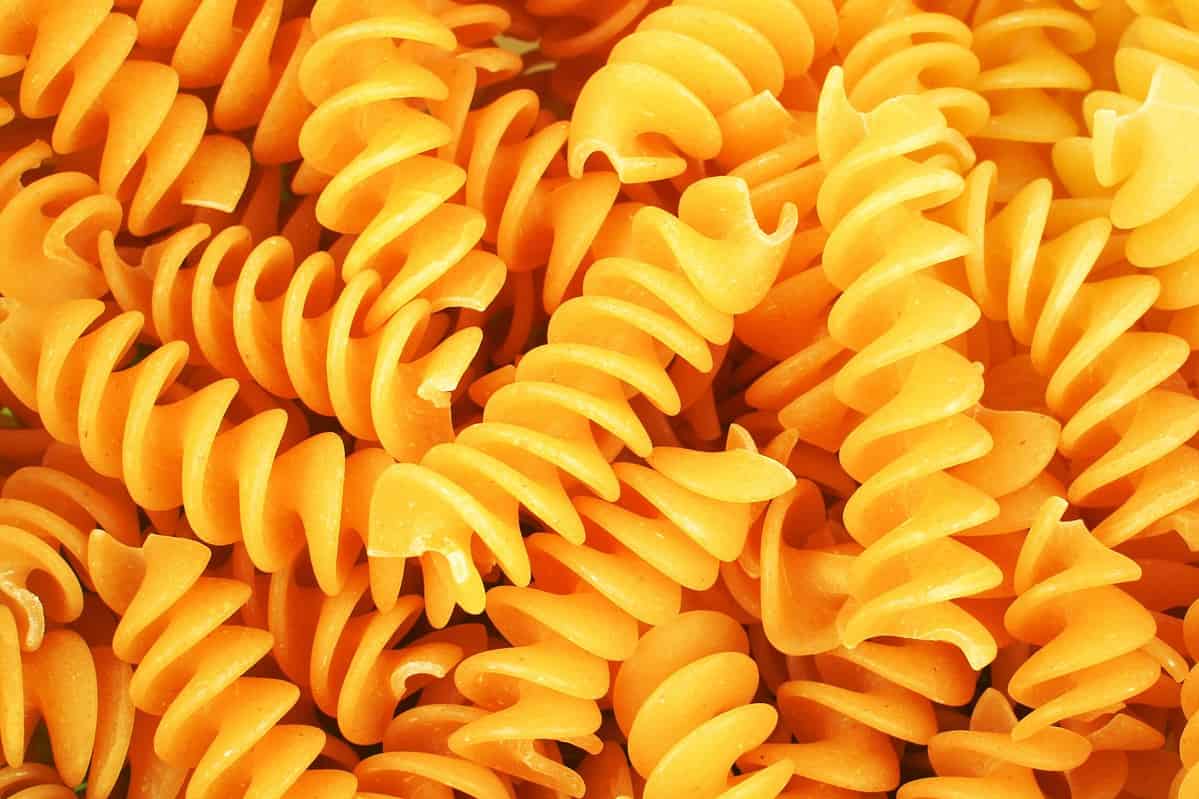 It's short-cut pasta that originated from the Nothern part of Italy. The name 'rotini' means small wheels, which describes the shape of this type of pasta. They have spiral extrusions, making them look like corkscrews. They appear small, with tighter spirals, unlike other pasta types. They may be available in red, green, or black but are less common than the fusilli pasta.
Rotini is mainly made from semolina flour. However, you can get variants from wheat and water or whole wheat flour and grains like brown rice. Like fusilli, the gaps in rotini pasta allow them to hold bits and pieces of ingredients like meat, vegetables, nuts, cheese, and sauces like pesto and tomato. An added advantage is this pasta holds these components better than all fusilli since the gaps are much tighter. It's also great for salads since it retains flavors better.
How to Prepare Rotini
Like fusilli, it's possible to prepare rotini pasta from scratch. However, you can adjust the measurements and ingredients and add salt to the mixture. After putting flour in a bowl, add salt and whisk to mix. Add the eggs, mix everything, then knead the dough. Leave to rest for 30 minutes, divide into portions, and put in the pasta press machine. You can cook them immediately or dry them and freeze them in airtight containers or bags.
How to Cook Rotini Pasta
Since rotini and fusilli are almost similar, their cooking methods don't have many differences. The significant difference is in the boiling time. Rotini pasta takes a shorter time to cook than fusilli since the pieces are thinner. If fusilli takes 10-12 minutes, rotini will take approximately 7-10 minutes. However, always check the packaging for the indicated boiling time. If you over-boil, the pasta becomes mushy and unable to hold the sauce.
Can You Use Fusilli and Rotini Interchangeably?
Fusilli and rotini are relatively alike, so the answer is yes. It all comes down to taste when you ignore the names and shape variations. They taste the same when made from the same ingredients; unless you use different flavored sauces, they'll differ. In most cases, your preference makes you choose either, but you can always replace it with the other if your favorite is unavailable.
Rotini is more common in the US, but some manufacturers mislabel it as fusilli. The latter is more predominant in other parts of the world. Fusilli is an ideal substitute for rotini and vice versa, so you can use them interchangeably in your recipes, and the gaps function the same while in the sauce.
Great Substitutes for Fusilli and Rotini
If you are missing both types of pasta, worry not because there are other great substitutes for your recipes. They include;
Gemeli
The word 'gemeli' symbolizes twins in Italian. The pasta has a single strand in an S-shape, twisted around to create two strands, forming a corkscrew shape. It resembles fusilli's shape and texture more than Rotini but is suitable for both.
Cavatappi
Also referred to as cellentani, it is ideal for both kinds of pasta. It has a grooved texture and is short, hollow, and twisted. The pasta lacks eggs, perfect for anyone allergic to eggs, and still tastes as good as fusilli and rotini.
Rotelle
Rotelle pasta looks like small wagon wheels. Like actual wheels, they seem to have spokes that trap or hold sauces and heavy cream, just like fusilli and rotini. They also work well on salads for decorative purposes.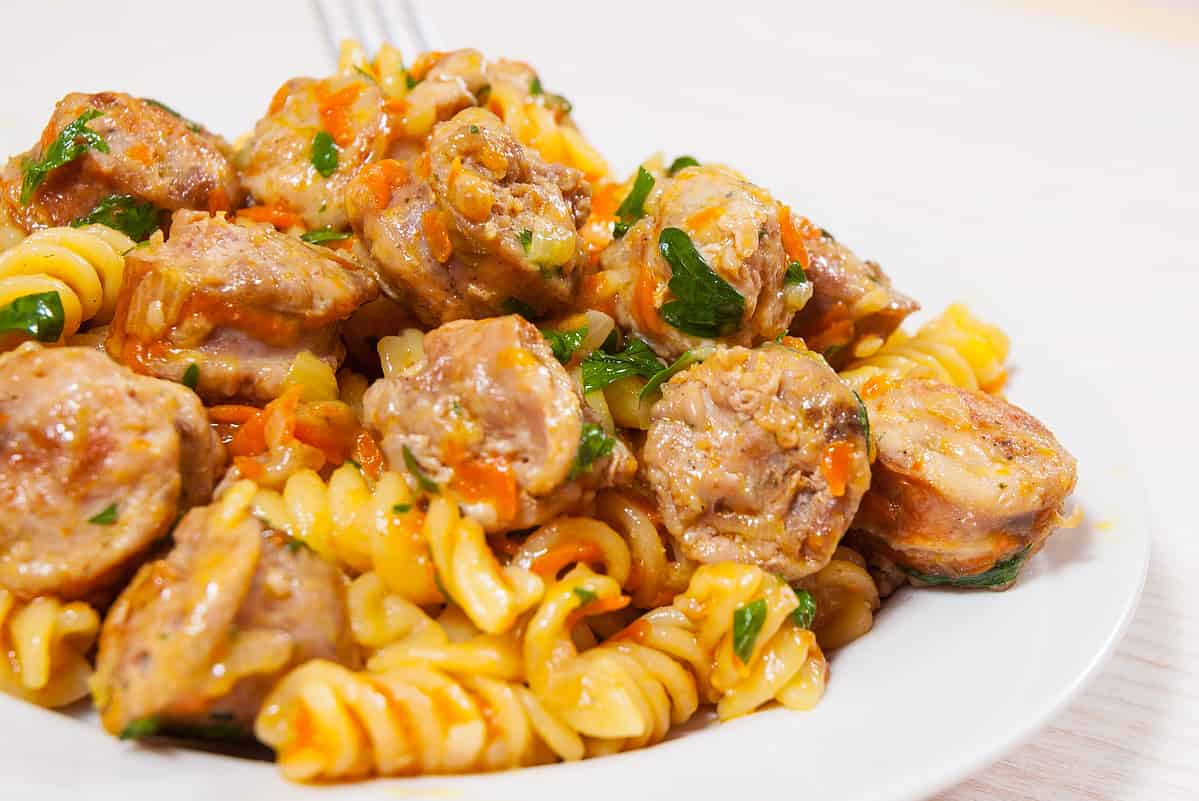 Penne
It has a distinct pen shape hence its name. It works well for several pasta dishes, and the large surface area allows a lot of sauce and ingredients into its tubes. Penne pasta works well with different sauces, meat, and vegetables.
Rigatoni
Rigatoni derives its name from the word 'rigato,' which means ridge. The ridges on the outer surface help sauces, cheese, and cream to stick like with fusilli and rotini.
Fusilli Pasta Recipes
Rotini Recipes
Print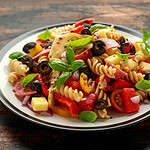 Italian Vegetable Rotini Alfredo Recipe
---
1

medium onion, chopped

3

garlic cloves, minced

2 teaspoons

olive oil

8

ounces

uncooked rotini

2 Tablespoons

butter

3 Tablespoons

all-purpose flour

1

cup

fat free milk

1 1/2

cups

fat free half & half

1

cup

shredded Parmesan cheese

1 Tablespoon

Italian seasoning

1/2 teaspoon

salt

1/4 teaspoon

white pepper

1

can (14 1/2 ounces) Italian diced tomatoes, drained

1

package (10 ounces) frozen chopped spinach, thawed and squeezed dry.
---
Instructions
Sauté onion and garlic in oil in a small saucepan until tender. Set aside.
Prepare rotini according to package directions.
While pasta is cooking, melt butter in a large saucepan.
Stir in flour until smooth.
Reduce heat; slowly add milk.
Stir in half and half. Bring to a boil over medium low heat; cook and stir for 2 minutes or until thickened.

Reduce heat and add the Parmesan cheese, Italian seasoning, salt, and pepper. Stir until cheese is melted.

Add the onion-garlic mixture, tomatoes, and spinach. Heat through.
Drain the rotini and toss with the sauce mixture, coating evenly.
Nutrition
Serving Size:

1 cup

Calories:

264

Sodium:

488mg

Fat:

8g

Carbohydrates:

35g

Fiber:

3g

Protein:

13g

Cholesterol:

16mg
Conclusion
Fusilli and rotini pasta are similar yet different in various ways. Fusilli has a curly spiral shape, while Rotini has an extruded spiral appearance. You can use them interchangeably if your preferred choice isn't available. However, be keen on the ingredients used. If you use whole wheat fusilli, go for whole wheat Rotini to avoid any change in flavor. Both types of pasta are easy to prepare and mix with your sauce, cream, or ingredient of choice.
The above information makes it easy to differentiate a bag of fusilli from rotini. Some manufacturers mislabel the pasta, so confirming before purchase is always right. Knowing each pasta's shape and color makes the buying process much more manageable.