While being a trademark of Italy, pasta is famous worldwide. It's an inexpensive and simple preparation, given its versatility in the different dishes you can produce from them. Spaghettini vs. spaghetti is frequently paired with different delectable sauces or greens based on what satisfies your taste buds.
We all know that nothing beats cooking pasta. It's an easy, classic supper. However, there is a wide array of pasta to select from. Spaghettini and spaghetti belong to some of the most recognized ones. But what are the differences between these two?
Spaghettini vs. Spaghetti: The Key Differences
With a quick glance, you'll notice any disparities between the spaghettini and spaghetti packages. If you've ever questioned the dissimilarities, you're not alone. Pasta spaghettini often grabs your attention at the grocery store, leaving you uncertain about its deviation from regular spaghetti. The truth is, they're essentially the same. However, as any Italian pasta enthusiast will confirm, different pasta shapes serve unique purposes in various recipes. So, let's explore some key variations you should know about between these two pasta types, ensuring you make the right choice for your culinary creations.
You probably noticed pasta spaghettini on the shelf space of a nearby grocery store but were uncertain what it was or how it varied from normal spaghetti pasta.
Here are some of the differences you need to know between the two kinds of pasta:
Dish
Spaghetti is a more versatile pasta that may be used in various meals, whereas spaghettini is more commonly used in light and delicate recipes.
Spaghettini pairs well with many light sauces like vegetable or seafood-based sauces, salads, and soups. This delicate pasta complements shellfish, creamy dairy, or cream recipes well. On the other hand, traditional sauces for spaghetti include marinara, olive oil, pesto sauce, wine sauce, or a buttered sauce.
Preparation time
You might come across spaghettini, also known as "thin spaghetti." This pasta is similar to spaghetti; both are long, slender, and thin, although spaghettini is thinner than spaghetti and cooks more quickly.
You will boil spaghettini for 10 to 11 minutes without a cover, stirring periodically. However, you boil spaghetti for 12 to 15 minutes, removing the cover only to stir.
Size and Appearance
Thin spaghetti or spaghettini is a kind of pasta that is thinner than regular spaghetti, making it more subtle to the mouth. Spaghettini is around 1.6 – 1.7 mm in diameter, whereas spaghetti ranges from 1.8 mm to 2 mm. In addition, the former has a generally lighter hue than the latter.
Presentation
Spaghettini is frequently used in more intricate and exquisite recipes when it has anything to do with appearance. Its delicate and thin strands make it look more elegant and expensive. In contrast, spaghetti often appears in more informal and rustic recipes. It has larger strands and a stronger texture.
What is spaghettini?
Spaghettini is a type of pasta comparable in shape and dimensions to spaghetti. It appears thin and slender and features a variety of Italian dishes. Due to its composition of refined white flour, the spaghettini may exhibit a paler overall appearance. This pasta is usually paired with fish and seafood such as catfish, tuna, and salmon, but it likewise goes nicely with almost any pasta sauce.
Pasta is an excellent energy resource; spaghettini includes iron and B vitamins. Spaghettini has a low glycemic index, and this simply means that our body digests it more slowly and is more unlikely to cause blood sugar spikes.
What is spaghetti?
Spaghetti is one of the common staples of Italian pasta. Spaghetti, as its name suggests (spago = string), is a long and spherical pasta shape that resembles a string. It is produced from a type of wheat called durum semolina. Across Italy, people commonly serve spaghetti with a basic tomato sauce.
In the summertime, Southern Italians enjoy spaghetti aglio e olio. This dish features a sauce made by sautéing sliced garlic in olive oil, and the boiled spaghetti is then tossed in the sauce.
Manufactured kinds are commonly used, whereas handmade ones are readily available. This is the most well-known pasta shape around the globe, with identical names in every single language. People commonly use commercial variations and readily access handmade ones.
Spaghettini vs. Spaghetti: Nutritional Value
Spaghettini and spaghetti have slight differences in their nutritional value. They are thinner than spaghetti, measuring around 2-3 millimeters in diameter, while spaghetti is slightly thicker, ranging from 1.8 to 2.7 millimeters. Both spaghettini and spaghetti provide around 200 calories per 2-ounce serving, making them a moderate energy source.
Both types of pasta are primarily composed of carbohydrates, with about 40-45 grams of carbs per serving. They also offer a small amount of protein, around 7-8 grams per serving. However, they are not significant fat sources, with less than 2 grams per serving.
Spaghettini and spaghetti provide essential minerals like iron, magnesium, and zinc, but the amounts are relatively low. To enhance the nutritional value of pasta, it's recommended to pair it with nutrient-rich sauces, vegetables, and lean proteins, which can provide additional vitamins and minerals.
Overall, the nutritional differences between spaghettini and spaghetti are minimal. The choice between the two depends on personal preference for thickness and texture. Remember to enjoy pasta as part of a balanced diet, incorporating a variety of nutrient-dense foods to ensure optimal nutrition.
Can you use spaghetti instead of spaghettini?
Yes, you can use spaghetti instead of spaghettini in many recipes. Spaghetti and spaghettini are long, thin pasta types, but spaghettini is slightly thinner than spaghetti. The main difference between the two is their thickness, affecting the cooking time and how sauces stick to the pasta.
If a recipe asks for spaghettini, it might be because the thinner pasta cooks faster or the sauce clings better to it. However, if you don't have spaghettini, you can still use spaghetti as a substitute with a few adjustments.
When you substitute spaghetti for spaghettini, remember that spaghetti generally takes a little longer to cook because it's thicker. So, you might need to increase the cooking time by a minute or two to get the right texture. Also, the thicker spaghetti strands might not hold sauce, so you might want to use a slightly thicker or chunkier sauce to make up for it.
In the end, while the substitution might change the texture and sauce adherence a bit, spaghetti can still work well instead of spaghettini in most recipes.
Can you use spaghettini instead of spaghetti?
There are no rules you need to follow that state you should stop using one kind of pasta in a recipe meant to be for another kind.
Spaghettini vs. spaghetti: Can you substitute them? You can substitute spaghettini for spaghetti, but the texture won't be the same. Because of its smaller size, it has a slightly firmer texture than spaghetti. But this shouldn't stop you from getting creative. You may use spaghettini if you like a more delicate noodle that cooks quicker, even if the recipe is for spaghetti.
Spaghetti substitutes
Spaghetti has an undoubtedly delicious flavor and is a very enjoyable meal. However, there are substitutes to spaghetti that you should also want to give a try. Below is a list of substitutes you may use, which includes nutritious spaghetti options.
Spaghetti squash
Spaghetti squash works well as a pasta alternative. This fibrous vegetable with yellow-orange flesh can be seen everywhere in North and Central America.
It's a yellow, oval in shape squash that's available throughout fall and winter. When prepared, the insides are shredded into long, noodle-like strands. The texture is somewhat more fibrous than spaghetti, yet it works well as an alternative to traditional spaghetti pasta.
Fettuccine
Fettuccine is a type of egg pasta that is sliced into long, thin ribbons. It is frequently paired with cream-based sauces, such as the common Fettuccine Alfredo we know today. Fettuccine may be used in any dish that uses linguine or spaghetti. It combines nicely with protein-based dishes that include chicken or other meat. Fettuccine evolved in Roman and Tuscan cuisines and can still be seen commonly on our dinner tables.
Linguine
Linguini (or linguine) means "little tongues" in Italian, referring to its flat appearance.
While linguine and spaghetti are long, thin pasta shapes, linguine is thicker and flatter. Linguine, unlike spaghetti, is flat and ribbonlike but is not as wide as fettuccine. Linguine is a versatile pasta that can be served with both thin and thick sauces and goes nicely with cream sauces.
Spaghettini substitutes
Similar to how different pasta has varied textures, shapes, and sizes, you may select an alternative that works best for the meal you're making, the flavors you want to highlight, and the overall pasta-eating experience you're trying to replicate. Here are some spaghettini substitutes you might like to try:
Vermicelli
Vermicelli is a thin pasta that resembles spaghetti and is a bit thinner and slightly thicker than angel hair pasta. This name means "little worms" in Italian, reflecting the pasta's worm-like form. They go nicely with cuisines that call for lighter, finer ingredients due to their lighter, thinner texture.
Angel Hair
Angel hair pasta (capelli d'angelo) is the thinnest type of spaghetti. This type of noodle is known for settling and becoming mushy when boiled; for optimal results, take your pasta from the pot of boiling water shortly after it becomes soft ( two minutes less than the package's directions) and throw it immediately into the prepared sauce.
Soba noodles
Fiber-rich soba noodles are very common in most Japanese meals. While they have a texture comparable to classic thin and long noodles, their nutty flavor makes them ideal for savory and somewhat sweeter recipes. They're a higher-carb alternative than vegetables, yet they still have fewer carbohydrates than a cup of normal pasta.
Final Thoughts
The main differences between spaghettini and spaghetti are their texture, size, appearance, and cooking time.
But It is also important to know the circumstances when deciding between spaghettini and spaghetti. While both types of pasta look similar at first glance, there are various scenarios in which one may be a better choice than the other.
That said, this all comes down to personal preference and the cuisine. Spaghetti is a more flexible type of pasta that works well with a wide variety of sauces and cuisines, while spaghettini is best suited to lighter sauces and recipes that let the pasta shine as the star of the show. However, spaghetti is the more suitable choice if you'd like to add a richer sauce to your dish. Nonetheless, both can still be wonderful substitutes for one another.
If you're just coming across spaghettini, then you're not alone. Many aren't aware of the differences between spaghettini and spaghetti. So, let's do a recap of the common yet few differences between the two:
Because of its thinner size, spaghettini typically cooks much quicker than normal spaghetti noodles.
While both noodles can be used in various sauces, spaghettini pairs well with more delicate dishes.
If looking for alternatives to one or the other, spaghetti can be substituted for spaghetti squash for a healthy version, while spaghettini is similar to that of angel hair pasta.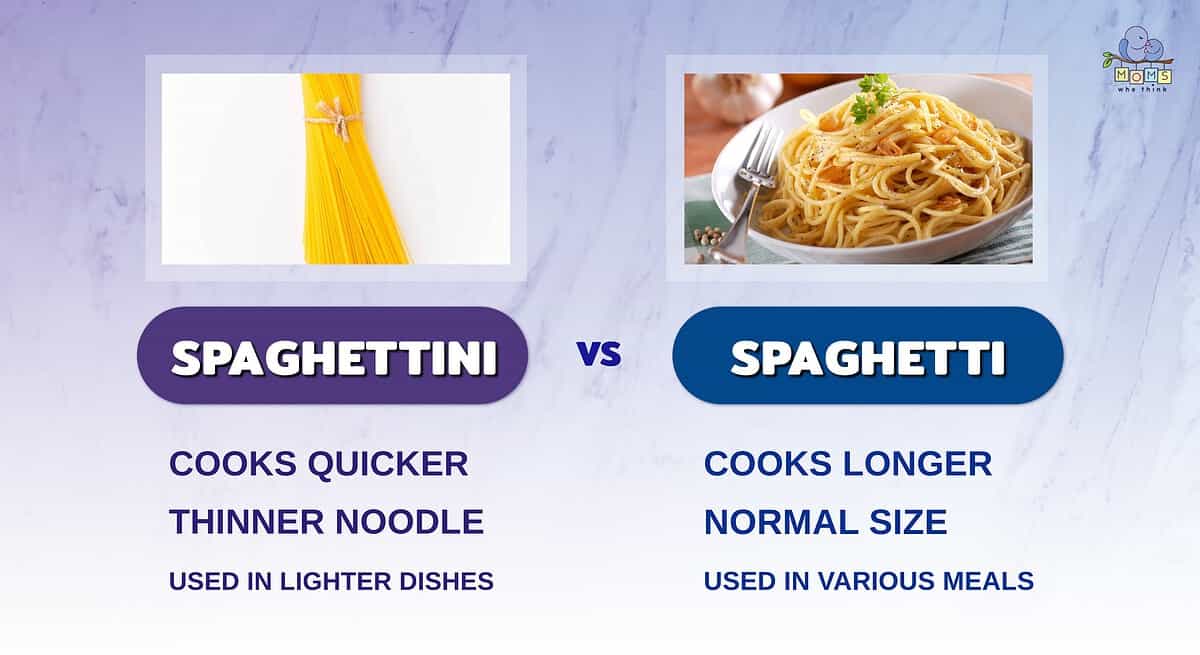 A Great Spaghetti Recipe
Print
Spaghetti and Meatballs
---
Author:

Total Time:

15 minutes
1 pound ground beef
2 Tablespoons water
1/3 seasoned dry bread crumbs
1 egg, beaten
24 ounces (1 jar) Italian spaghetti sauce
8 ounces spaghetti, Cooked and drained
---
Instructions
1. Mix thoroughly ground beef, water, bread crumbs and egg.
2. Shape firmly into 12 (2-inch) meatballs. Arrange the meatballs in a 2-quart microwavable baking dish.
3. Microwave on HIGH for 5 minutes or until they're Cooked through. Drain excess fat.
4. Stir the sauce into the dish. Cover.
5. Microwave for 3 minutes or until hot. Serve over the spaghetti.
Prep Time:

5 minutes

Cook Time:

10 minutes
The image featured at the top of this post is ©DronG/Shutterstock.com.