Whole wheat pasta is made from whole grain kernels, whereas ordinary pasta is commonly made from refined white flour. Whole wheat pasta tends to be more fibrous with a distinct taste, while regular pasta has a neutral flavor great for more complex dishes.
But does one possess more nutritional benefits than the other? Spoiler alert: it's whole wheat pasta. But all pasta can be part of a nutritious and delicious diet. This piece will explain the difference and explore how regular and whole wheat pasta are unique in their own ways.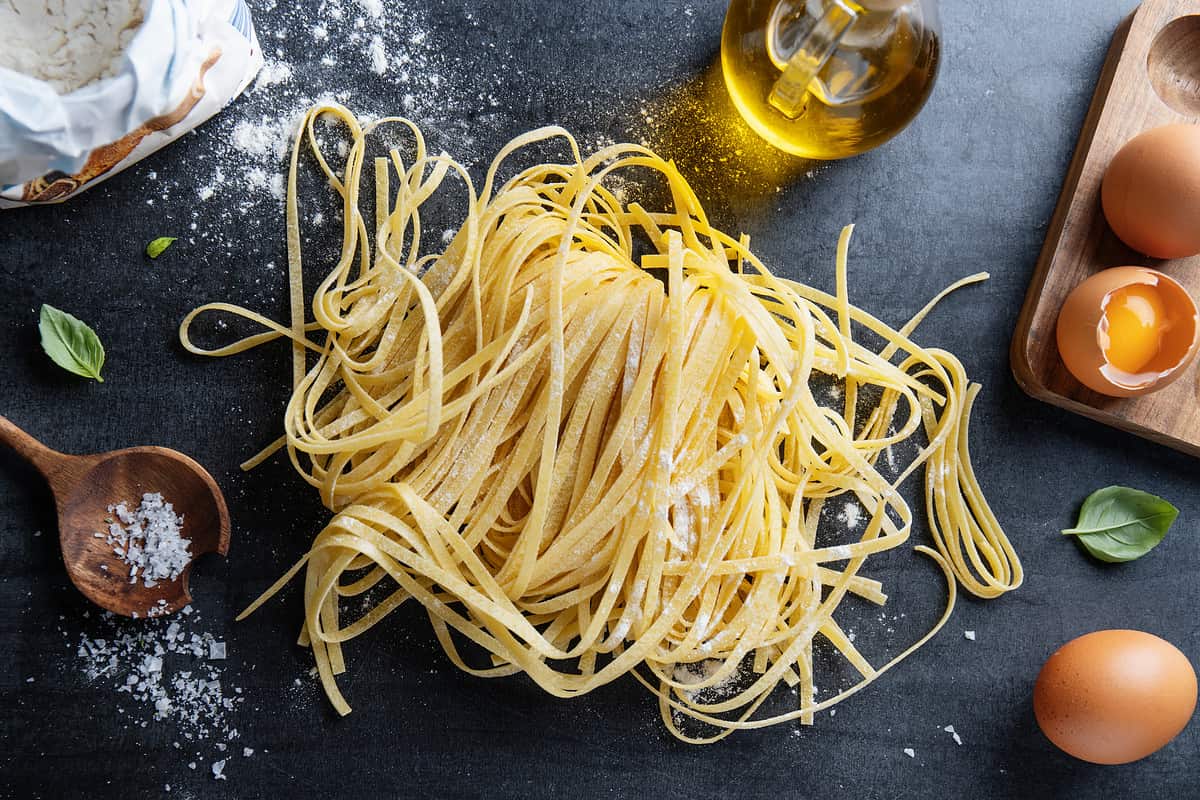 Whole Wheat Pasta vs. Regular Pasta: What Is the Difference?
Regular pasta and whole wheat pasta have different dietary profiles. The fact is whole wheat pasta has more fiber, nutrients, and minerals when compared to regular pasta made with refined flour. 
What Is Whole Wheat Pasta?
Whole wheat pasta uses whole wheat flour as its number one ingredient as opposed to refined white flour. Whole wheat pasta has been around for centuries and is a popular preference among many fitness-conscious people. 
It is higher in fiber than regular white pasta, making it a notable source of essential vitamins like iron, B vitamins, magnesium, and zinc. Whole wheat pasta also incorporates more protein than its regular counterpart; this is why most people choose whole wheat pasta when looking for an additional supply of protein in their diet. 
Whole wheat pasta is a fantastic source of complex carbohydrates and dietary fiber. These nutrients are vital for the maintenance of a healthy digestive tract and cause one to feel full in a healthy way. Moreover, the higher fiber content material in whole wheat pasta makes it a high-quality choice for those trying to manage their blood sugar levels.
What Is Regular Pasta?
Pasta is a meal that has been around for centuries; but what makes it regular? "Regular" pasta is usually made from refined flour, regardless of how exceptional the other ingredients like eggs and herbs may be. Durum wheat is a unique wheat with high gluten content that gives it the ability to hold its shape when boiled and gives cooked pasta a firm texture. 
Regular pasta is available in numerous shapes and sizes, with the three most notable being spaghetti, macaroni, and fettuccine. It can also be bought in simple or flavored varieties, including garlic or tomato-flavored pasta. And the distinctive shapes are designed to match with sauce consistencies; thinner forms like spaghetti are great for delicate sauces and thicker shapes like macaroni work great with chunky sauces.
Can You Substitute Whole Wheat Pasta For Regular Pasta?
Whole wheat pasta and regular pasta are the two main forms of pasta. But does it matter which you choose? Well, that depends. 
Whole wheat pasta can a more worthwhile option because it incorporates extra fiber and nutrients with B-6, thiamine, and folate. Whole wheat pasta also has a heartier texture and nuttier taste than regular pasta. 
When making a dish with sauce, you can easily substitute whole wheat for regular pasta. Your spices should mask the distinction in taste, so you can enjoy a healthy meal without compromising on flavor. 
For dishes with a thin, creamy, or cheese-based like macaroni and cheese, it's better to stick to regular pasta. The nutty flavor of whole wheat pasta won't blend as nicely in those dishes. 
It's also crucial to note that whole wheat pasta takes longer to cook than ordinary pasta. Check the package for the suggested cooking time and adjust your recipe accordingly. 
Are Whole Wheat Pasta and Regular Pasta the Same Thing?
No, whole wheat pasta and regular pasta aren't the same. Whole wheat pasta is crafted from durum flour that has been ground down from whole wheat grain kernels. This pasta includes more fiber, vitamins, minerals, and protein than regularly refined flour pasta because it is less processed. Regular pasta is made from refined wheat flour, which has had all of the bran and germ removed through processing and has fewer beneficial nutrients than whole wheat pasta. 
Whole wheat pasta affords notably more fitness benefits than ordinary pasta because of its improved stages of fiber, nutrients, minerals, and protein. It is an exquisite way to boost the levels of healthy carbohydrates for your weight loss program. Whole wheat pasta is also beneficial in managing blood sugar levels. It is also an excellent source of energy, as it is slowly digested and facilitates a fuller feeling for longer.
What Are the Best Substitutes for Whole Wheat Pasta?
Whole wheat pasta is a brilliant way to get more excellent fiber in your diet. Still, if you're trying to cut down on carbs or observe a gluten-free eating regimen, numerous alternatives are available.
Here are the pleasant substitutes for whole wheat pasta:
1. Quinoa Pasta: Quinoa is a superfood filled with protein, minerals, and antioxidants. Its glycemic index is low, making it a good substitute for watching blood sugar levels. Quinoa pasta is available in several types and sizes and is a fantastic option for traditional wheat-based pasta.
2. Chickpea Pasta: Chickpea pasta is a good alternative to help restrict carb consumption. It's crafted from ground chickpeas and has lots of fiber and protein, making it a healthier choice than traditional pasta. It also has a nutty flavor that can pair well with many sauces.
3. Vegetable-Based Pastas: Vegetable-based pasta is a sneaky way to get extra veggies into your pasta dishes without compromising taste. Many stores offer pasta alternatives made from zucchini noodles, candy potato spirals, and beet linguine. They're low in carbs and high in vitamins and minerals, making them a high-quality, wholesome pasta option.
4. Rice Pasta: Rice pasta is gluten-free and made from white or brown rice. It's a brilliant choice for those on a gluten-free diet or seeking to cut back on their carbohydrate intake. The texture is a bit different from traditional wheat-based pastas, however, the taste is still delicious.
5. Lentil Pasta: Lentil pasta is another solid option for those who like to focus on their protein intake without compromising taste. It's made from lentils, has a similar texture to traditional wheat-based pasta, and is richer in fiber and protein.
What Are the Best Substitutes for Regular Pasta?
Pasta is a flexible dish that can be made in a wide variety of noodles, sauces, and other substances. While everyday, regular pasta is a fantastic alternative for a family-friendly meal, there are some delicious alternatives that can be just as tasty. Whether you want a gluten-free choice or something new, here are high-quality substitutes for regular pasta.
1. Zucchini Noodles: Zucchini noodles, or "zoodles," are a great way to enjoy the flavors of traditional pasta dishes without carbs and gluten. Simply use a spiralizer to cut clean zucchini into thin strips that look like ordinary spaghetti, then top it up with your favorite marinara sauce, pesto, or meatballs.
2. Spaghetti Squash: Similar to zoodles, spaghetti squash is an excellent replacement for traditional wheat-based noodles. Roast the squash till it's tender and use a fork to gently scrape out the insides, which allows you to separate it into thin strands that take the shape of the conventional spaghetti that you're used to. Serve along with your favorite sauce and toppings.
3. Edamame Noodles: Made from edamame beans, these noodles are full of protein and fiber. They can be boiled or steamed, then served with various sauces, pesto, olive oil, or soy-based sauces.
4. Quinoa Noodles: Made from quinoa flour, these noodles are a terrific source of protein and fiber and can be used instead of conventional spaghetti or macaroni. Boil the noodles until they're gentle, then serve with your favorite sauce and toppings.
5. Rice Noodles: Rice noodles are a gluten-free and low-calorie alternative to regular pasta. They are available in numerous sizes and styles, from skinny vermicelli to huge fettuccine. Serve with your favorite veggies or protein for a tasty meal.
Conclusion
Whole wheat and regular pasta are favorite picks, but they have a few worthwhile variations. Whole wheat pasta has more fiber and other nutrients than regular pasta. It also has a nuttier flavor and more chewy texture that may be more appealing to some pasta fans. Regular pasta isn't as nutritious, but with careful attention, it can still help manage calories and carbohydrate levels. And it is an excellent choice for those looking to cook with creams and cheese-based sauces.
At the end of the day, however, the most ideal pasta for you depends on your dietary needs and personal inclination.