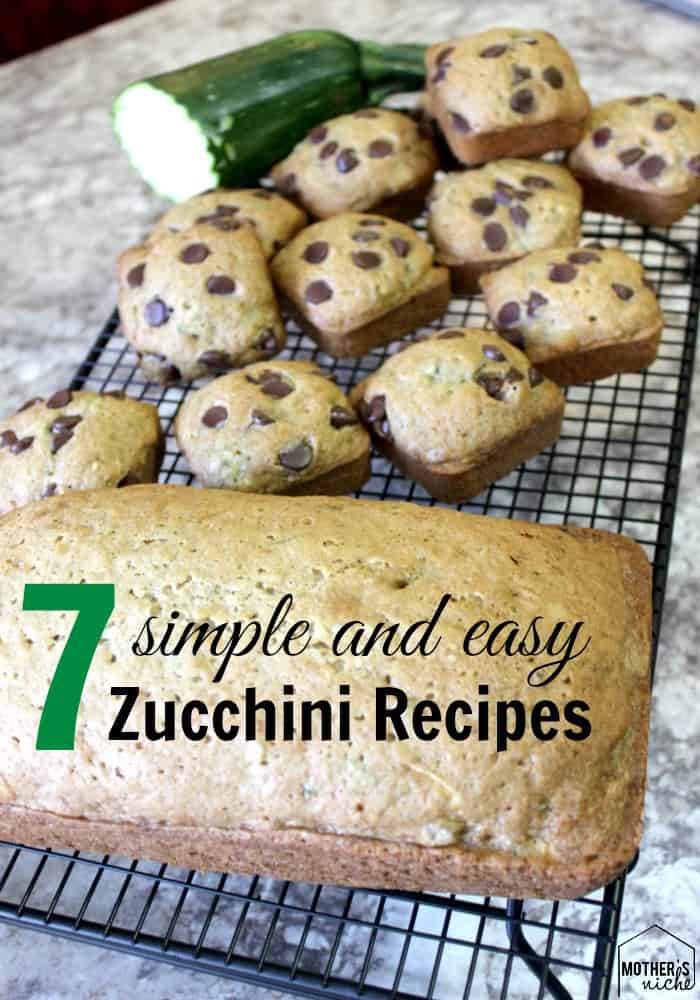 If you're like me and over did it on the zucchini plants, you probably have zucchini coming out your ears right now. Even if you only had one or two zucchini plants, you're probably picking a zucchini every other day! Don't let the zucchini madness overwhelm you! Here are some great zucchini recipes to use it all up, and one great tip for freezing zucchini that will keep your tummy happy all winter long! 🙂
Zucchini Bread
This family recipe is one of my all-time favorite zucchini recipes, and we make it more often than chocolate chip cookies! It's as simple as any sweet bread recipe, you just need to shred your zucchini. My husband and I like to shred about 4 or 5 zucchinis at a time and freeze the extras in 2 cup increments (that's how much each recipe calls for). That way we can make yummy zucchini bread, all winter!
*Occasionally, I like to sprinkle chocolate chips on the top of my loaves before I put them in the oven. I've tried mixing them into the batter before, but they seem to always fall to the bottom when baking. You can also use the batter for mini loaves, squares or muffins but cooking time will need to be adjusted (usually less).
INGREDIENTS
3 large eggs

2 cups sugar

1 cup canola oil

1 Tbsp Vanilla

2 cups shredded zucchini

2 Tsp cinnamon

1 Tsp baking soda

1/2 Tsp baking powder

3 cups flour

Chocolate chips* (optional)
DIRECTIONS
Preheat oven to 325 degrees.

Beat eggs until light and foamy.

Add sugar, oil, zucchini, and vanilla. Mix well.

Add dry ingredients and mix until just combined (do not over-mix).


Spray 2 bread pans with PAM and pour 1/2 the batter in each. Sprinkle with chocolate chips, if desired.

Bake at 325 degrees for 40-50 minutes, or longer, until a toothpick comes out clean. The loaves should be a nice, golden brown on top.

Let cool for a few minutes on a cooling rack before slicing.
Makes 2 loaves.
FREEZING TIP:
Freeze as much shredded zucchini as you can so you have plenty of it to make zucchini bread when winter rolls around. Make sure you freeze it in 2 cup increments (I do it in sandwich bags) so you don't have to keep thawing and refreezing a giant bag every time you want to make zucchini bread. Before baking, let your frozen zucchini thaw in a bowl to catch any water that might leak out of the bag. When mixing ingredients, add all the zucchini and ALL THE WATER that has thawed to your batter. Your batter may seem overly wet, but trust me, you need it all in there for the bread to cook properly! It might take an extra 5 or 10 minutes to bake but it will be yummy and moist!
Sweet Onion and Zucchini Gratin
My older sister made this recipe as a side dish one summer, and I've repeated it many times since! I love the idea of a zucchini gratin, because I've never been a big fan of potatoes, and this recipe is pure perfection. Plus, the nutmeg in it adds such a unique flavor that makes you want to lick the dish clean!
INGREDIENTS
2 Tbsp. unsalted butter + 1 Tbsp. for topping

1 lb. ( 2 large) yellow onions, thinly sliced

2 lbs. zucchini, sliced 1/4 inch thick

1 tsp. kosher salt (to taste)

freshly ground black pepper, to taste

1/4 tsp. ground nutmeg

2 Tbsp. all-purpose flour

1 cup hot milk (warm in the microwave or on the stove top)

3/4 cup fresh whole wheat bread crumbs (I used dried but fresh would have been better)

3/4 cup Gouda cheese, grated (can be substituted with other cheeses!)
DIRECTIONS
1. Preheat oven to 400 F.
2. Melt 2 Tbsp. butter in a very large sauté pan over medium heat. Add the onions and cook, reducing the heat as necessary, until soft and sweet (about 20 minutes). Add zucchini and cook for several minutes until they begin to soften (and no longer or the zucchini will turn to mush in the oven). Season with salt, pepper, and nutmeg to taste. Stir in the flour. Pour in the hot milk and cook for a few minutes until it forms a sauce. Pour the mixture into an 8×8 dish.
3. In a small bowl, toss the breadcrumbs and cheese together. Sprinkle on top of the zucchini mixture. Dot with the remaining Tbsp. of butter cut into small bits.
4. Bake in preheated oven for 15-20 minutes until bubbly and browned on top. Remove from the oven and let sit for at least 5 minutes before serving.
Adapted from A Hint of Honey.
Sautéed Zucchini (soy sauce)
I got the idea for this recipe when I went to a Hibachi restaurant. They sliced up some zucchini, grilled it right in front of us and dumped soy sauce all over it — it tasted like heaven! Not only was it delicious, it was simple to recreate!
INGREDIENTS
Zucchini, sliced in long, thin strips

Olive oil

Soy Sauce, to taste

Salt and pepper, to taste
DIRECTIONS
Heat olive oil in a sauté pan over medium heat.

Once hot, add zucchini strips and cook until softened.

Season with salt and pepper, then add desired amount of soy sauce. Cook a minute or two longer. Serve warm.
Zucchini Sticks
If you like eating your veggies with a little crunch, you'll love these zucchini sticks! They are soft on the inside but have a nice crunchy coating that's super yummy!
INGREDIENTS
Zucchini, sliced in long, thin-like sticks

Egg(s)

Bread Crumbs

Parmesan cheese

Salt

Garlic Powder

Onion Powder

Marinara dipping sauce
DIRECTIONS
In a bowl, mix bread crumbs, Parmesan cheese, salt, garlic powered and onion powder.

In a different bowl, whisk egg(s) gently.

Dip sliced zucchini into the eggs, then the bread crumb mixture.

Lay them on a greased baking sheet and bake at 425 degrees for about 20 minutes, until golden.
Zucchini and Yellow Squash Sauté
If you have some time, this sauté is a great side that goes well with many dishes. It takes about 30 minutes from start to finish and requires very, little attention while cooking. Simply dice up your squashes, throw them in to sauté and stir occasionally! Cook to desired softness!
INGREDIENTS
1 lb zucchini

1 lb yellow squash

2 TBSP olive oil

Salt and pepper, to taste

Parmesan cheese, for topping
DIRECTIONS
Chop up zucchini and yellow squash into small cubes. (I leave on the skins but remove the seeds.)

Heat olive oil in a sauté pan over medium heat. Once hot, add the zucchini and yellow squash, stirring occasionally. Cook 10-20 minutes until they're as soft as you want.

Season with salt and pepper and sprinkle with Parmesan cheese. Serve warm.
Zucchini, Corn and Bacon Pesto Pasta
If you like trying new things, give this pasta a shot! The ingredients might seem random but they combine together nicely! On occasion, I'll add chicken for a little more meat!
INGREDIENTS
1 lb. fusilli pasta

6 slices bacon, diced

3 ears corn, kernels sliced off

1 1/2 lbs. zucchini (I also used some yellow squash)

salt and freshly ground black pepper, to taste

Parmigiano Reggiano, freshly grated for serving
1 1/2 cups fresh basil

1/2 cup pine nuts, toasted

2 small cloves garlic

6 Tbsp. Parmesan, freshly grated

6 Tbsp. extra virgin olive oil

salt and freshly ground black pepper, to taste
DIRECTIONS
1. To prepare the pesto, place the basil, pine nuts, garlic, and Parmesan in a food processor. Pulse to create a chunky paste. With the motor running, stream in the olive oil until smooth. Season to taste with salt and freshly ground black pepper.
2. In a large skillet, cook the bacon over medium heat until crisp. Set bacon aside on a paper towel to drain. Reserve about 1 Tbsp. of bacon grease in the skillet and return to medium heat. Add the corn and zucchini and sauté until tender-crisp, about 8-10 minutes. Season to taste with salt and freshly ground black pepper.
3. Meanwhile, bring a large pot of salted water to a boil. Add the fusilli and cook, according to package directions, until al dente. Drain, reserving some of the pasta cooking water. Toss the cooked pasta with the zucchini mixture and pesto. Add a little cooking water to thin, if necessary. Stir in the bacon. Serve topped with freshly grated Parmesan.
Serves 4-6.
Adapted from A Hint of Honey.
Zucchini Spaghetti
Have you ever thought about making spaghetti out of zucchini? Zucchini spaghetti is a great healthy alternative to traditional noodles, and your kids will barely notice the difference! Simply cut your zucchini with a vegetable peeler (discarding the skin and seeds) and then continue to slice it into thinner strips. Boil like you would pasta and add your favorite toppings and sauces!  You can also try a spiralizer to make things even more fun, and kids love it!

What are some of YOUR favorite zucchini recipes?!?!