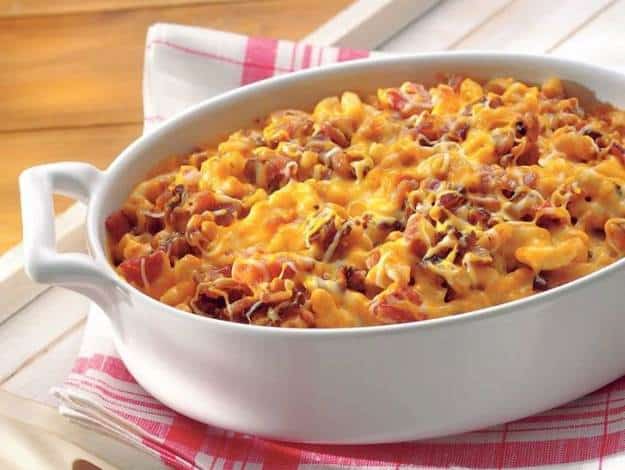 [addtoany]
Mmmm….who doesn't love macaroni and cheese? And you know what makes macaroni and cheese even better? Bacon!
While chopping up bacon and adding it to mac and cheese can give it that great addition of a smoky, meaty taste explosion, this dish is more sophisticated. We've added elements that work to bond the ingredients and bring all the flavors together. Yet, it is still relatively easy to prepare.
Read on to find out how it's done.
Bacon Mac and Cheese
To make the recipe, start by cooking 6 thick slices of applewood smoked bacon in a large saucepan over medium heat for 5 to 6 minutes until crisp.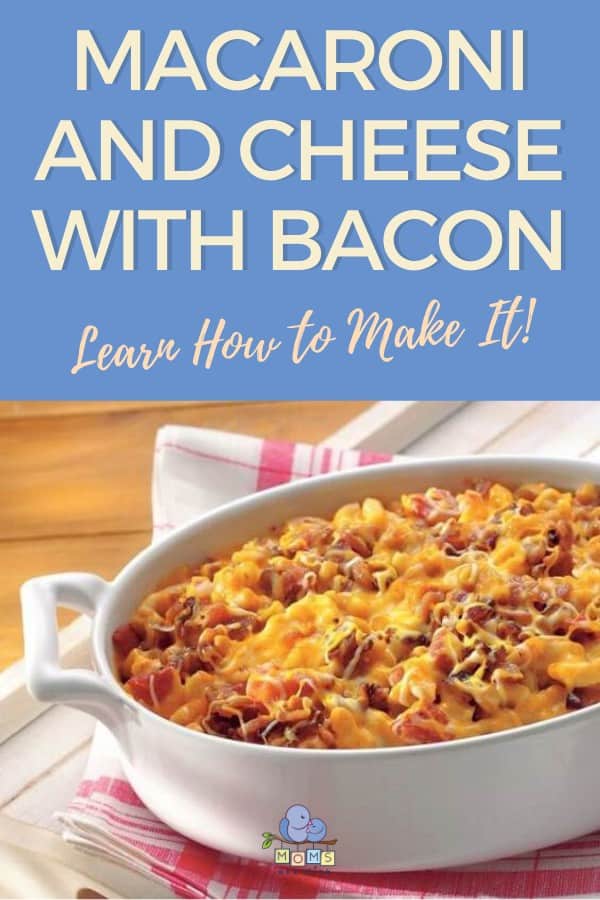 Then transfer the bacon to a paper towel and set it aside.
Next add 1 tbsp all purpose flour to the pan. Cook and stir for 30 seconds while scraping up the browned bits from the bottom of the pan.
Add 2/14 cups milk and ½ tsp salt and bring to a boil. Simmer one minute stirring frequently until sauce thickens. Be careful to avoid scalding.
Remove from heat and stir in 1 ½ cups Colby Jack cheese until melted.
Stir in 8 oz. elbow macaroni that has been cooked and drained as well as 14 oz. diced tomatoes.
Transfer to a 9-inch baking dish and bake at 450 degrees for 20 minutes.
Mix to keep the casserole from drying out. Then crumble and sprinkle reserved bacon and remaining cheese over the macaroni. Continue to bake 5-7 minutes or until cheese is melted.
The flour works as bonding agent to give this dish a bit of structure as a somewhat solid mass allowing all the flavors to work together.
To change the dish up a bit, you can use diced tomatoes with jalapenos instead of regular diced tomatoes. This will give the recipe a bit of a kick.
You can also try using different kinds of cheeses. A cheddar can work nicely as a substitute for the Colby Jack.
You can also add other veggies like peppers and onions or use different spices to alter the flavor of the dish.
Mac and Cheese Variations
When considering mac and cheese, there are many variations you can make on the dish. These include the following:
Butternut Blue Cheese: Peel and cube a small butternut squash and roast at 425 degrees until tender. Prepare mac and cheese using 2 ½ cups of cheddar and ¾ cup crumbled blue cheese in the sauce. Add the squash. Top with ¼ cup cheddar and blue cheese and broil until melted.
Italian: For this dish, use fontina instead of cheddar in the sauce on and on top of the pasta. Top with ¼ cup panko breadcrumbs and parmesan before baking.
Beer and Brat: For this take on the recipe, pilsner beer is used instead of milk in the mac and cheese mix. Add 3 browned sliced bratwurst and top with 1 cup of cheddar.
Kielbasa: Go Polish with your mac and cheese by using horseradish cheddar in the sauce. Add 12 ounces of browned, diced kielbasa and top with 1 cup crushed pretzels before baking.
Truffle: Elevate your mac and cheese dish by adding mushrooms and using truffle cheese. Start by sautéing one pound of sliced mushrooms in olive oil until browned. Add 2 cups grated truffle cheese to sauce. Add mushrooms and top with ¼ cup gruyere cheese.
Onion Lovers: Cook 2 large sliced onions in butter until golden brown for 15 minutes. Add onions and 1 bunch chopped scallions to the pasta. Bake and sprinkle with canned fried onions.
Lobster: Take your mac and cheese to a gourmet level by adding 12 ounces of cooked lobster to the mix. Top with cheddar cheese and a mix of ½ cup panko, ¼ cup chopped chives and 1 tbsp melted butter.
Smoked Mozzarella: Give your mac and cheese a smoky, cheesy taste by adding ½ cup sliced roasted peppers and diced, smoked mozzarella. Top with cheddar and broil.
Bacon Chipotle: A variation on our bacon recipe, this dish requires 1 cup of cheddar and 3 cups chipotle cheddar to be added to the sauce. Other additions include 2 tbsp. chopped chipotles in abobo sauce, 8 slices of crumbled cooked bacon. Top with cheddar cheese and a mixture of ½ cup panko and 1 tsp. smoked paprika.
Mac and cheese makes a fun and delicious dinner any night of the week. What variations will you be making to please your hungry crew tonight? 
If you enjoyed this recipe, make sure to check out our Maple Pecan Pork Chops and our Pork Chops Devine.
Print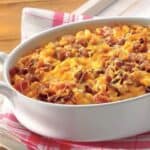 Macaroni and Cheese With Bacon Recipe
---
Author:

Total Time:

40 minutes
Description
Macaroni and cheese is always a favorite with adults and kids alike, but adding bacon to it kicks it up a whole lot of notches to make it amazing. Creamy, cheesy macaroni wraps itself around the bacon for a taste explosion on every bite. For a bit extra heat, use diced tomatoes with jalapeños instead of regular diced tomatoes (or leave them out all together of you've got picky kids).
Not only is this recipe quick and easy, it only has 7 ingredients. You can have a delicious, affordable belly filling meal on the table in about 30 minutes.
---
6

thick slices applewood smoked bacon, diced

2 Tablespoons

all-purpose flour

2

–

1/4

cups milk

1/2 teaspoon

salt

1

–

3/4

cups shredded Colby-Jack Cheese, divided

8 ounces

elbow macaroni, cooked and drained

14 ounces

diced tomatoes, drained
---
Instructions
Preheat oven to 375°F.
Cook bacon in a large saucepan over medium heat 5 to 6 minutes or until crisp, stirring frequently.
Use a slotted spatula to transfer bacon to a paper towel; set aside.
Add flour to drippings in pan; cook and stir 30 seconds, being sure to scrape up and browned bits from the bottom of the pan.
Add milk and salt; bring to a boil. Simmer 1 minute or until sauce thickens, stirring frequently, watch closely to avoid scalding.
Remove from heat; stir in 1-1/4 cups cheese until melted.
Stir in cooked macaroni and tomatoes. Transfer to a greased 9-inch baking dish or shallow 1-1/2-quart casserole dish.
Bake in preheated oven for 20 minutes or until heated through.
Mix to avoid top drying out. Crumble and sprinkle reserved bacon and remaining cheese over macaroni; continue to bake 5-7 minutes longer or until cheese is melted.
Prep Time:

10 Minutes

Cook Time:

30 Minutes

Category:

Main Course

Method:

Baking

Cuisine:

American
Keywords: bacon mac and cheese, mac and cheese variations