[addtoany]
Mixing sweet and savory is a popular culinary choice that seems to be trending in modern times. There may be no better manifestation of this than a maple pecan pork chop dish. The maple syrup gives the dish sweet, gooey goodness that is the perfect complement for the protein while the nuts add a nutty, buttery flavor that takes the dish to the next level.
If you think maple pecan pork chop is a dish your family will enjoy, read on to find out how you can make it as well as other sweet and savory dishes that will put a smile on their faces.
Maple Pecan Pork Chops
Let's start by taking a look at our recipe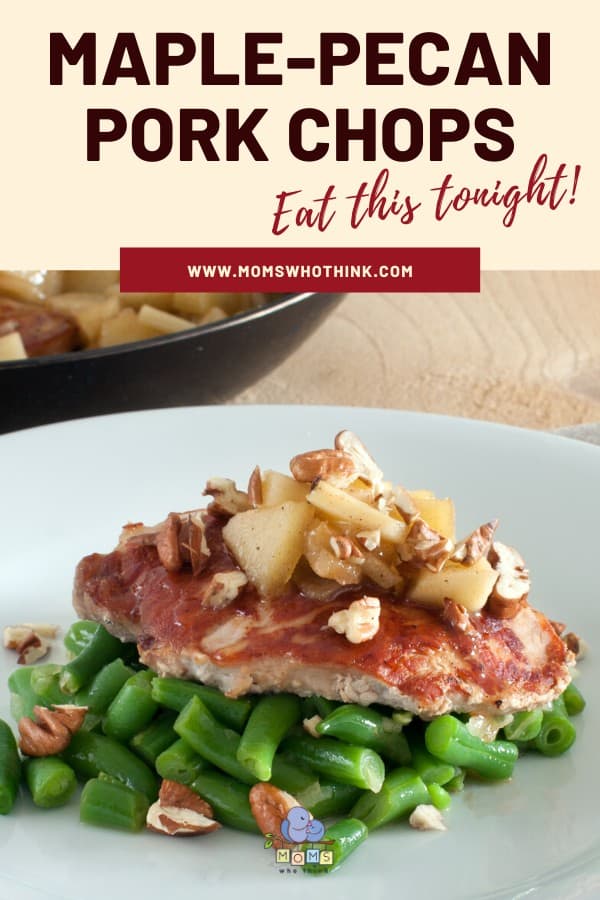 To make these maple pecan pork chops, start with 4 boneless pork loin chops cut ¾" thick.
Sprinkle both sides with salt and pepper.
Then cook chops in a skillet with 1 tbsp of butter for 9 to 13 minutes or until juices run clear, flipping once.
Put the chops to the side.
Then, in a small bowl, mix 3 tbsp. butter with 2 tbsp. Maple syrup. Spread the mixture over the pork chops and allow it to absorb into the meat.
Sprinkle with ½ cup chopped and toasted pecans and serve.
There are several options that will work well as sides to this dish. Rice will be perfect for absorbing any excess syrup and butter mixture. Sweet potatoes will work in a similar fashion while bringing an added sweetness to the meal. And if you're going for lighter fare, a salad or veggies will do quite nicely.
The meal also ranks pretty high when it comes to health. Pork is a great source of protein and other vitamins and minerals and it can be relatively low in fat and calories depending on how it is prepared.
Pecans are rich in fiber and packed with antioxidants making them great for boosting heart health and preventing certain types of cancer.
To make the dish even healthier, go for light maple syrup and a heart-healthy choice when it comes to the butter you use.
Maple Syrup Pork Chops
Because maple syrup is such a great choice when it comes to adding a great sweet taste to pork, it is often incorporated into pork dishes. Here are some other pork and maple syrup recipes you can make for your family.
Maple Balsamic Glazed Pork Chops: You will need the following ingredients to make the glaze:
1/4 cup maple syrup
3-4 Tbsp balsamic vinegar
2 Tbsp beef broth
1 1/2 tsp Dijon mustard
1 clove garlic smashed
1 sprig fresh rosemary
1 sprig fresh thyme
salt and pepper to taste
These ingredients should all be mixed together in a bowl.
To prepare the pork chops, start by putting the skillet in the oven which should be preheated to 400 degrees. Pat pork chops dry with a paper towel, rub with olive oil and sprinkle with salt and pepper.
Remove skillet from oven and place pork chops inside. Cook 2-3 minutes to sear and brush with glaze. Flip pork chops and repeat.
Put the skillet back in the oven and bake about 5-8 minutes or until you can get a thermometer reading of 140 degrees.
Transfer pork chops to a plate, tent loosely with aluminum foil, and let sit for 5 minutes. Then serve with a bit of the glaze drizzled over the top.
One Pan Glazed Pork Chops:
To make this recipe, start by cooking chops in a large skillet with 2 tbsp. Cooking oil. Cook 4-5 minutes on each side.
The glaze in the recipe contains the following ingredients:
1/4 cup real maple syrup
3 tablespoons ketchup
2 tablespoons soy sauce
2 tablespoons apple cider vinegar (may sub white vinegar)
1 1/2 teaspoons minced garlic
1/4 teaspoon ground ginger
optional: fresh thyme for garnish
Whisk together these ingredients and put the mixture in a skillet. Add pork chops and cook another 3-5 minutes spooning the mixture over the pork chops and turning to coat.
Serve hot and garnish with thyme (optional).
Pork makes a great base for any meal and the addition of maple syrup gives it a sweet taste your entire family is sure to love. How will you be mixing up these ingredients to make a tasty meal tonight?
If you enjoyed this recipe, make sure to check out our Sausage and Orzo Recipe and our Pork and Potatoes with Tomato Relish Recipe.
Print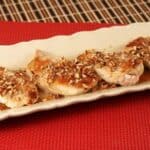 Maple-Pecan Pork Chops Recipe
---
Author:

Total Time:

28 minutes
Description
The maple syrup gives the dish sweet, gooey goodness that is the perfect complement for the protein while the nuts add a nutty, buttery flavor that takes the dish to the next level.
---
4

boneless pork loin chops, cut ¾-inch thick (about

1

pound)
Salt and black pepper

4 Tablespoon

butter or margarine, softened

2 Tablespoon

maple-flavored syrup

⅓ cup

chopped pecans, toasted
---
Instructions
Sprinkle both sides of chops with salt and pepper.
In a 12-inch skillet cook chops in 1 Tablespoon of the butter over medium-high heat for 9 to 13 minutes or until juices run clear (160°F) turning once.
Transfer chops to a serving platter.
In a small bowl combine the remaining butter and the syrup.
Spread butter mixture evenly over chops.
Let stand for 1 minute or until melted.
Sprinkle with pecans.
Prep Time:

15 Minutes

Cook Time:

13 Minutes

Category:

Main Course

Method:

Pan-Frying

Cuisine:

American
Keywords: maple pecan pork chops, maple syrup pork chops