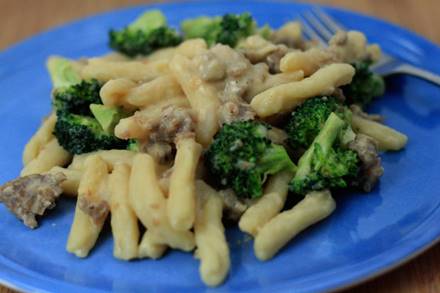 Let's Get Ready for Baby!
Sign up for our monthly pregnancy email series, and you'll get regular updates on your baby's development, helpful timelines to get ready for their arrival, must-have baby needs and so much more! PLUS, you'll get instant access to the MomsWhoThink "Ultimate Guide to Baby Naming in 2022."
CLICK HERE
to get started!
[addtoany]
There is no denying that sausage and pasta make a great base for any meal. They give meals a hearty texture that can go well with any number of ingredients. When Italian sausage is used, the meal can have an authentically Italian taste that can take you back to the old country…even if you've never been there!
We feel this dish is exceptional due to the addition of rich cheese and the light flavoring of the broccoli. Read on to find out how you can make it for your family.
Cavatelli with Broccoli and Sausage
To make this dish, start by cooking 1 lb. uncooked, frozen cavatelli pasta according to package directions. Drain, then put the pasta back in the pot it was cooked in.
Next, heat 1 tbsp. olive oil in a 10-inch skillet over medium high heat. Add 1 lb. sweet Italian sausage with casing removed and cook until well browned stirring often.
Remove sausage from skillet and drain the fat.
Add 1 tbsp. butter and 2 cloves minced garlic to the skillet. Reduce heat to medium and cook for 2 minutes or until garlic is golden.
Add 16 oz. frozen broccoli florets that have been thawed to the skillet and cook for 5 minutes stirring often. Stir in 2 cups chicken stock and bring to a boil.
Add broccoli mixture, sausage and 2 tbsp. grated Romano cheese to the saucepot. Cook over medium heat for 10 minutes or until stock thickens stirring occasionally.
This is a great dish to make because it does not require any additional ingredients. With a meat, vegetable and hearty starch all represented, there is no need to serve it with a side. But if you do want to make a more filling meal, you can always add a salad or breadsticks.
The meal is also given an authentically Italian taste with the addition of Italian sausage. This is a type of pork sausage that's taste is made distinct by the addition of fennel seasoning. Red hot chili pepper can be added to give the sausage a hot taste while sweet basil will make the sausage sweet.
Experiment with different types of sausage to get the taste you are after.
What is the Difference Between Gnocchi and Cavatelli?
We've all heard of different kinds of pasta but cavatelli is one of the more obscure ones.
The name cavatelli comes from the Italian word cavato which means something that is gouged. The term is used in reference to the little dimple that appears in each piece of pasta.
Cavatelli is made from eggless semolina dough and resembles miniature hot dog buns. It is commonly cooked with garlic and broccoli as well as a variety of seafood dishes.
Cavatelli is known by several different names as different regions of Italy made up their own terms for the pasta. These include orecchie di prete (priest's ears) and pizzicarieddi.
In a region known as Teggiano in Campagnia, there is a larger, flat shaped kind of cavatelli which is known as Parmatieddi (or Palmatielli). As opposed to other types of cavatelli, this type of pasta is made by rolling a wider stick of dough. It is served on Palm Sunday due to its resemblance to a tree leaf, similar to the palm branches scattered in front of Jesus when he entered Jerusalem.
Many people confuse cavatelli with another form of Italian pasta known as gnocchi. This is understandable as both pastas have a small, thick shape with dimpling. However, the two differ in the way they are made.
While cavatelli is made of an eggless semolina dough, gnocchi is made with potatoes or cheese. Cavatelli also has a firmer texture than gnocchi.
Gnocchi can be served with any number of foods, but pesto or nuts are often added to give it a nutty flavor.
Despite the differences between cavatelli and gnocchi, they can be used to substitute each other in dishes. In fact, there are several gnocchi and sausage dishes that can be found on the internet if you are interested in experimenting.
But no matter how you choose to mix your sausage and pasta, it will always make a delicious meal that is sure to put a smile on your family's faces. How will you be using this combination in tonight's meal? 
If you enjoyed this recipe, make sure to check out our Maple Pecan Pork Chops and our Pork Chops Devine.
Print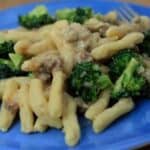 Sausage Cavatelli with Broccoli Recipe
---
Author:

Total Time:

35 minutes
Description
There is no denying that sausage and pasta make a great base for any meal. They give meals a hearty texture that can go well with any number of ingredients.
---
1

pound uncooked frozen cavatelli pasta

1 Tablespoon

olive oil for cooking

1

pound sweet Italian pork sausage, casing removed

1 Tablespoon

butter

2

cloves garlic, minced

16 ounces

frozen broccoli flowerets, thawed

2 cups

chicken stock

2 Tablespoons

grated Romano cheese
---
Instructions
Cook the pasta according to the package directions in a 6-quart saucepot.
Drain the pasta well, then return the pasta to the saucepot.
Heat the oil in a 10-inch skillet over medium-high heat.
Add the sausage and cook until it's well browned, stirring often to separate meat.
Remove the sausage from the skillet. Drain fat.
Add the butter and garlic to the skillet. Reduce the heat to medium.
Cook for 2 minutes or until the garlic is golden.
Add the broccoli to the skillet and cook for 5 minutes, stirring often.
Stir in the chicken stock and heat to a boil.
Add the broccoli mixture, sausage and cheese to the saucepot.
Cook over medium heat for 10 minutes or until the stock mixture is thickened, stirring occasionally.
Prep Time:

15 Minutes

Cook Time:

20 Minutes

Category:

Main Course

Method:

Pan-Frying

Cuisine:

American
Keywords: what is the difference between gnocchi and cavatelli?, cavatelli with broccoli and sausage