Chances are very high that you've come across sausage severally. Infact, it's one of the most popular products you'll find in different cuisines worldwide. Sausages is made from various meats ground or minced into small pieces and put into casings.
In this post, we focus on pork sausage and Italian sausage. A major similarity that the share is that they are made from pork, but differ in multiple ways. Pork sausage has basil, thyme, sage, and smoked paprika as a seasoning, while Italian sausage contains fennel, giving it its distinct flavor.
Find out more about pork and Italian sausages below.
Differences Between Pork Sausage and Italian Sausage
Sausages come from the Latin word 'Salsus,' meaning 'salted.' The salting relates to sausages as the use of seasoning is a crucial part of their processing. The seasoning which gives each sausage its flavor is the major distinguisher between pork sausage and Italian sausage. Pork sausages are always in the market, but you must specify the kind you want since pork is the main ingredient in the above-mentioned types.
Other common ingredients in pork sausage are sage, basil, coriander seeds, thyme, and smoked paprika. As for Italian sausage, its ingredients include fennel, seeds, garlic, and red chili pepper flakes. Each of these ingredients gives the specific sausage type its flavor. Pork and Italian sausages come in several variations.
As for pork, the types vary depending on the preparation and seasonings incorporated. Italian sausage comes in three forms: sweet, hot, and mild. The sweet kind has sweet basil, the hot Italian sausage has hot pepper flakes, and the mild variety contains fennel and parsley.
In most cases, you like a certain food because of the flavor or taste. Pork sausage is best if you love something meaty, earthy, or smoky with a tangy or savory taste. Some Italian sausages have an earthy flavor with a distinct garlic taste from the fennel, but other types are sweet or hot.
Another key difference is the preparation process before distribution to the market. Pork sausages are usually fresh, lightly smoked, and dried, meaning you can readily eat or fry. Italian sausages need cooking before eating since they are sold raw.
Pork Sausage vs. Italian Sausage: Nutritional Content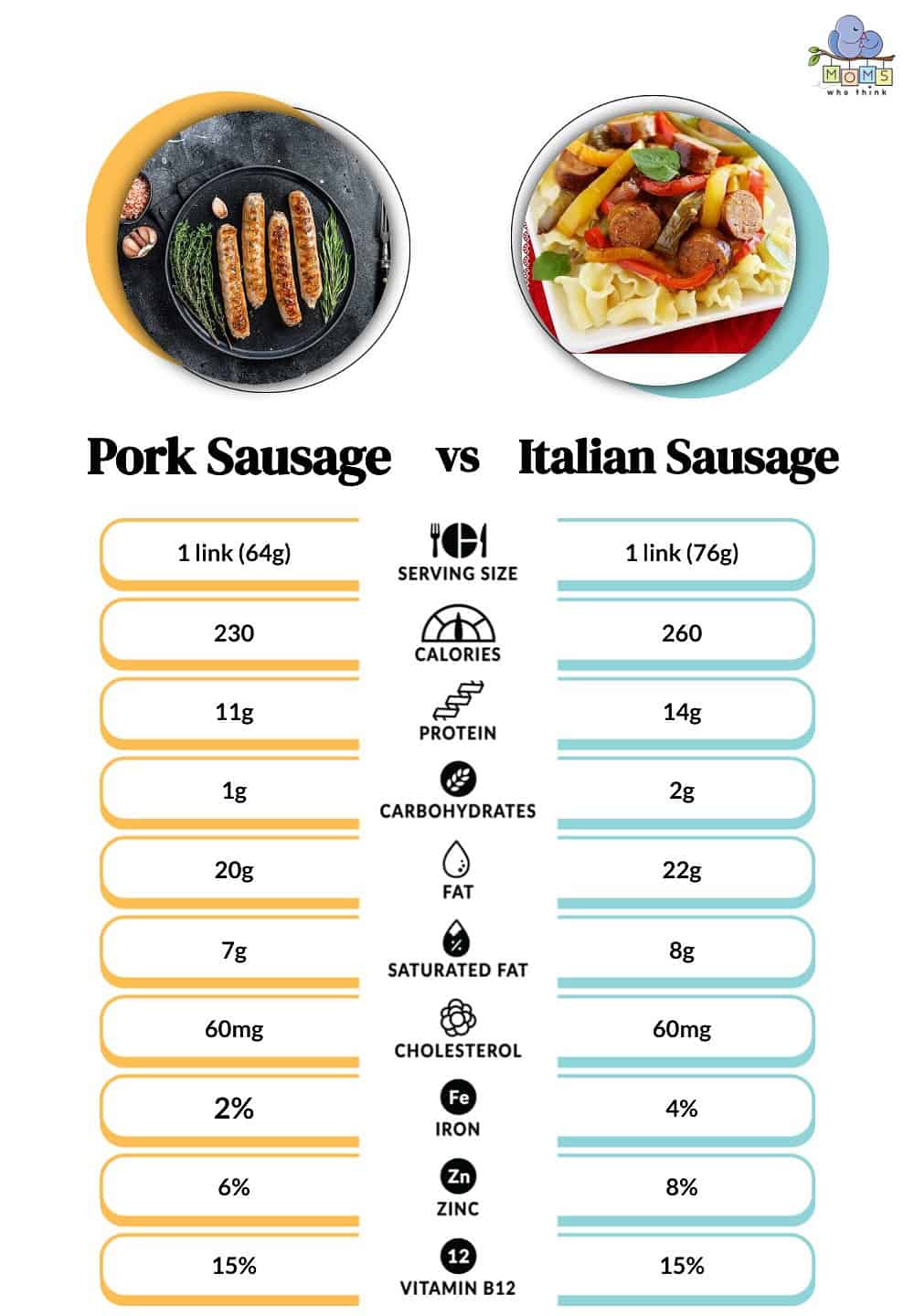 Both the pork and Italian sausages are pretty alike. Italian sausage is deemed healthier than pork because pork has slightly more calories, cholesterol, fat, and sodium content. But, since the percentage isn't much different, both sausages are healthwise similar. They also contain protein, fiber, calcium, and sugars. Protein and fiber are great nutrients for the body for muscle development and digestion. Calcium is good for bone health. Other components in these sausages are vitamins and minerals. Vitamin A is higher in pork, and Thiamin, vitamin B6, Niacin, Phosphorus, Iron, Riboflavin, Magnesium, and Zinc are almost equal in both foods.
What is Pork Sausage?
Pork sausage, or the classic breakfast pork sausage, originates in America. Since animal farming was a huge practice, the pigs were very many, and farmers had to find a way to maximize them. They devised a way to use all the ground-up meat from the cut-up chops to make a high-protein food for breakfast.
Nowadays, the sausage comes from a pig's leg or shoulder muscle called a boneless pork butt. It is usually smoked and dried and contains lean and fatty meat parts. It has different seasonings, salt, and other condiments to give it a better flavor. Pork sausage is available in patties or edible casings that contain collagen and cellulose. The casings form links. Pork sausage works in different dishes as a stuffing, filling, or as an addition to sauces.
What is Italian Sausage?
Italian sausage is one of the oldest sausages originating from Italy. It was initially known as Lucanica, but the name changed over the years. In America, this is what people call pork sausage, but with fennel seasoning. Italian sausage comes from pork but is fennel flavored, thus differentiating it from pork sausage. It may also have garlic powder and pepper to create the various types available.
Italians are one of the most versatile people when it comes to food. Their foods and recipes differ in taste depending on which area of the country they are from. Similarly, the Italian sausage has multiple variations. It can be sweet, mild, or hot based on the seasoning and ingredients used. Sweet basil makes it sweet, while hot red chili flakes make it hot and spicy.
Unlike pork sausage, this sausage is usually raw and needs cooking. You can fry with oil or grill, and removing the casing for pasta dishes to form a sauce is best. Cooks love adding it to pizza or lasagna for additional flavor.
Pork Sausage vs. Italian Sausage: Can You Use Them Interchangeably?
You can substitute the sausages for each other. Both come from pig meat, so there is no difference in the main ingredient. However, you have to use similar seasonings to achieve the exact flavor of each sausage.
Pork sausage is usually tangy or salty, with some being slightly peppery. If you have Italian sausage, include spices like black pepper, nutmeg, smoked paprika, and sage to mimic pig sausage. As for an Italian sausage replacement, use fennel seasoning on your pork sausage and other requirements like hot pepper flakes and parsley.
Best Replacements for Italian Sausage
These are great options when you don't have pork sausage for substitution.
Toulouse-style Sausage
This is a French sausage from pork meat spiced with black pepper and garlic. It originates from Toulouse city in France hence the name. The black pepper makes the sausage slightly hot, similar to Italian sausage links, but you can add red pepper flakes for more heat, and fennel for enhanced flavor. It's suitable for sauces to go with your pasta and rice dishes.
Bratwurst
The name means "chopped meat sausage". It's a German sausage made from pig meat, with other variations in beef or veal. It does well with several seasonings and spices like salt, pepper, ginger, nutmeg, and caraway. You can grill or fry or use it in pasta dishes. Either way, bratwurst sausage is delicious and perfect for your Italian sausage recipes.
Andouille Sausage
It's a popular smoked sausage of French origin. Pork is its main ingredient, with additional spices and condiments like wine and garlic for flavor. It has a dominant smoky taste that blends well with various dishes. It is ideal for stews, rice dishes, pizza, and sausage bread.
Chorizo
Chorizo sausage originates from Spain and is made from pork. The meat is coarsely ground and mixed with garlic, paprika, and other spices. Like most sausages, you can have it plain or include it in recipes for other dishes. It's suitable for Mexican and Spanish cuisines and also soups and stews. You can choose the mild or spicy type depending on your desired taste.
Pork Sausage and Italian Sausage Recipes
The pig and Italian sausages work well with so many dishes. Nevertheless, remember that both have different flavors, and you should pair them with the right foods.
Scrambled Eggs
Eggs and sausage are one of the best breakfast meals. Pork and Italian sausages suit this recipe; you can pair them with cheese, onions, mushrooms, and any other favorite food of your choice.
Mac n' Cheese
You can make mac n' cheese using pork meat sausages. You can't go wrong with a combination of pasta, cheese, and pork or Italian sausage. The creamy cheese, rich pasta, and smoky pork meat taste is the best!
Sauteed Onions and Pork Sausages
This is a combo you can cook to your liking. Red or white onions are great options, as well as peppers. The latter can be both red and yellow peppers for sweetness and color. The smoky flavor of the pork sausage makes the entire dish taste roasted. You can grill your Italian sausage to give it a similar taste or leave it as is for a peppery flavor and sweet taste from the bell peppers.
Italian Bread
Italian bread goes well with Italian sausage. It gives it the signature garlic taste; you can add any filling you choose. However, use pesto filling if you prefer the complete Italian experience.
Fava Bean Stew
Are you looking for good comfort food for a chilly day? Fava bean stew and Italian sausage are the best choices. The combo has a smokey aroma and heat from the hot pepper. It also contains paprika and cumin, with a touch of lemon juice, making this a recipe for many.
Polenta
Polenta is known for its corn flavor and creamy texture. The sweet and mild Italian sausages bring out polenta's flavor since they are fatty and meaty, with a sweet taste.
Conclusion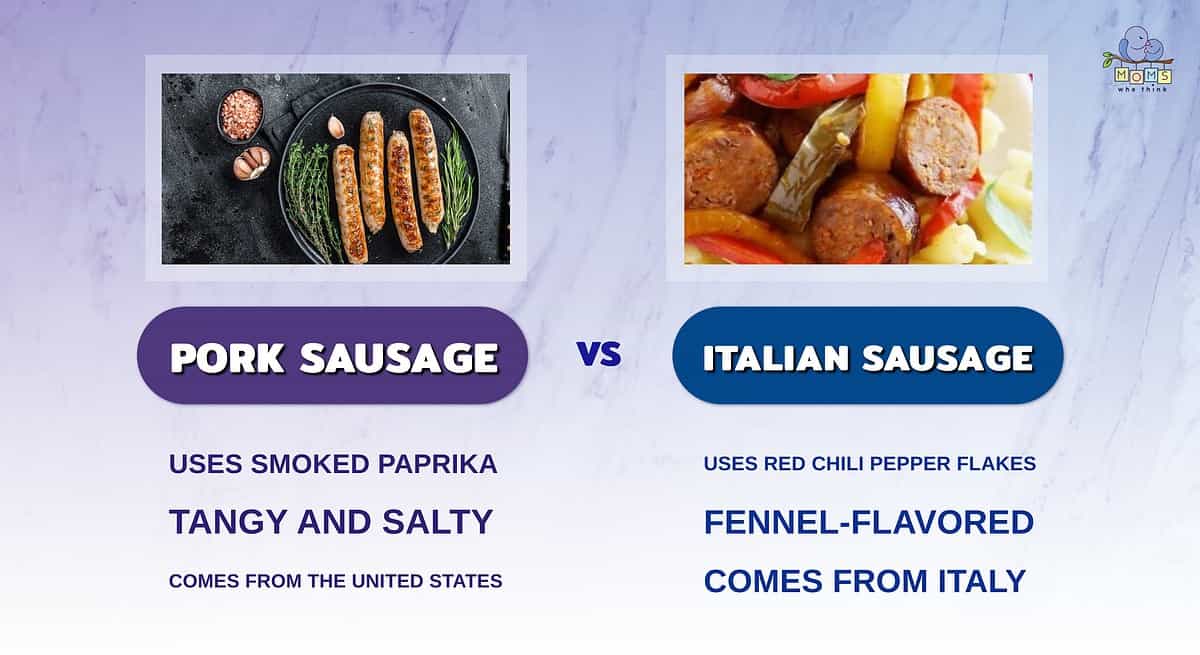 If you want to substitute pork sausage for Italian or vice versa, you may want to use either smoked paprika or red chili pepper flakes to bring the taste closer to the flavor of the sausage being replaced.
Pork sausage is tangy and salty. When you have Italian sausage, the dominant flavor you'll taste is fennel. The amount of spice you get from either sausage will depend on the type you buy; both sausages come in different varieties that change up the amount of heat.
Pork sausage comes from the United States, where it continues to be a commonly consumed meat to this day. Italian sausage comes from Italy, as its name might suggest. It, too, is a popular sausage in America.
Based on the above information, pork, and Italian sausages provide a great food experience. They are pork-based but with different flavors. Some people enjoy the slight saltiness, peppery and smoky flavor of the pork sausage, while others prefer the Italian sausage's sweet, earthy, and garlic fennel taste. But trying both gives you an unforgettable experience and helps you decide which's best.
Take a look at this Italian Sausage and Pasta Bake:
Print
Italian Sausage and Pasta Bake
---
Author:

Total Time:

30 minutes
1

pound mild Italian sausage

2

cloves garlic, minced

1

each red and green bell peppers, chopped

14

–

1/2

ounces canned Italian-style tomatoes, undrained

6 ounces

tomato paste

8 ounces

ziti, cooked and drained

1/4 cup

chopped fresh basil or 1 Tablespoon dried basil

2 cups

shredded Italian Cheese, divided
---
Instructions
Remove casings from sausage, the cut into 1/2-inch pieces.
Cook sausage in large skillet over medium heat 5 minutes or until browned on all sides. Drain fat from pan.
Add garlic and peppers; cook 5 minutes or until sausage is cooked through and vegetables are crisp-tender.
Add tomatoes and tomato paste; mix well.
Stir in pasta, basil and 1 cup cheese.
Transfer to 13×9-inch baking dish. Cover and bake in preheated 375°F oven 20 minutes.
Uncover; sprinkle remaining cheese evenly over casserole. Continue to bake until cheese is melted (about 5 minutes).
Prep Time:

10 minutes

Cook Time:

20 minutes