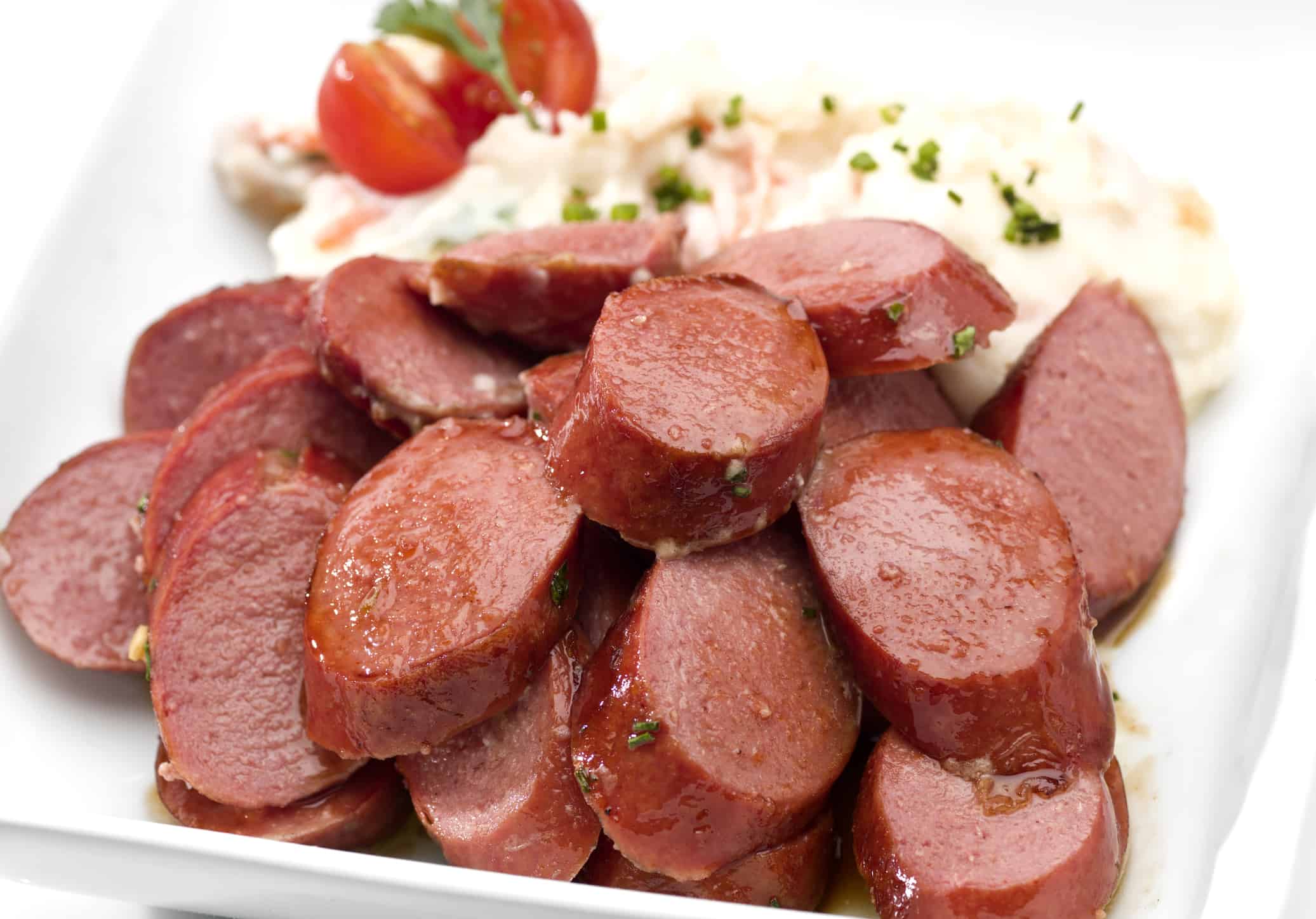 Let's Get Ready for Baby!
Sign up for our monthly pregnancy email series, and you'll get regular updates on your baby's development, helpful timelines to get ready for their arrival, must-have baby needs and so much more! PLUS, you'll get instant access to the MomsWhoThink "Ultimate Guide to Baby Naming in 2022."
CLICK HERE
to get started!
[addtoany]

Often times, when you think about sausage, it might come to mind as core meat for breakfast. But just because sausage, bacon, and more meat of this kind are versatile enough to be eaten during the early hours of the day, that does not mean they are exclusively limited to breakfast time.
Smoked sausage can also serve as the basis for an excellent, tasty dinner that will make your family wonder what they have been missing out on for all these years. At least, now, smoked sausage suppers will be here to stay in your regular dinner course rotation.
Sausage Supper
When you are cooking dinner for your family, you definitely want to include some sort of meat as a source of protein (and overall tastiness) so the dishes you cook have some sort of centerpiece. Typically, while cooking, there are a few types of meat that will rise to the forefront of your mind in terms of what you think will be a good idea to cook for the whole family.
Chicken is arguably the most popular meat, but steak, fish, and pork have been in the middle of plenty of dinner tables on any number of days. This particular recipe, on the other hand, is placing the emphasis on a slightly rarer (but no less savory) meat: the sausage.
Unless you live in Germany, sausage is certainly not a popular meat-based centerpiece for dinnertime, but that is not because people do not love it. It is just simply not as popular as it should be.
When attending a sporting event or a food festival or even a specialized sort of breakfast buffet, sausage definitely becomes a major player in the meat category. Only then does it become the most desired sort of meat because of how simple it is to eat. (For example, you could never just pick up a cut of steak at a food festival and eat it with plastic utensils.) But sausage is more than just "easy" food. It can also be the heart of a delicious and filling dinner that will satisfy every member of your family.
Smoked Sausage Supper
The sausage used in this recipe is mixed into a concoction of delicious flavors that bring about both a tartness and a tanginess in the sausage that would otherwise be left aside. Typically, sausage tastes as savory as can be, but thanks to the addition of flavors like Worcestershire sauce and honey mustard, this sausage tastes unlike any sort of link you have had before in the realm of meat. You could have never guessed that a tart sausage could taste so good, never mind a tangy one! It will leave your mouth watering and your mind wondering what other flavors smoked sausage can take on.
But, as versatile and delectable as the sausage is, it cannot be the only part of the meal. And that is where the rest of this recipe comes into play. The sausage is able to fit into many different meals, depending on the sorts of starches and grains that you aim to include as side dishes. Cook up the sausage and place it over a bed of pasta. Smoke and douse it and add it to a plate with rice and vegetables, or maybe even potatoes. Each of these foods will be so complementary to the sausage that is exploding with flavor every bite of the way.
You can always add flavoring to the other side dishes in the meal, but the natural flavors of the sausage that are brought about during the cooking process will certainly be enough to change up the plainness of everything included if you feel so inclined.
If you enjoyed this recipe, make sure to check out our Tater Tot Casserole Recipe and our Ham and Potato Casserole Recipe.
Print
Smoked Sausage Supper Recipe
---
Author:

Total Time:

22 Minutes
Description
Smoked sausage can serve as the basis for an excellent, tasty dinner that will make your family wonder what they have been missing out on for all these years. At least, now, smoked sausage suppers will be here to stay in your regular dinner course rotation.
---
⅓ cup

chopped onion

1 Tablespoon

canola oil

½ cup

water

½ cup

ketchup

½ cup

cider vinegar

1 Tablespoon

Worcestershire sauce

1 Tablespoon

honey

1 teaspoon

ground mustard

1 teaspoon

paprika

¼ teaspoon

salt

¼ teaspoon

sugar

⅛ teaspoon

pepper

⅛ teaspoon

hot pepper sauce

1

pound smoked sausage
---
Instructions
In a large skillet, saute the chopped onion in oil until tender.
Stir in the water, ketchup, vinegar, Worcestershire sauce, honey,mustard, paprika, salt, sugar, pepper and hot pepper sauce.
Add sausage and bring to a boil.
Reduce heat; simmer, uncovered, for 10-12 minutes or until sauce is slightly thickened and sausage is heated through,stirring occasionally and turning sausage once during cooking time. Makes 4 servings.
Prep Time:

10 Minutes

Cook Time:

12 Minutes

Category:

Main Course

Method:

Simmering

Cuisine:

German
Keywords: sausage supper, smoked sausage supper