[addtoany]
Pork chops make a great base for any dish, but it is the seasoning and additional ingredients that will set it apart.
When looking to add a flavor that makes your dish unique, the sky is the limit. You can add different seasonings and marinades to make the taste of your pork chops stand out. You can take inspiration from various palettes and ethnicities.
For this dish, we turned to the country of Italy for inspiration making a sort of pork chop parmesan, if you will. Read on to find out more about this dish and other ways to prepare pork chops for your family.
Italian Pork Chops
There are many ways you can give pork chops an Italian flavor. Some examples include seasoning them with Italian seasoning or breading them with Italian seasoned breadcrumbs.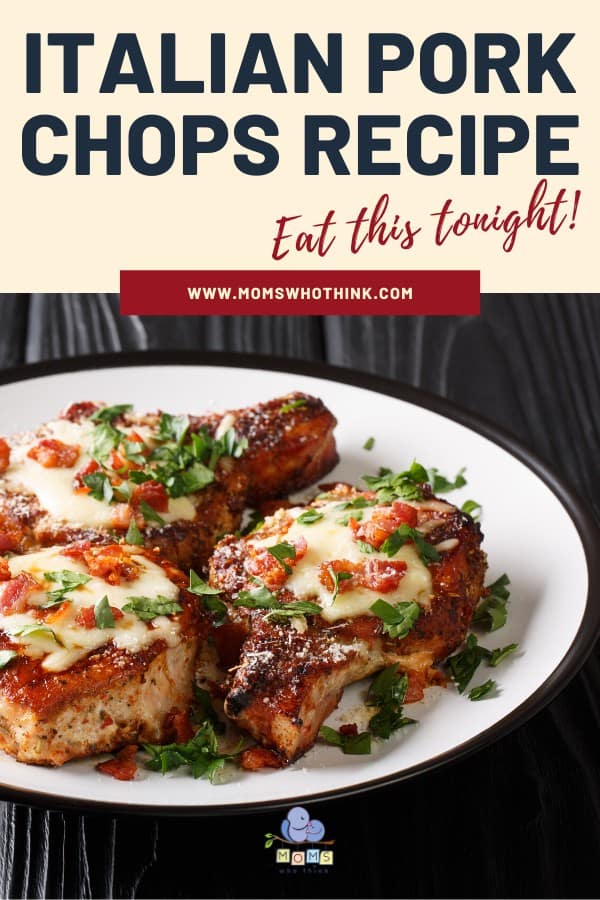 For this dish, the Italian influence comes not only from the seasonings we use but the addition of sauce and cheese.
To make the dish, start with four pork chops and sprinkle both sides with garlic powder, oregano, celery salt, and pepper.
Place in a baking dish and cover with 1 (8 oz.) can of tomato sauce. Bake at 350 degrees for one hour. Then top with four slices of mozzarella cheese. Bake an additional 5 minutes to allow the cheese to melt.
Although the addition of the cheese and sauce is what makes this dish distinctly Italian, it is also the oregano that gives it a great ethnic flavor.
Oregano is often used in Italian cooking because it pairs so well with tomato and tomato sauce. It is also beneficial to health and has been used in ancient medicine to treat the following afflictions:
Toothaches
Diarrhea
Fever
Vomiting
It is also known for its antispasmodic, antiviral and antiseptic properties.
And while it is great to know that the addition of oregano in this dish makes it one you can feel good about serving your family, we love it for its exceptional taste that takes the recipe to the next level. Serve it with a side of spaghetti to make it authentically Italian.
Seasoned Pork Chops
Now we've discussed how the addition of oregano can give this recipe a truly Italian taste, but let's take a look at some other ways you can flavor pork chops.
When seasoning pork chops, basically you will be making a dry rub. A dry rub is any mixture of herbs and spices applied to meat before cooking it that gives it an added flavor. A dry rub can include one herb or spice, or it can be a combination of several ingredients.
When applying a dry rub, you will want to do so firmly and be sure to get all sides of the meat. This will ensure that all the ingredients are absorbed.
Wait a while before cooking to let the seasonings sink in. 15 minutes is usually adequate but to really make sure meat is flavored, you can wait up to 2 hours.
Some also tenderize meat before seasoning. This involves taking a fork or a tenderizer and piercing small holes into the meat. This method really allows flavoring to absorb.
When thinking of the seasonings that work well with pork, here are a few that are recommended:
Cumin: This will give the meat a great smoky taste
Garlic: Garlic has a distinct taste that can be described as pungent and spicy
Paprika: Paprika will give the meat a mildly sweet taste but can also be mixed with chili pepper to add a kick.
Chili Powder: Chili powder is mild to moderately spicy and it will give your pork a bit of a kick.
Sage: Native to the Mediterranean, sage will give the pork a sweet and somewhat bitter yet nutty flavor.
Rosemary: Rosemary has a lemon pine flavor that can be described as nutty, woodsy and peppery.
Cayenne: Cayenne can be described as earthy, spicy, mild and sweet.
Thyme: Another spice that works well with tomatoes, thyme has a slightly minty flavor.
Coriander: Coriander gives food a light, sweet and slightly floral taste.
Brown Sugar: Brown sugar is a great way to add sweetness to your meat.
Clove: Cloves have a complicated flavor palette which can be described as strong, sweet, pungent, acidic, nutty and almost hot.
There are so many options when it comes to the preparation of pork chops, but one thing is for sure, they make the base of a delicious dish. What special ingredients will you be adding when you serve pork to your family tonight?
If you enjoyed this recipe, make sure to check out our Maple-Pecan Pork Chops and our Sausage, Potato, and Cabbage Stir-Fry.
What to Serve With Pork Chops
Spaghetti is a great choice to serve with these pork chops, but if that isn't something you're interested in we have other ideas for you! One of the great things about pork chops is how flexible they are when it comes to sides. These Italian pork chops are so flavorful that you can go with a side dish that has a simple and subtle flavor, like applesauce or mashed potatoes.
Roasted vegetables are also a great option. Roasted vegetables tend to be well-seasoned, so they don't taste as bitter as steamed vegetables might. This can make them a more popular choice with children, who might otherwise turn their noses up at vegetables.
Macaroni and cheese is always a wonderful choice that is a hit with so many. If you're looking to make a comforting, cozy dinner out of these Italian pork chops, then macaroni and cheese is the perfect side dish choice. You can make it easy on yourself and use the boxed variety, or try to make your own baked mac and cheese. This one will be a hit with everyone in your family, especially kids!
If you want to keep it simple, go for cottage cheese. Cottage cheese has become quite popular as of recent, due to its nutritional value. Cottage cheese has quite a bit of protein, making it ideal for those looking to lose weight or gain muscle. Try the low-fat version for optimal benefit.
Make sure to bookmark this recipe page so that you can come back whenever you want to make it again. This is one that you'll want to return to again and again! You can also print out the recipe if you'd like to add it to your own recipe book.
Print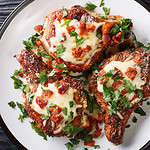 Italian Pork Chops Recipe
---
Author:

Total Time:

1 hour 10 minutes
Description
For this dish, the Italian influence comes not only from the seasonings we use but the addition of sauce and cheese.
---
4

pork chops
Garlic powder, oregano, celery salt and pepper to taste

1

(8 ounce) can tomato sauce

4

slices mozzarella cheese
---
Instructions
Sprinkle pork chops on both sides with seasonings.
Place in 8×8 inch baking dish.
Cover with tomato sauce.
Bake at 350°F for 1 hour.
Top with cheese.
Bake for 5 minutes longer or until cheese is melted.
Prep Time:

10 Minutes

Cook Time:

60 Minutes

Category:

Main Course

Method:

Baking

Cuisine:

American
Keywords: italian pork chops, seasoned pork chops
The image featured at the top of this post is ©Sergii Koval/Shutterstock.com.