Green peppers are healthy and delicious. They have a crisp, clean and slightly tangy taste that works well in a variety of dishes.
Green peppers are also extremely beneficial to your health. They are low in calories and contain zero grams of fat. They are rich in fiber and vitamins and minerals. They contain Vitamins C and E, which are powerful antioxidants that work to protect your body from free radicals that can cause inflammation, heart problems, and cancer.
Green peppers also contain zeaxanthin which is great for eye health.
Another nice thing about green peppers is that they are extremely versatile to cook with. They can be eaten raw or cooked. They can be chopped up into salads or veggie, pasta, or meat dishes. And when cored, they make the perfect container for other foods to be served in, for a meal popularly known as the stuffed pepper.
Stuffed Peppers Around the World
The stuffed pepper is a dish that can be traced back as far as 1890, but it's likely that the recipe had been in existence for some time before then. It is popular in different cuisines around the world, with the ingredients used to stuff the pepper being representative of various cultures.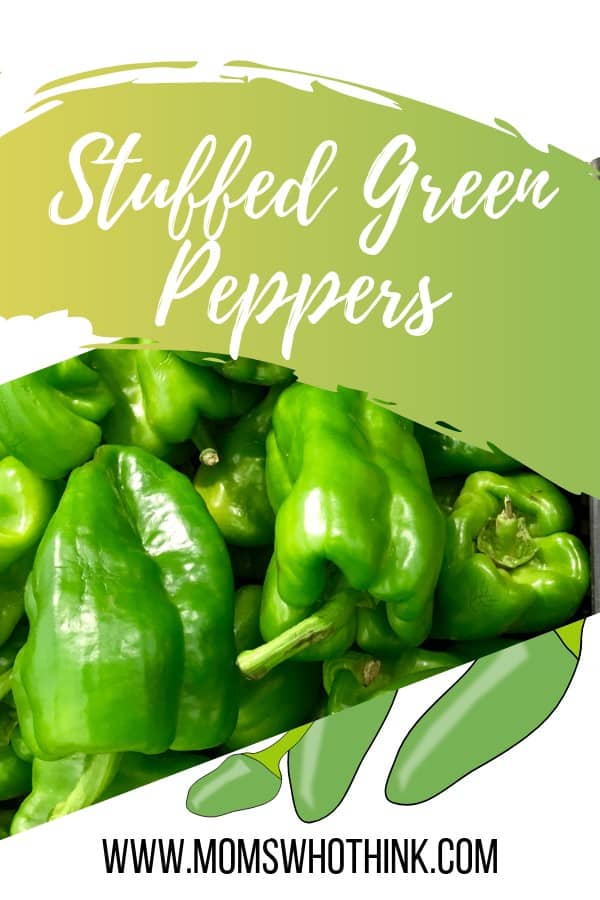 Here are some examples of stuffed pepper recipes that can be found around the world:
Spain: The people of Spain like to stuff their peppers with Valencia or arborio rice and saffron. Then they cook it in tomato sauce.
India: In India, it is common to stuff bell peppers with spiced mashed potatoes.
Tunisia: Featuring a great Mediterranean flavoring, in Tunisia, bell peppers are stuffed with lamb and rice and seasoned with nutmeg, saffron, and cardamom.
Mexico: In Mexico, Pablano peppers are commonly used. They are stuffed with carnitas meat and kielbasa, and topped with cheddar cheese.
Guatemala: The Guatemalans like their peppers stuffed with shredded pork and vegetables. The pepper is then covered with egg batter, fried and served with tomato sauce or inside a bun.
Demark: The people of Denmark like their peppers stuffed with bulgur, mushrooms, and kale.
Hungary: If you're hungry in Hungary, you might enjoy your bell peppers stuffed with ground meat, rice and paprika. And don't forget to include some sour cream on the side!
United States: A classic take on the dish, Americans like their bell peppers stuffed with ground beef, rice, and tomato sauce.
Romania: When in Romania, you will want to eat your peppers stuffed with pork and rice served with a creamy sour cream sauce.
Korea: For an exceptionally healthy take on the dish, do as the Koreans do and stuff your peppers with tofu.
Philippines: In the Philippines, they add Asian flavor to their bell peppers by stuffing them with shrimp, pork, and water chestnuts.
Other Green Pepper Recipes
There are many ways to enjoy green peppers in recipes other than having them stuffed with assorted ingredients. You can cut them up and add them to salads, pasta, meat dishes, and more. Here are some examples of great dishes that feature green peppers.
Shish Kebob: Originating in Turkey, the shish kebab is a meal that consists of skewered and grilled cubes of meat. The meat is often alternated on the stick with veggies that include onions and red or green peppers.
Sausage, Pepper, Onion and Potato Bake: Peppers are often included in meals that feature sausage and onions. This dish involves preparing all the ingredients, mixing them together with wine, chicken stock, and seasonings and baking them in the oven.
Chinese Pepper Steak: If you want a steak with an Asian flavor, this recipe is highly recommended. The soy sauce and other seasonings give the recipe its taste and peppers and onions are added for a spicy, healthy twist.
Vegan Fajitas: Green peppers are great in any type of fajita, but they are especially tasty in this vegan classic which includes zucchini, yellow squash, onion, corn, black beans, and green and red peppers.
Chuck Wagon Chili: Green pepper can be a great addition to chili dishes like this one which includes ground beef, onions, kidney beans, green and habanero peppers, and some super spicy sauces.
When to Make Stuffed Peppers
Stuffed peppers are extremely flexible as a dish, making them a great choice for a variety of scenarios. If you're new to stuffed peppers, you may not have a good idea on when to serve them. Here are our recommendations.
Stuffed peppers can definitely make a fantastic dinner! We do recommend serving them with a side or two, to ensure your family gets a filling meal. A stuffed pepper on its own may not be enough for the most voracious of eaters! The sides you pick are up to you, but we have a couple of suggestions further down.
Stuffed peppers can also make for an excellent lunch. For lunch, just a stuffed pepper or two will suffice. Lunch is supposed to be the smallest meal of the day. It is intended to give you an energy boost midday, so you can last until dinner. For this reason, you don't need to make anything other than these peppers.
Finally, stuffed peppers make for an excellent appetizer. Whether you're hosting a dinner party, a game day, or some other event, stuffed peppers can hold everyone over until the main course arrives. Depending on how you make them, stuffed peppers can definitely be a hand food. That makes them even better as an appetizer, since people can eat and mingle at the same time!
Our Stuffed Pepper Recipe
The stuffed pepper recipe below is in line with the more traditional stuffed pepper dishes. It includes a filling of ground beef, onions, rice, and tomato sauce and it makes a healthy dinner that the whole family is sure to enjoy.
It can be challenging to figure out what to serve with your stuffed peppers because it seems as if everything is already inside the shell, but a salad or an additional vegetable can make for the perfect accompaniment. Try this dish in your home and look forward to the positive reaction you get from your family and friends.
If you enjoyed this recipe, make sure to check out our Oriental Steak Skewers and our Garlic Butter Cheddar Chicken Recipe.

Print
Stuffed Green Peppers
---
Author:

Total Time:

40 minutes
Description
Traditional stuffed pepper with a filling of ground beef, onions, rice and tomato sauce; it makes a healthy dinner that the whole family is sure to enjoy.
---
4

large squatty green peppers
Salt
Pepper

1

pound

ground beef

1

small onion, peeled and chopped

1/2

cup

uncooked long-grain rice

1

egg, beaten

1/2

teaspoon additional salt

1/4 teaspoon

additional pepper

2

cups

tomato sauce

1/2

teaspoon garlic salt
Fine dry bread crumbs
---
Instructions
Wash peppers. Cut thin slice from stem end of each; remove membranes and seeds.

 Cook peppers in boiling salted water and cover for 3 to 5 minutes. Drain well and rinse under cold water. Pat dry inside and out with dry towels; sprinkle insides and out with salt and pepper.

Preheat oven to 350 degrees F.

Cook ground beef and onion in a skillet until browned, stirring to crumble meat. Drain in a colander.




Transfer to a bowl and stir in next four ingredients, mixing well. Stuff peppers with mixture and place peppers upright in a baking dish.




Mix garlic salt into tomato sauce. Pour sauce over and around peppers in dish. Sprinkle tops of peppers with bread crumbs.




Bake for 25 minutes.
Prep Time:

15 Minutes

Cook Time:

25 Minutes

Category:

Main Course

Method:

Baking

Cuisine:

American
Keywords: healthy stuffed pepper recipe, green pepper recipes