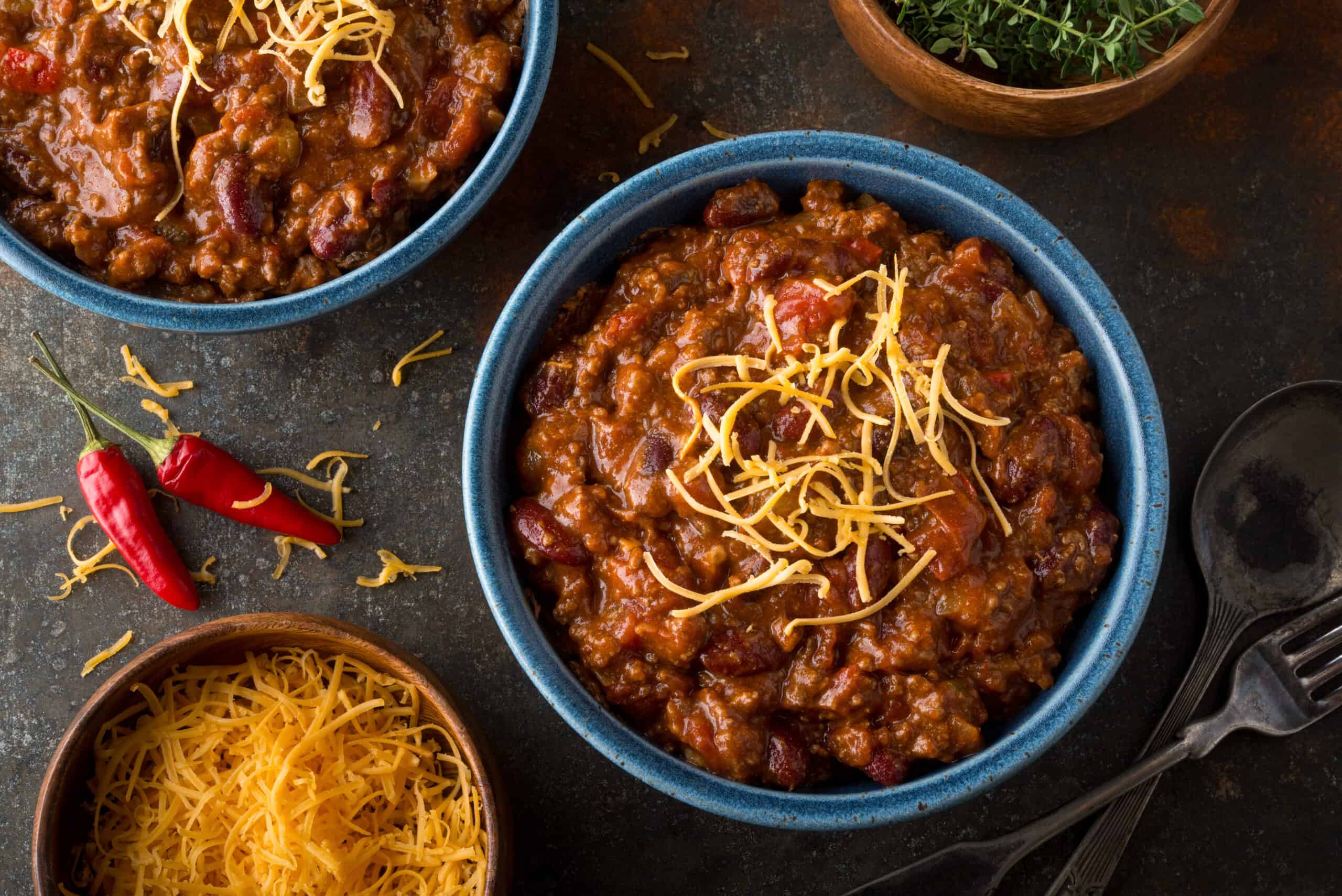 Chili is a popular dish for those with adventurous taste buds. The name is derived from the word chile which is Spanish in origin and refers to the spicy chili pepper. Let's get right into the recipes. Here are our 13 favorite unique chili recipes. Enjoy!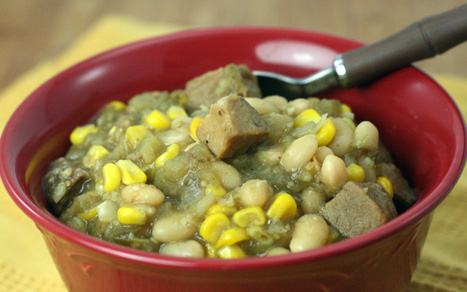 Spicy Chicken Chili Verde Recipe
Spicy Chicken Chili Verde Ingredients: 1 pound skinned and boned chicken thighs, cut into 1-inch pieces 1 tablespoon vegetable oil 1 medium onion, chopped 3 garlic cloves, minced 2 cups chicken broth 1 cup salsa verde 1 cup frozen whole kernel corn 1 teaspoon ground cumin 1 teaspoon hot sauce ½ teaspoon pepper 1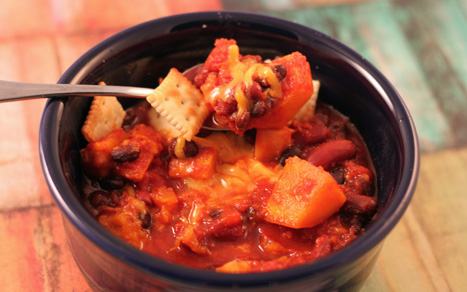 Meatless Sweet Potato Chili Recipe
Meatless Sweet Potato Chili Ingredients: 28 ounce can crushed tomatoes 14 ounce can diced tomatoes 2 Tablespoons chili powder 1 Tablespoon ground cumin 2 teaspoons paprika 2 Tablespoons dark brown sugar 1/2 teaspoon salt 2 large sweet potatoes, peeled and chopped into 1-inch chunks 1 clove garlic, minced 15 ounce can kidney beans 15 ounce
Blue Ribbon Chili Recipe
Blue Ribbon Chili Buttered Cornbread This quick and easy chili uses chili seasoning mix and two kinds of kidney beans along with other convenient pantry staples to create a simple weeknight meal. Serve with cornbread for a hearty dinner that requires little prep. Blue Ribbon Chili Ingredients: 2 pounds ground beef½ onion, chopped1 teaspoon ground
Chili Coke Roast Recipe
Chili Coke Roast Mashed Potatoes Garlic Green Beans   The perfect mix of sweet and savory, this easy chili coke roast recipe uses a crockpot which makes the meat so tender and juicy it falls apart. Spoon it over mashed potatoes to soak up all the deliciousness of the Coca-Cola infused gravy.   Chili Coke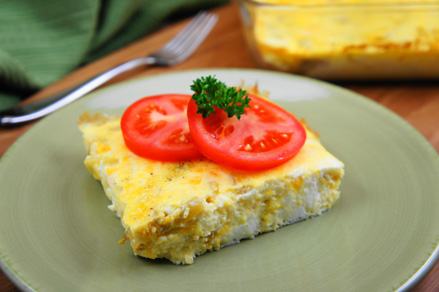 Green Chili Breakfast Recipe
Green Chili Breakfast Recipe  Ingredients: 9 large eggs6 Tablespoons milk2 Tablespoons butter 2/3 cup extra-sharp cheddar — shredded1 4 oz can of green chiles — chopped1 sliced tomato (for garnish)3/4 teaspoon salt1/4 teaspoon pepper Directions: 1. Put butter in 8″ square baking pan. Set in 350 degree oven to melt. 2. Slightly beat eggs, milk, salt and pepper. Pour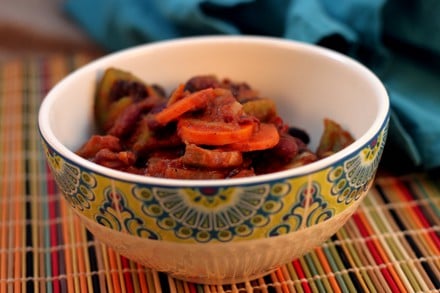 Black Bean and Vegetable Chili Recipe
Black Bean and Vegetable Chili Ingredients: 1 pound fresh white mushrooms, cleaned and sliced 6 cups sliced carrots (about 12 medium carrots) 6 cups sliced celery (about 12 stalks) 4 cups chopped onion (about 4 medium) 2 large green bell peppers, cut into 1-inch pieces 12 cups red sauce 8 (15 ounce) cans kidney beans
Beefy Green Chili Enchilada Casserole Recipe
Beefy Green Chili Enchilada Casserole Southwestern Black Bean Salad The side dish that goes along with tonight's entrée makes 3 extra servings that will go great on a salad or wrapped in a whole wheat tortilla for lunch the next day. Beefy Green Chili Enchilada Casserole Ingredients: 1 pound ground sirloin 1 teaspoon minced garlic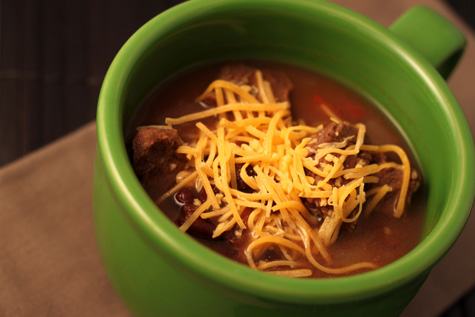 Black Bean Chili Recipe
Black Bean Chili Rice Prepare your favorite rice to serve this chili over for an even more-filling dinner or freshly baked cornbread. Black Bean Chili Ingredients: 2 cups dried black beans, rinsed 1 cup chopped red onion 1 cup diced carrot ½ cup chopped red bell pepper ½ cup chopped green bell pepper 1 tablespoon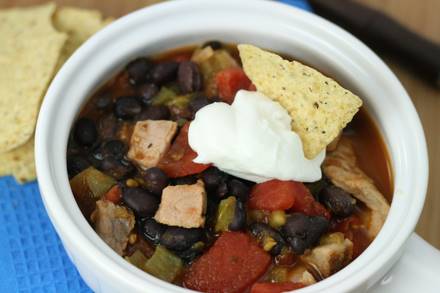 Belly Busting Pork Chili Recipe
Pork chili sounds delicious enough but to earn the name belly-busting, it's got to be special.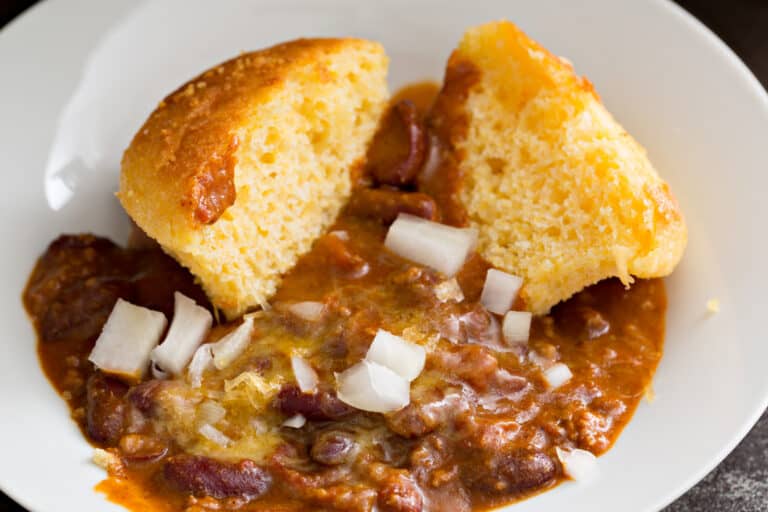 Cornbread Topped Chili Recipe
This is a delicious variation of a cornbread chili casserole. It's made easier by using cornbread stuffing mix and a skillet to make a belly filling one pan meal.
Meatless Monday Chili Mac Recipe
Meatless Monday Chili Mac Ingredients: 1 large onion, chopped1 large green pepper, chopped1 Tablespoon olive oil2 garlic cloves, minced2 cups water1½ cups uncooked elbow macaroni1 can (16 ounces) mild chili beans, undrained1 can (15½ ounces) great northern beans, rinsed and drained1 can (14½ ounces) diced tomatoes, undrained1 can (8 ounces) tomato sauce4 teaspoons chili powder1
The Best Crockpot Chili Recipe and its History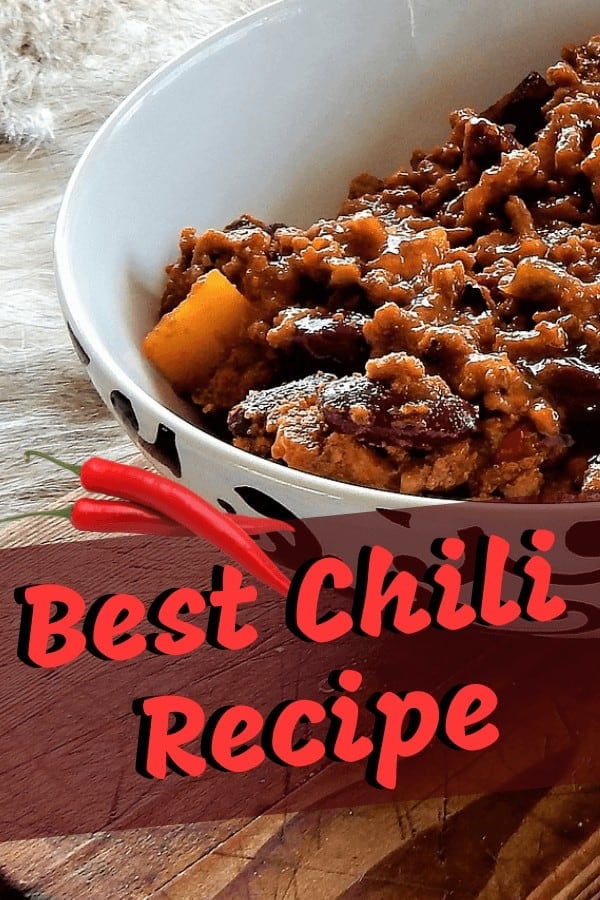 The first chili recipe dates back to the 1850's and includes dried beef, suet, dried chili peppers and salt. The ingredients were pounded together and formed into bricks so they could be eaten on the go.
Winning Chili Recipe and Ingredients
Chili can be made with or without beans and meat and there are a variety of other ingredients you can use to customize it to your liking. Here are some varieties you can make.
Chili Con Carne: Meat lovers favor this type of chili where there are no beans and a lot of beef. Peppers and spices are added and occasionally you might find tomatoes and onions floating around but not much else
Chili Verde: This chili gets its name due to the use of green chilis. Here, chunks of pork are simmered in local Hatch peppers.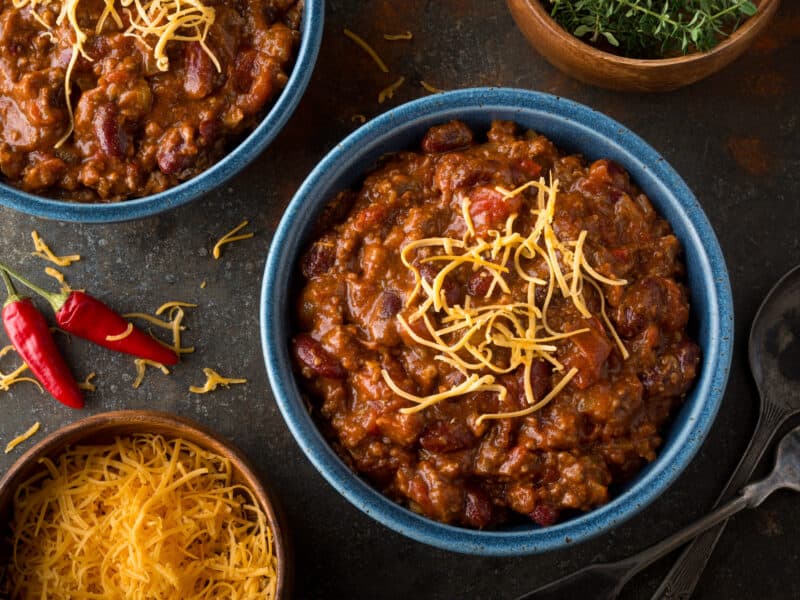 Carne Adovada: This is a pork-based New Mexico specialty with a broth centered around potent, red dried peppers. It has a drier, thicker consistency than most chilis and is therefore, often served in a taco shell.
White Chicken Chili: Those who are looking for a leaner meat in their chili might prefer this white chili which can be made with turkey or chicken. Other ingredients include pale cannellini beans and a good deal of hot peppers and spice.
Rocky Mountain Chili: So named because it uses game that is local to the Rocky Mountain area, ground elk is the main ingredient of this dish. Also added are chipotles as well as chocolate and coffee which takes this chili recipe to the next level.
Vegan Black Bean Chili: Though some may think it's a sin to eat meatless chili, there are versions meant to suit vegan and vegetarian diets. This type of chili counts on legumes to provide flavor and texture and rounds it out with tomatoes, onions and spices.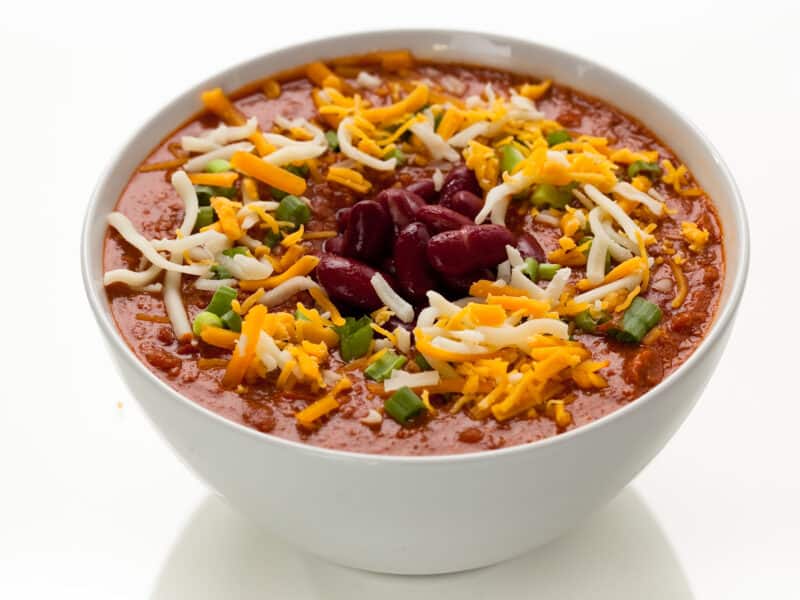 Today, chili remains a favorite meal and is often made in cook offs. In fact, If you're ready for the big time and want to compete (it's a lot of fun, food and friendship), find a chili cook-off in your area with the International Chili Society's Chili Cook-Off Locator.
I'm sure with all the award winning recipes that have been made, there are plenty out there that are delicious but we promise that this blue-ribbon chili is the best chili recipe you'll ever make. With surprise ingredients like beer and unsweetened cocoa, the blend of seasonings and flavors creates a mouth watering chili that will have them begging for the recipe. For the brave souls that like more fire, double the hot sauce to kick it up a notch.
If you enjoy this recipe, make sure to check out our Chili con Carne Recipe and our Copycat Wendys Chili Recipe
Print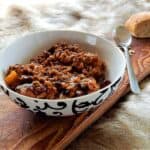 The Best Chili Recipe
---
Author:

Total Time:

2 Hours, 50 Minutes.
Description
This chili has been taste tested by people that have searched high and low for the best chili recipe and they agreed…it is definitely a winner!
---
2 1/2

lb. lean chuck, ground

1

lb. lean pork, ground

4

garlic cloves, finely chopped

1 cup

finely chopped onion

8 oz

. hunt's tomato sauce

1 cup

water

1

can beer (

12 oz

.)

3 Tablespoons

chili powder

2 Tablespoons

instant beef bouillon (or

6

cubes)

2 Tablespoons

cumin, ground

2 teaspoons

paprika

2 teaspoons

oregano leaves

2 teaspoons

sugar

1/2 teaspoon

coriander, ground

1 teaspoon

unsweetened cocoa

1/2 teaspoon

Louisiana hot sauce

1 teaspoon

cornmeal

1 teaspoon

flour

1 teaspoon

warm water
---
Instructions
In a large saucepan brown 1 1/4 pounds of the ground meat (the beef and the pork), drain the fat.
Remove meat (the beef and the pork). Brown the rest of the ground meat, drain all but 2 tablespoons of the fat.
Add the garlic and onion, cook and stir until tender.
Add the other half of the meat and the tomato sauce, water, beer, chili powder, bouillon, cumin, paprika, oregano, sugar, coriander, cocoa, and hot sauce. Mix well.
Bring to a boil then reduce heat and simmer, covered , for 2 hours.
In a small bowl, stir together the cornmeal and flour, then add the warm water and mix well.
Stir into chili and cook, covered, for an additional 20 minutes.
Notes
If you accidentally add too much hot sauce or spice to your chili, serve it with sour cream or extra cheese on top. Dairy contains a protein called casein that cools the burning heat of spicy foods.
Prep Time:

30 Minutes

Cook Time:

2 Hours, 20 Minutes.

Category:

Main Course

Method:

Crockpot

Cuisine:

American
Keywords: best chili recipe, winning chili recipe, Best crockpot chili recipe