[addtoany]
Pork chili sounds delicious enough but to earn the name belly-busting, it's got to be special.
The chili in this recipe uses a wide range of hearty ingredients that take it to that belly-busting level. Read on to find out how you can make it for your family.
Pork Chili Recipe
To make the recipe you start by heating 1 tbsp. vegetable oil in a skillet. Then add 1 ½ lbs. boneless pork cut into bite-sized cubes. Cook until browned. Season with salt and pepper.
Next add 15 oz. canned black beans drained, 14 ½ oz canned Italian style diced tomatoes undrained, 4 oz. diced green chiles drained and 1 ¼ tsp. ground cumin.
Simmer 20 minutes stirring occasionally. Serve with warmed tortillas and sour cream if desired.
Chili is a warming food that is great on a winter's day. Although many think of it as an American dish with Mexican roots, Mexicans will usually deny any association with the recipe.
There are many fantastical stories concerning the origin of chili, but most say it comes from a man named J.C. Clopper who lived near Houston. Back in 1828, he wrote about a dish made by poor families that was filled with peppers and meat and then stewed. This is the first evidence of chili as we know it today.
By the end of the 1800's, chili's popularity had spread, and chili stands began to open in Texas markets. The food was often sold at fairs and carnivals and by the early 20th century, several chili joints opened in the state. The rest of the U.S. would soon follow suit.
There are countless variations on the chili recipe. It can be made using different types of meat and vegetables. It can be hot and spicy or milder versions can be prepared.
We feel this pork and bean version provides a great flavoring that will be a delight for chili lovers everywhere. It warms the belly and is great for any meal, any day of the week.
Slow Simmer Chili
There are many ways to prepare chili, but we feel that the slow simmering helps bring the flavors together perfectly.
Simmering works to gently cook ingredients until they soften, and the flavors become infused throughout the dish. It gives food a more concentrated flavor elevating the taste of the dish.
Simmering may seem like it's easy, but there is a bit of skill involved.
First, it is important to understand that there are different stages of simmering. These are as follows:
Low Simmer: To produce a low simmer, use low heat. It will look like very little is happening in the pot but it's a great way to prepare stocks, braises and other dishes that require prolonged cooking.
Simmer: This happens over a medium- low heat. It will produce a few gentle bubbles. A simmer is recommended when cooking soup or chili and it can also be effective when you are preparing slow cooking food in a pan combined with quicker cooking ingredients.
Rapid Simmer: A rapid simmer happens over medium to high heat. The liquid will have small rapid bubbles. This is one step below a full boil, and it is recommended for reducing pan sauces.
Here are the steps for how to simmer effectively.
Start by bringing your pan to medium-high heat.
If you are simmering ingredients that need longer cook times along with those that require a shorter cook, slice the heartier ingredients before adding them to the water.
Bring liquid to a boil. Then immediately reduce the heat to medium or medium-low depending on what the dish requires. Stir vegetables or liquid regularly.
Keep an eye on the pan or pot and adjust heat as needed.
Once the liquid is at the desired temperature, set a timer and leave the dish to simmer as recommended in the recipe.
Producing the perfect simmer will give this chili pork recipe the texture and flavoring it needs to make the dish absolutely delicious.
Chili is a comforting meal to serve your family any night of the week and this belly-busting pork chili is sure to stand out as a family favorite. It has just the right blend of ingredients and, with the correct preparation, it will be one of the most requested items on your family's menu. What chili secrets do you use to make your meals stand out?
If you enjoyed this recipe, make sure to check out our Maple Pecan Pork Chops and our Pork Chops Devine.
Print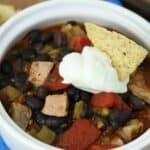 Belly Busting Pork Chili Recipe
---
Author:

Total Time:

0 hours
Description
Pork chili sounds delicious enough but to earn the name belly-busting, it's got to be special.
---
1 Tablespoon

vegetable oil for cooking

1 1/2

pounds boneless pork, cut into bite-sized cubes

1/4 teaspoon

salt

1/4 teaspoon

ground black pepper

15 ounces

canned black beans, drained

14

–

1/2

ounces canned Italian style diced tomatoes, undrained

4 ounces

diced green chiles, drained

1 1/4 teaspoons

ground cumin
Tortillas chips and sour cream, optional
---
Instructions
Heat oil in large skillet over medium-high heat.
Add pork; cook until browned. Season with salt and pepper.
Add beans, tomatoes, chiles and cumin.
Simmer 20 minutes, stirring occasionally.
 Serve with warmed tortillas and sour cream, if desired.
Prep Time:

15 Mintues

Cook Time:

20 Minutes

Category:

Main Course

Method:

Simmering

Cuisine:

Tex-Mex
Keywords: pork chili recipe, slow simmer chili