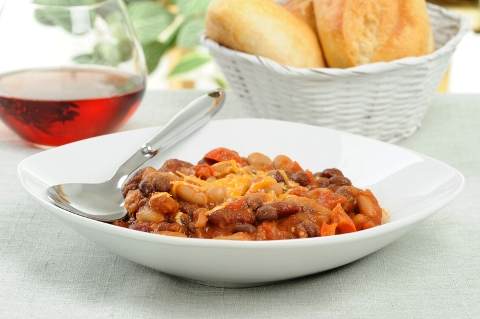 Vegetarian Chili Recipe
Ingredients:
2 Tablespoons olive oil
1 chopped onion
1 chopped carrot
1 chopped celery stalk
1 green bell pepper cleaned and chopped
1 red bell pepper cleaned and chopped
3 garlic cloves, finely chopped
1 to 3 Tablespoons finely chopped chipotles in adobo
1 Tablespoon ground oregano
2 teaspoons ground cumin
1 Tablespoon chili powder
1 1/2 teaspoons salt
1 (28-ounce) can diced tomatoes, with their liquid
3 cups cooked red kidney beans, drained
1 1/2 cups cooked black beans, drained
Directions:
1.Heat the oil in a large pot over medium heat.
2. Add onions, carrots, celery, peppers and garlic and cook for 10 to 12 minutes, until vegetables are softened but not browned.
3. Add chipotles, oregano, cumin, chili powder and salt.
4. Stir to blend. Add tomatoes and 4 cups water.
5. Gently simmer over low heat, uncovered, for 45 minutes.
6. Add beans and simmer an additional 30 minutes. Garnish with green onions, sour cream, or cheddar cheese if desired.