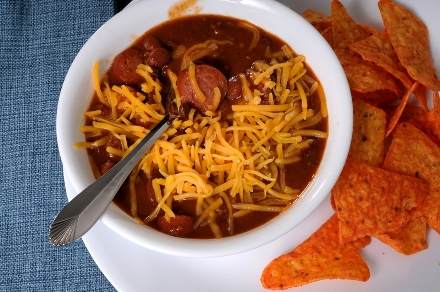 Farmhouse Sausage Chili
Ingredients:
1 pound pork sausage
1 large onion, chopped
1 celery stalk, diced
1 28 ounce can whole tomatoes, chopped
2 cups tomato juice or chicken broth or a mixture of the two
1 to 2 Tablespoons maple syrup or molasses
2 teaspoons ground cumin
1 ½ teaspoon powdered sage
½ teaspoon ground black pepper
3 ½ to 4 cups cooked red kidney beans, drained and rinsed
Directions:
1. Brown in a large skillet the pork sausage and the chopped onion
2. Toward the end of the browning, add the celery
3. When the celery is softened, add tomatoes, tomato juice or chicken broth, maple syrup or molasses, cumin, sage and black pepper
4. Simmer for 20 minutes.
5. Add the red kidney beans
6. Simmer for 15 minutes more.
7. Serve with sharp cheddar cheese, cubed and cornbread or buttermilk biscuits.