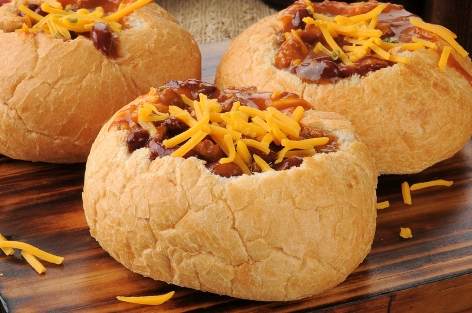 Crock Pot Chili Recipe
When it comes to chili, there are many different people who lay claim to its origins. But one thing is for sure…it's not Mexican. Although it is a spicy dish, Mexicans claim that it is an imitation of their food, but not the real deal.
It is more likely the dish was inspired by Spanish cuisine and further developed by Texans in the 1800's although everyone from Texas millionaires to Texas prisoners try to take credit for being the first to perfect the recipe to make it the one that is known and loved by many.
Chili can be made using several different ingredients. Texans claim a true Texas recipe will be always made with meat and will not contain beans or any other vegetables that would be considered filler ingredients. However, our recipe contains beans and no meat making it a great meal for vegetarians and super healthy as well.
Not only are beans a great source of fiber, vitamins and minerals, the other vegetables and spices in the dish have antioxidant effects that can help to boost health and immunity.
When considering how to prepare chili, we think the crockpot is the best method. The crockpot is an easy way to combine ingredients and let them simmer throughout the day, so the flavor is evenly distributed and intensifies.
It is also a convenient way to cook. Just throw in everything you need in the morning, turn your crockpot on and look forward to coming home to a delicious home cooked meal.
We've also made things interesting by serving our recipe in a thick, crusty bread bowl. This will help to make the meal a bit heartier.
So, gather your ingredients and get your family ready for an easy to make dish they are sure to love. This crock pot chili recipe will have chili lovers everywhere begging for more.
Crock Pot Chili
Ingredients:
2 Tablespoons oil
1 lb. dry black beans
6 garlic cloves, minced or pressed
2 onions, chopped
1 Tablespoon chili powder
1/4 teaspoon red pepper flakes
1 Tablespoon ground cumin
1 teaspoon flaked oregano
1 bay leaf
1 28 oz. can chopped tomatoes in juice
2 cups water
1 Tablespoon soy sauce
6 oz. can tomato paste
1 Tablespoon red wine vinegar
2 cans different types of beans (pinto, garbanzo, great northern, etc.)
Directions:
1. Rinse dry beans and place in the crock pot with a generous amount of water.
2. Cook on low overnight.
3. Drain the water from the pot.
4.  Heat oil and saute the onions, garlic and red pepper flakes.
5.  Add cumin and chili powder. Cook for 2 minutes, stirring.
6.  Add mixture to crock pot along with all remaining ingredients except canned beans. Stir well.
7. Cook on low 8 hours. Add canned beans an hour before serving.