Getting ready to cook up a barbecue and looking for some rice side dishes? First, it's important to know there are so many different kinds of barbecue you can cook. If you're looking at barbecue styles worldwide, there are over 30 different kinds of barbecue you can enjoy. Some famous ones include North or South Carolina-style barbecue, Texas-style barbecue, Hawaiian-style barbecue, Chicago-style barbecue, Alabama-style barbecue, Argentinian-style barbecue, Mexican-style barbecue, Brazilian-style barbecue, and Korean-style barbecue. With each of these styles of barbecue come different flavors. For example, North Carolina barbecue will have a vinegar-based barbecue sauce, whereas Hawaiian barbecue uses soy and teriyaki sauces. Each of these styles of barbecue will call for different dishes and flavors.
Some common side dishes for American barbecue include coleslaw, mac and cheese, collard greens, corn, pasta salad, rice, baked beans, and more. But today, we're going to focus and take a look at some rice side dishes for your barbecue. Here are 15 rice recipes to try that cater to U.S. and North American barbecue flavors.
A rice casserole is a great dish to make a side for a barbecue. Often, making the meats takes a lot of effort and time, so making a casserole where you can throw all the ingredients together and then bake it in the oven is an easy way to add on this side. Not only is this dish filling since it's made of rice, but it's also a great way to get in some veggies since it has cabbage. This recipe also calls for ground beef if you want more protein, but you can remove it for a vegetarian option.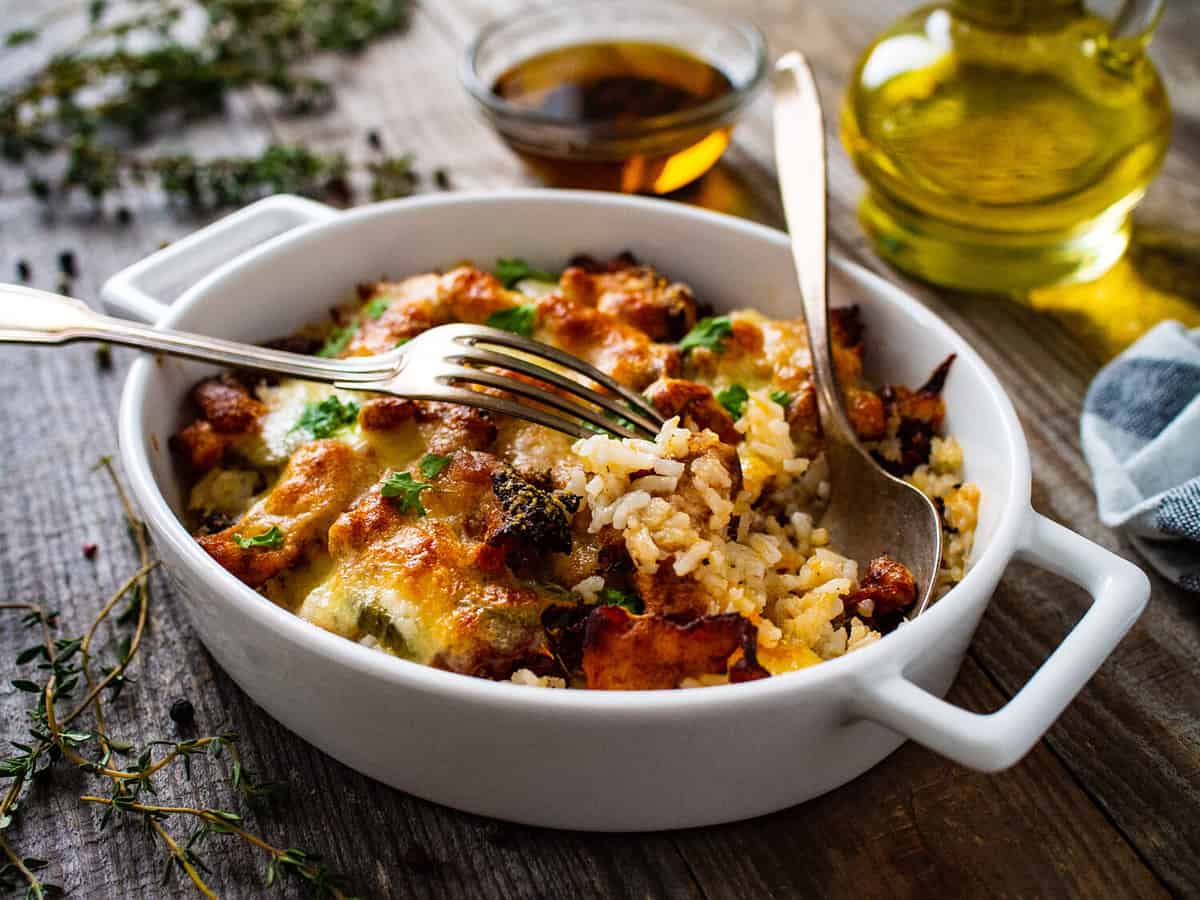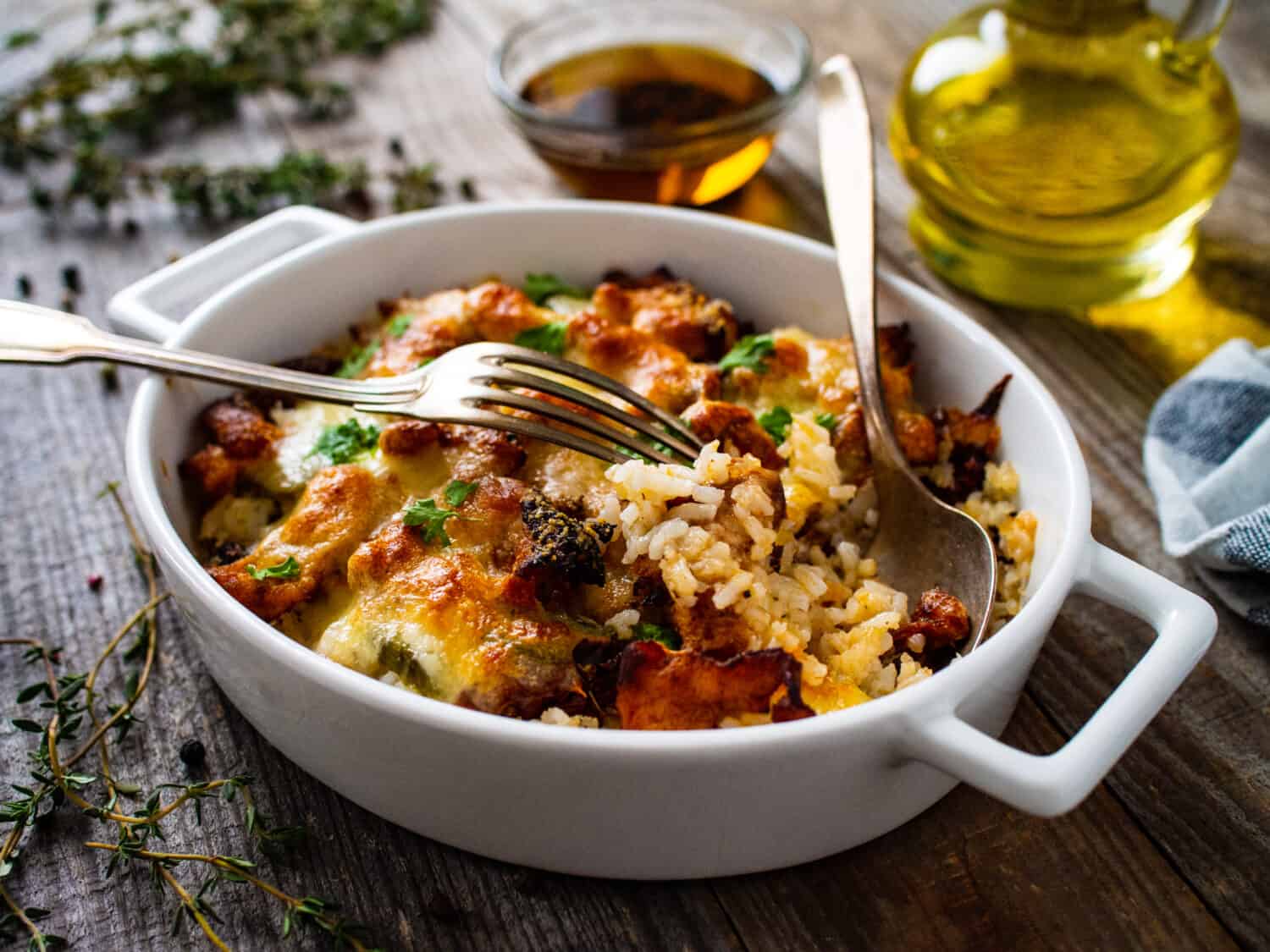 This is another rice dish that contains ground beef. If you want to add in some extra protein, you can add this in! Or if you just want it to be a rice dish, it can be removed. This recipe is super easy and uses simple ingredients, including rice, cheddar cheese, ketchup, and mustard.
If you're looking for a lower-calorie side dish, this cauliflower rice mac and cheese is a great option. It is mixed with elbow macaroni as well as cauliflower rice. Cauliflower is very low in calories, so for any dish, regular rice can be substituted with cauliflower rice to lower the calories in the dish. This recipe also calls for butter, garlic powder, cream cheese, heavy cream, cheddar cheese, and milk.
Southwestern skillet rice is especially a great side dish if you're making a Mexican barbecue. It's made with rice that is seasoned with chili powder, cumin, and garlic, and it's made up of tomatoes, black beans, corn, bell peppers, and onions. These veggies also make it a very colorful dish that will bring life to your plate. This recipe is super easy and can be ready in under 30 minutes.
Cheesy rice is a great side dish for making barbecue. Cheese is a famous ingredient when it comes to southern barbecue in America. Most often, you'll find mac and cheese as one of the side dishes. But if you have rice at home instead of pasta, this recipe is a great alternative. This recipe calls for rice, chicken broth, cheddar cheese, whole milk, butter, onion, paprika, salt and pepper.
This cowboy brown rice salad could be a great side dish for both Texas-style and Mexican-style barbecues. It's fresh and creamy and makes a great side dish in the Summer season. It's super easy and just requires cooking rice and cutting up veggies. This recipe calls for rice, black beans, tomatoes, bell pepper, corn, red onion, cilantro, and avocado with oil, lime juice, and seasonings for the dressing.
If you're looking for a dish that looks and feels like barbecue, then this barbecue cheesy rice dish is just what you're looking for. With a good smokiness, it will pair perfectly with your main dishes that are being smoked or cooked on the grill. Rice will soak in the flavor of the liquid you cook it in, so cooking it in barbecue sauce is what gives this rice its great flavor.
This is another great dish if you're looking to work in some veggies for your barbecue. It's a casserole dish which makes it super easy to make. Although this recipe calls for certain veggies, you can substitute them with your favorite veggies or whatever you have on hand. For this recipe, you'll use onions, carrots, squash, zucchini, rice, broth, cheddar cheese, and seasonings.
This Charleston red rice is a classic Southern low countryside dish. It also goes by the names Savannah red rice, Gullah Red rice, or Lowcountry red rice. It's full of flavor because the rice is cooked with bacon, garlic, tomato paste, and onions. Once you cook the bacon on the stovetop, you add in all the other ingredients to cook together. This recipe can be ready in about an hour.
Brown rice is considered a healthier alternative to white rice, it's also more filling because of its fiber content. Usually, brown rice has a nuttier flavor and a chewier texture, and pairing it with some bell peppers and shallots adds a pop of color and flavor. Topped with feta, this side will surely get a lot of love at your cookout.
Dirty rice is a true Southern classic, and adding some red beans is a way to add plenty of protein to this staple dish. Red beans and dirty rice have been feeding families for a long time, and the ingredients couldn't be simpler. Plus, using ready-to-go cajun seasoning can make it really easy to spice up the rice.
Pineapple may or may not belong on pizza, but it certainly belongs in rice. This pineapple rice originates in Hawaii and is subtly sweet and ready in around 20 minutes. When you add in garnishes like lime, green onion, and a little butter, this dish turns from something pretty plain into something that feels a little more elevated. It's a great dish for your Hawaiian barbecue. 
Rice isn't the main star of this bean salad, but it really helps to create a well-rounded dish. It's a good starch and has protein. It's made with minute rice, and if you go with canned beans, this side can be thrown together in minutes. The flavor of this dish comes from its delicious dressing. This is a party pleaser whether it's served hot or cold.
Need a lower-calorie rice option that isn't just plain rice? This savoury rice is much better than standard packer mixes and usually tastes better too!  It's also vegetarian, so it's a great side for people who may not be eating the main dish. If this is the case, you can make it into a full meal by adding in veggies and potatoes.
Plain rice is generally pretty boring, but it makes for the perfect canvas for all sorts of flavors. With a few pantry staples, you can turn plain rice into something wonderfully tasty. Salsa rice is just that. All you need is rice, veggie broth, and your favorite salsa. You can also add a little butter if you want to make it extra flavorful. Adding salsa to your pre-cooked rice lets it soak up all that amazing flavor and only requires you to dump in a jar of your favorite salsa.
The image featured at the top of this post is ©Cookie Studio/Shutterstock.com.