Beef and rice are two ingredients that make for the base of a great meal. This 20-minute cheeseburger rice recipe is one that your family is sure to enjoy, and best of all, it won't take a lot of time out of your busy day. Here's a bit about the recipe.
Cheese Burger Rice Casserole
Cheeseburger rice casseroles can be made in a variety of ways. The one we have here is pretty basic. To start, all you do is brown the beef and add ketchup and mustard to taste.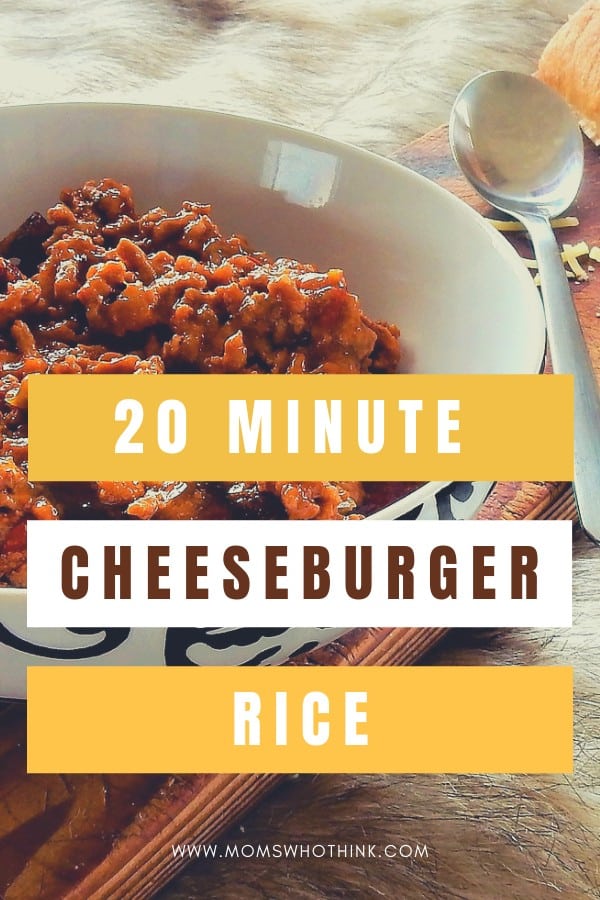 If you use Minute Rice, you can add it in uncooked. When everything simmers together, it will cook the rice to perfection.
And, of course, sprinkling the cheese on top will be the perfect finishing touch. Everything is better with cheese!
Then just cool and serve.
Of course, there are many variations you can make on this recipe. Some add veggies to give the dish an extra bit of flavor and a healthy dose of vitamins. Onions are often added to give the recipe a kick. Peppers are another delicious addition. Many recipes also include pickles, and we've even seen some that add zucchinis!
Different sauces and seasonings can also be used. We've seen recipes that call for Worcestershire sauce, steak sauce, or barbecue sauce. Salt and pepper are often added to taste. Garlic powder is another possibility.
When it comes to meat, well, it just wouldn't be cheeseburger without ground beef, but some recipes add bacon, and we all know that everything is better with bacon!
Another way you can make a variation on the dish is by changing up the cheeses. Traditionally, the recipe is made with cheddar cheese, but Colby Jack is a suitable substitute. Of course, when it comes to cheeses, the sky is the limit, but we think the sharp taste of an orange cheese goes best with the dish.
Cheese Burger Fried Rice
Another way you can play with the recipe is by using different kinds of rice. Minute Rice is preferable as it can be prepared in just minutes, but the brand offers several flavors that can add interest to your dishes. One of these is fried rice.
Fried rice is defined as rice that has been stir-fried in a wok or frying pan. It is usually mixed with ingredients like egg, seafood, vegetables or meat. Using fried rice in your cheeseburger casserole will give it a different flavor than you may prefer. Because it gives it an Asian twist, you may choose to flavor with soy sauce or other types of condiments that come from the East.
Of course, when thinking of flavored rice, the sky is the limit. Here are some other flavors Minute Rice makes that can give your recipe a specially added kick.
Garlic & Olive Oil Jasmine Rice: Jasmine gives the rice a great nutty flavor and being that garlic and olive oil are often added to the dish anyway, you can use this rice and forgo seasoning altogether.
Brown Rice: You can kick the health quotient on this dish up a notch by using brown rice. As compared to white rice, it contains extra protein and fiber and is also known to lower cholesterol and control blood sugar levels.
Cilantro and Lime Jasmine Rice: Use cilantro and lime rice to give your dish an exotic Latin kick.
This cheeseburger and rice dish has all the flavor of longer-cooking, more complicated beef stew, but with only 7 ingredients and easy oven baking. Serve with veggies and a salad or over steak fries for a poutine-like main meal your family is sure to love.
If you enjoyed this recipe, make sure to check out our Easy Garlic Rice Recipe and our Easy Saffron Rice Recipe.
What to Serve With Cheeseburger Rice
Cheeseburger rice can be its own meal on a busy night, but it can also serve as a great side dish. Chicken is a classic accompaniment to rice, so why not try it with this cheeseburger rice? You can season the chicken however you'd like, but keep in mind that you may want to make it differently than if you were serving it with just plain white rice.
Alternatively, you can try serving this cheeseburger rice with some vegetables for a healthy option. This makes the cheeseburger rice more of a main course, but that's perfectly fine. Grab some frozen vegetables from the store to make it easy on yourself. If you want to keep the cheesy theme, throw some shredded cheese on top of your vegetables while they're still hot.
If you want something a little more complex, try chicken fajitas. The bite of a good chicken fajita will complement the flavors of this cheeseburger rice recipe so wonderfully. Chicken fajitas are on the healthier side, too, making you feel better about serving this to your family. Plus, they're relatively cheap and easy to make. This is especially the case if you make your own tortillas.
Print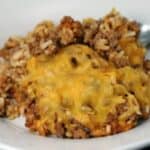 20 Minute Cheeseburger Rice
---
Author:

Total Time:

25 minutes
Description
Not only is this super easy with regular ingredients, but it tastes great too! Cheese and rice added to this beefy main dish makes a homemade hearty dinner ready in a flash.
---
1

pound ground beef

1¾ cups

water

⅔ cup

ketchup

1 Tablespoon

prepared mustard

2 cups

uncooked minute rice

1 cup

shredded cheddar cheese
---
Instructions
1. Brown beef in a large non-stick skillet, drain off drippings.
2. Add water, ketchup and mustard.
3. Stir well and bring to a boil.
4. Stir in rice, sprinkle with cheese and cover.
5. Cook on low heat for 5 minutes.
Prep Time:

5

Cook Time:

20

Category:

Main Course

Method:

Boiling

Cuisine:

American
Keywords: cheeseburger fried rice, cheeseburger rice casserole