Tuna steaks are a great option for a main dish. They are healthy, low in calories, and packed with nutrients, minerals, protein, and good fats. Deciding how to cook your tuna steaks? Check out how to cook tuna steak perfectly in four different ways. Generally, tuna steaks are cooked on the outside but left rare on the inside to keep it tender and moist. You can think of cooking it like steak, safe to eat and serve when rare on the inside. You can sear, bake, air fry, or grill tuna steaks. If you're looking for some delicious side dishes, rice makes a great pairing for tuna steaks. Here are 18 rice side dishes that will pair perfectly with your main dish.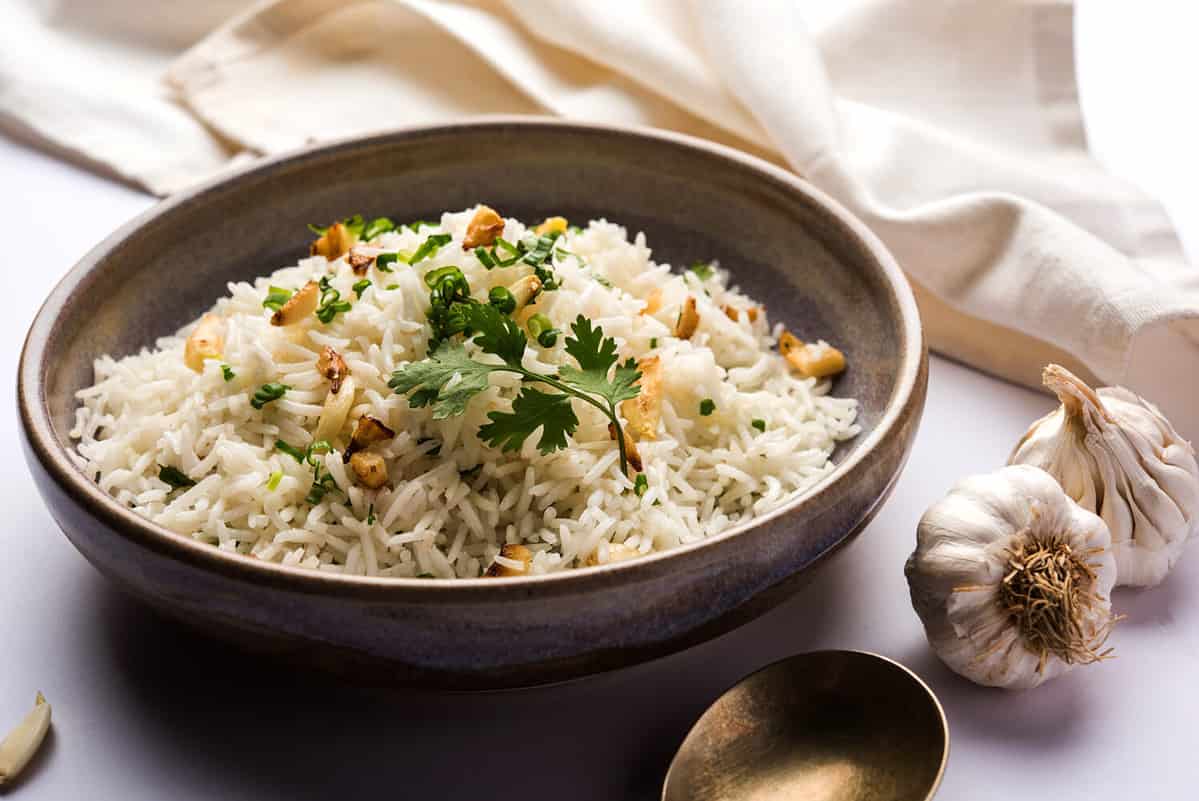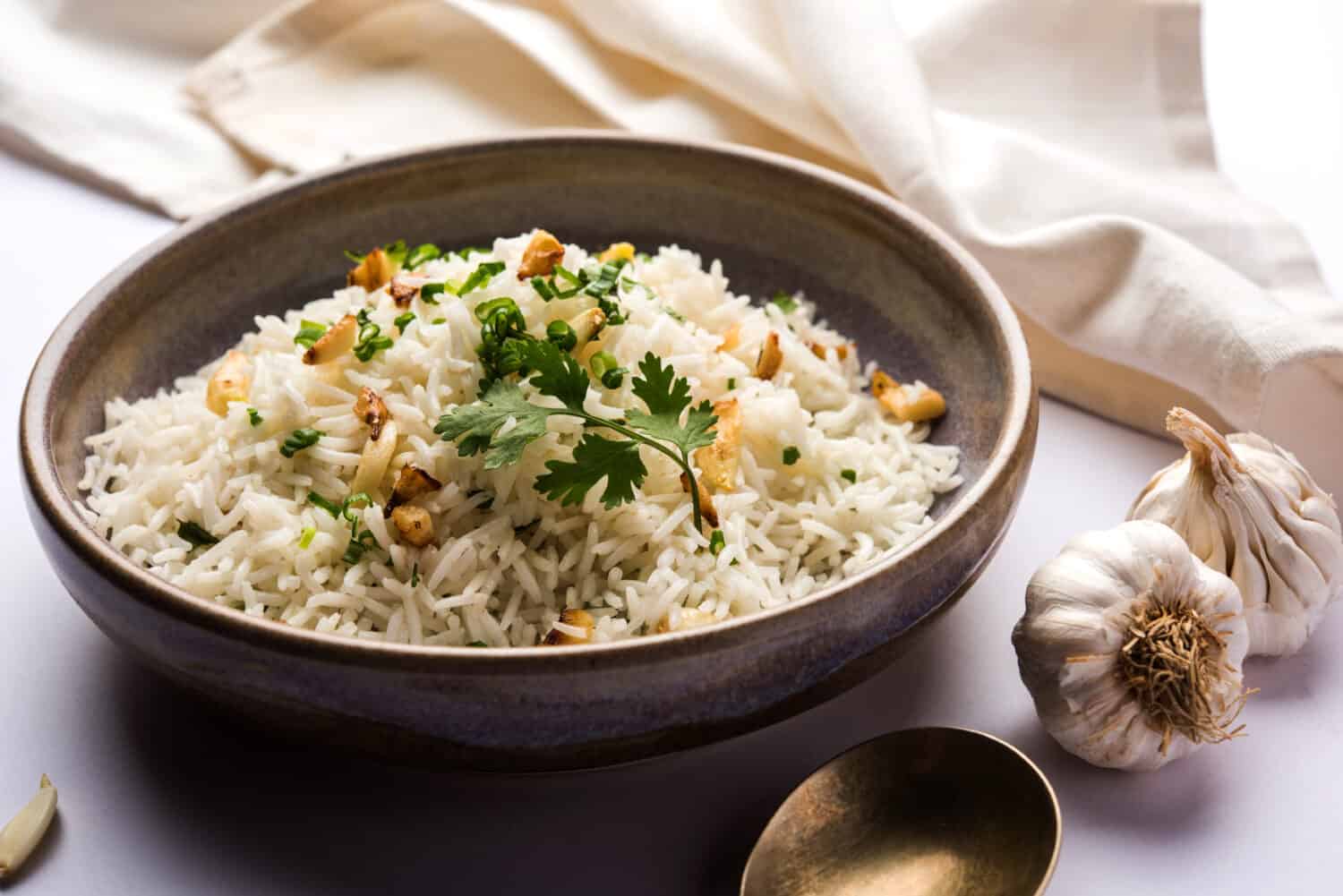 Have you ever cooked rice in the oven? If you haven't, let this be your sign to try! This simple recipe makes making rice easy. By cooking your rice in the oven, you'll get a delicious crunch that forms on the top and sides. This recipe only requires white rice, onion, salt, and butter. Once all mixed together, it cooks in the oven for 30 minutes.
There is a dish that originates from Spain where Spanish rice and tuna are mixed together into a dish, so your tuna steaks will pair well with this rice. This rice is made by cooking your rice with sauteed onions, green peppers, tomato sauce, and spices. Although this recipe calls for chicken, you can leave this part out to make it a side dish.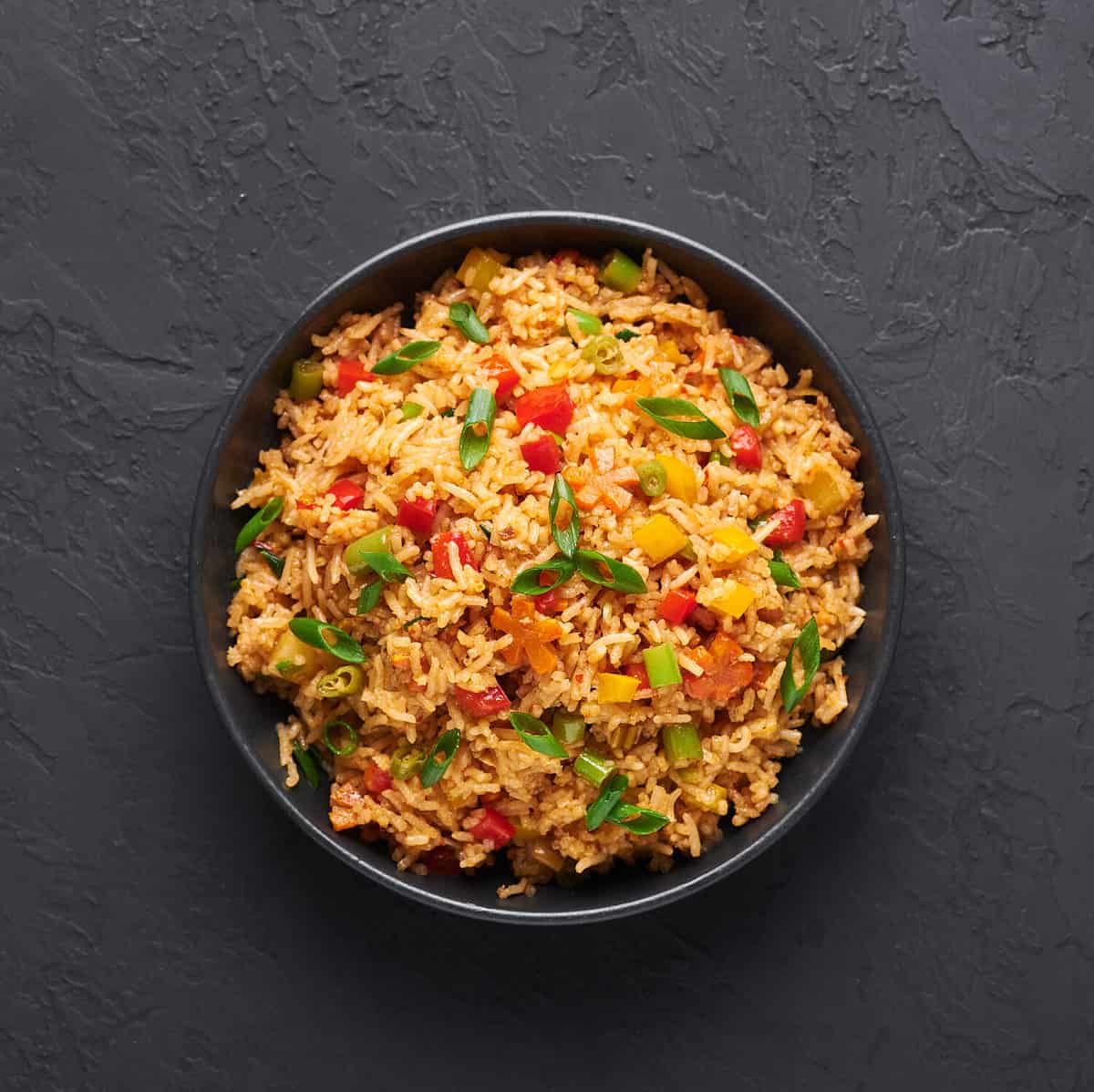 Depending on how you are planning on preparing your tuna steak, fried rice is a great option to accompany this dish. And, what's more, this recipe is a healthier version of other fried rice recipes, and it's simple to make.
4. Asian Pilaf Rice
This Asian rice pilaf recipe takes rice to a new level. It's savory and pairs perfectly with a grilled fish. It would also pair well if you decided to make your tuna steaks with a teriyaki sauce. This recipe has basmati rice, chicken stock, fresh garlic, soy sauce, sesame oil, butter, and cilantro.
5. Edamame Rice
Not only is this edamame rice delicious, but it's so pretty and colorful. It's also easy and quick, it can be ready in just 20 minutes (as long as your rice is already cooked). It's made with edamame, carrots, red cabbage, red onion, fresh garlic, fresh ginger, spring onion, soy sauce, white vinegar, sesame oil, and red chili flakes if you like a bit of spice.
6. Easy Lemon Dill Rice
Lemon is a common ingredient paired with fish, so this easy lemon dill rice recipe will pair amazingly with your tuna steaks. It's ready in under 30 minutes with little effort, so it's also great if you're short on time. It's made with onion, fresh garlic, butter, chicken broth, lemon juice, and dill.
7. Coconut Rice with Crispy Ginger and Garlic
This coconut rice with crispy ginger and garlic is flavorful and fragrant. What's fun about this recipe is making the crispy and ginger garlic from scratch, and it's super easy. Just stir-fry it in oil on a large skillet until it turns brown and crispy for about two or three minutes. By doing this, you're also infusing the garlic and ginger flavors into the oil. This oil will be used to sautee the rice.
8. Cilantro Lime Brown Rice
This healthy cilantro lime brown rice is another great citrus dish to pair well with tuna. If you're worried about having your rice too citrusy, this recipe is good for you. It doesn't cook the rice in lime juice but rather tops it with lime zest. When you're zesting citrus, only zest the colored part and not the white pith. Pith is bitter, and you want to avoid it.
9. Creamy Lemon Rice
There's something so warm about cozy about a creamy lemon recipe. This creamy lemon rice is simple and easy. This recipe cooks the rice in coconut water and oil, adding another depth of flavor. Once the rice is cooked, add lemon zest and lemon juice to give it that citrus flavor.
10. Easy Garlic Rice
If you're looking for a simple recipe to pair with your tuna, look no further. This easy recipe is delicious and has a light garlic taste.
11. Spanakorizo ​​- Greek Spinach Rice
Spanakorizo is the name for this Greek spinach rice dish. It's very healthy for you with its spinach content; you have to make sure you get in those leafy greens. Although this recipe calls for basmati rice, you can use your preferred type of rice, whether it's white rice or brown rice.
12. Toasted Brown Rice with Mushrooms and Thyme
This toasted brown rice with mushrooms and thyme recipe is a great savory dish if you prefer brown rice. This recipe calls for crimini mushrooms, fresh garlic, yellow onion, vegetable broth, and fresh seasonings. One of the important keys to making good rice is to cook it in a flavorful liquid, like the broth in this recipe.
13. Teriyaki Rice Pilaf
Teriyaki is a great pairing with tuna steaks, making this teriyaki rice pilaf with mushrooms and peas the perfect side dish. This dish requires pre-cooked rice and can be ready in 20 minutes. It calls for baby portabella mushrooms, green onion, frozen peas, fresh garlic, ground ginger, red pepper flakes, teriyaki sauce, and sesame oil.
14. Ginger and Garlic Fried Rice
Fried rice is an easy recipe that only requires mixing together rice and veggies and stir-frying it for a toasty flavor. This recipe calls for red onion, fresh ginger, fresh garlic, carrots, green beans, spring onions, soy sauce and seasonings.
15. Parmesan Sun-Dried Tomato and Basil Rice
This parmesan sun-dried tomato and basil rice is light, colorful, and flavorful, making it perfect for Summer and as a side for fish. It's fairly simple, with only a few ingredients, including chicken broth, jasmine rice, sun-dried tomatoes, fresh basil leaves, and parmesan cheese.
16. Prasorizo (Greek Leeks with Rice)
Prasorizo is a rice pilaf recipe with leeks as one of the main ingredients. If you've never cooked with leeks before, this is a great recipe to help introduce you to this vegetable. For this recipe, the rice is cooked and boiled with the leeks, infusing the flavor into the rice. It's then finished off with lemon zest and fresh dill.
17. Hawaiian Pineapple Rice
This Hawaiian pineapple rice recipe is delicious and sweet. In Hawaii, it's common to pair tuna with pineapple, so these two ingredients will pair well together. This recipe calls for jasmine rice, crushed pineapple, fresh lime juice, green onions, and granulated sugar. Once the pineapple, salt, sugar, rice, butter, and water are combined, they'll cook for 20 minutes until it's ready.
18. Thai Spicy Basil Fried Rice
This Thai spicy basil fried rice is a great savory recipe. Please note that this recipe is meant to be a main dish, but if you remove the chicken it calls for, it's a great side. Made with jasmine rice, Thai basil, fresh garlic, chili pepper, oyster sauce, fish sauce, soy sauce, and sugar, this dish is ready under 30 minutes.
19. Chili Oil Garlic Rice
If you love chili oil, then you'll love this chili oil sinangag Filipino fried garlic rice. This rice is a spicy and savory dish and has a deep flavor from the chili oil. This recipe only has a few ingredients that it calls for; rice, chili oil, garlic, and salt.
20. Saffron Rice
Impress your family with this saffron rice recipe. Persian-inspired, it's made with fresh herbs, pomegranate, pistachios, and onions. The rice gets cooked in chicken stock that's flavored with saffron. You don't have to serve the rice with the pomegranate and pistachios, but that is what makes this dish so unique.
Delicious Tuna Steak Recipe
Now that you have plenty of rice side dish recipes, you probably want a tasty tuna steak recipe. Feel free to adjust depending on your preference and which side dish you choose. Enjoy!
Print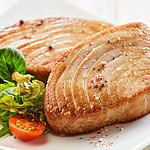 Seared Tuna Steaks with Sesame Crust
---
Author:

Total Time:

25 minutes

Yield:

4

servings

1

x
4

tuna steaks (about

6 ounces

each)

1/4

cup

sesame seeds

1 tablespoon

black sesame seeds (optional)

2 tablespoons

soy sauce

1 tablespoon

sesame oil

1 tablespoon

honey

1 tablespoon

rice vinegar

1 teaspoon

grated fresh ginger

1 teaspoon

minced garlic

2 tablespoons

vegetable oil
Salt and pepper to taste
Sliced green onions and sesame seeds for garnish
---
Instructions
Combine the soy sauce, sesame oil, honey, rice vinegar, ginger, and garlic in a shallow dish. Place the tuna steaks in the marinade, turning to coat. Marinate for at least 15 minutes, allowing the flavors to infuse.

Mix the sesame seeds (white and black if using) on a separate plate. Season the tuna steaks with salt and pepper, then press each side into the sesame seed mixture, ensuring a crust forms.

Heat vegetable oil in a skillet or pan over medium-high heat. Sear the tuna steaks for 1-2 minutes per side for a rare to medium-rare doneness or longer if desired.

Remove the tuna steaks from the pan and let them rest for a few minutes. Slice the tuna into 1/2-inch thick slices.

Garnish with sliced green onions and additional sesame seeds.
Nutrition
Calories:

300

Sugar:

4 g

Fat:

15 g

Carbohydrates:

6 g

Fiber:

1 g

Protein:

35 g
The image featured at the top of this post is ©stockcreations/Shutterstock.com.