Coming up with a side dish can sometimes feel daunting. If you have steaks at home to cook for dinner, here is our favorite steak recipe. And if you're looking for some healthy sides to pair with your protein, here are five healthy sides for steak to choose from.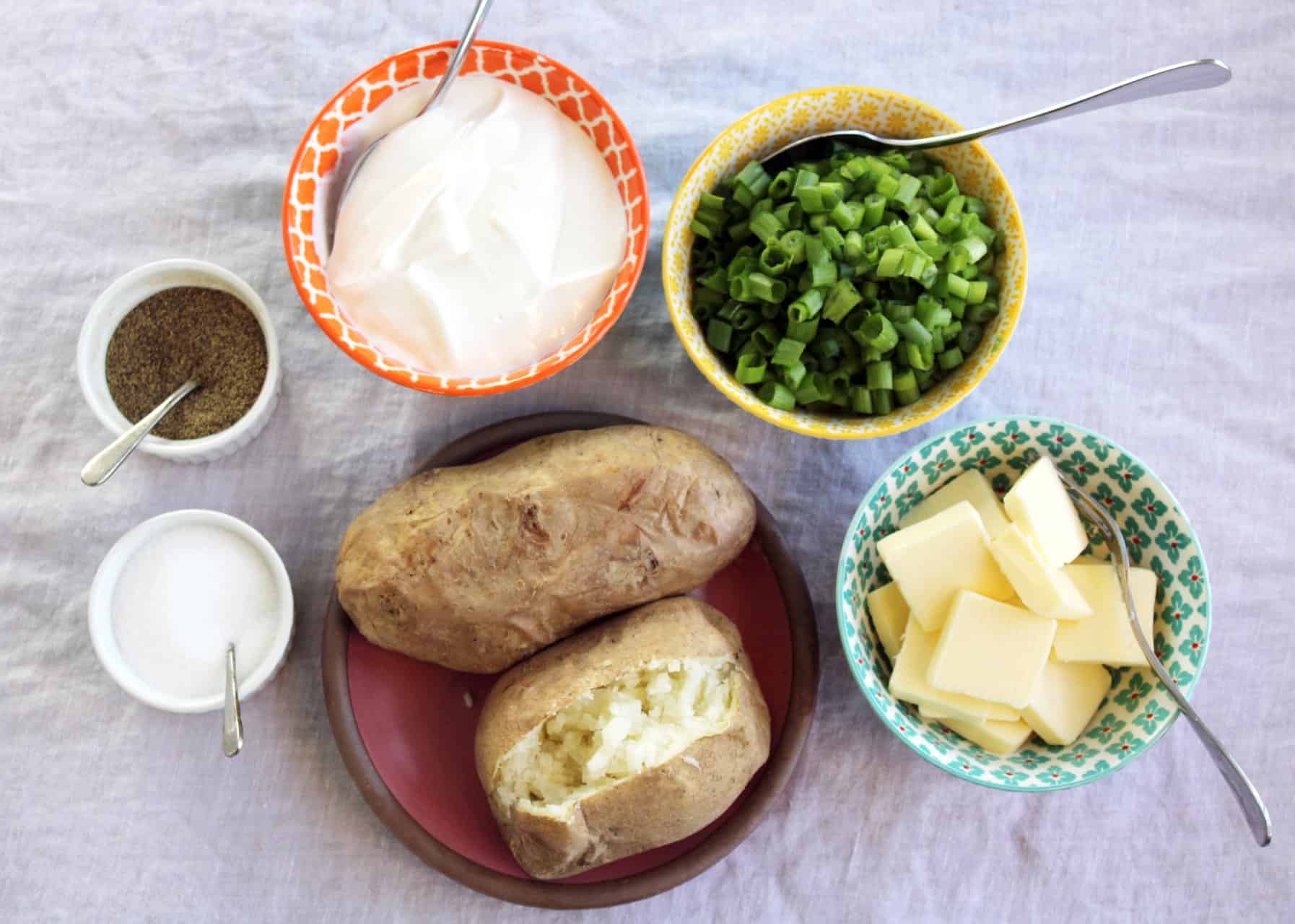 Nutrition per potato (no toppings):
164 calories
4 grams of fiber
37 grams of carbs
4.3 grams of protein
0.2 grams of fat
They go together like PB&J. Indeed "steak and a baked potato" has been served to generations of carnivores. Here is a classic baked potato recipe that's no-fail. Adjust the toppings as you see fit and to your family's liking. (HINT: Another fun family meal idea is a baked potato bar. Here's everything you need to know.)
Cabbage and Tomato Salad
Nutrition info:
43 calories
7g carbs
2g protein
1g fat
Bring some greens to your steak plate with this delightful cabbage and tomato salad recipe. The name gives a nod to the two key ingredients — cabbage and tomatoes — which are complemented by some simple spices and additional flavors like cilantro and radish. Toss it all in an oil and vinegar dressing and voila!
Stuffed Acorn Squash
Nutrition per serving:
170 calories
43.9 carbs
2.1 grams protein
.4 grams fat
Acorn squash is a nutritious veggie that is often overlooked for traditional squash. Yet it's just as versatile and delicious. Here is a stuffed acorn squash recipe that combines a few simple ingredients to create a tasty side dish for steak or any other meaty entree.
Greek Salad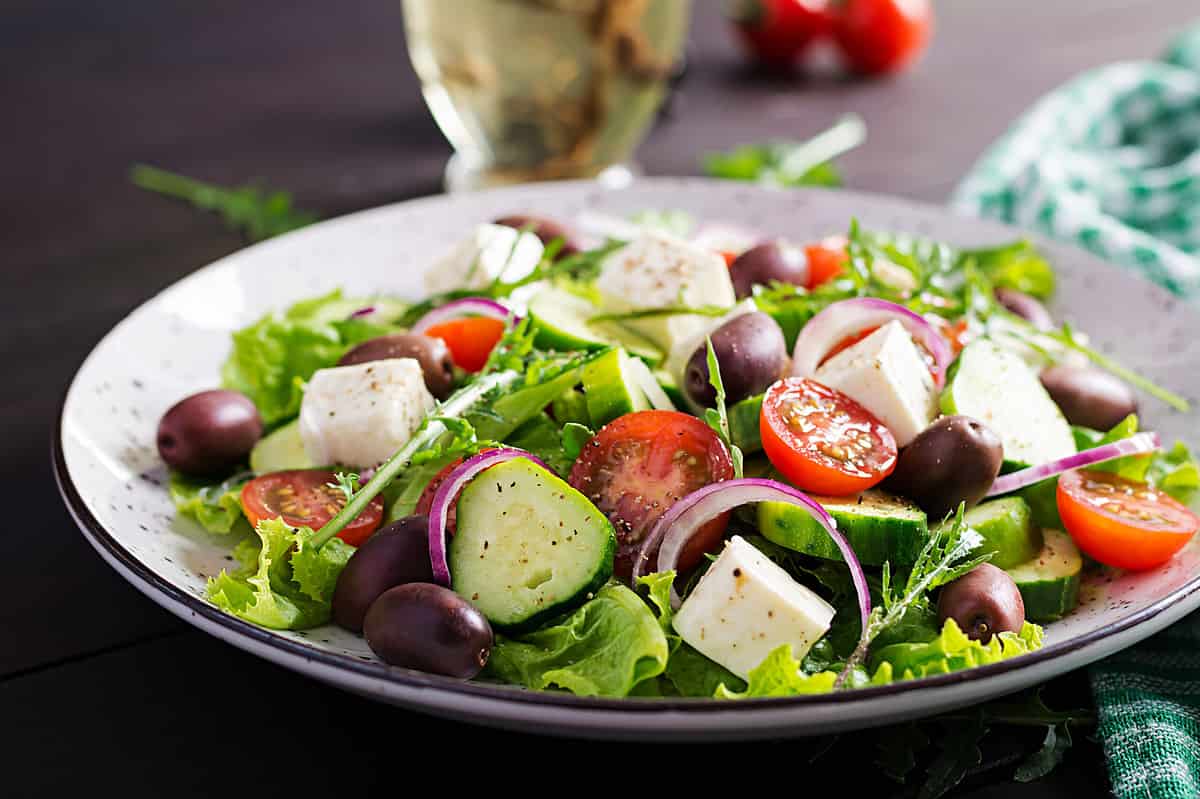 Nutrition per serving:
185 calories
12g carbs
7g protein
13g fat
Greek salads are incredibly easy to pull together and offer amazing flavor. Bathe a few simple ingredients in a light Greek dressing and you have the perfect complement to your juicy steak. Here's a great Greek salad recipe to tempt your tastebuds.
Nutrition per serving:
78 calories
6 grams of carbs
3 grams of protein
5 grams of fat
This sauteed broccolini recipe will give you a delicious and flavorful side in under ten minutes. Made with lemon, garlic, and chili flakes, this will become a go-to recipe.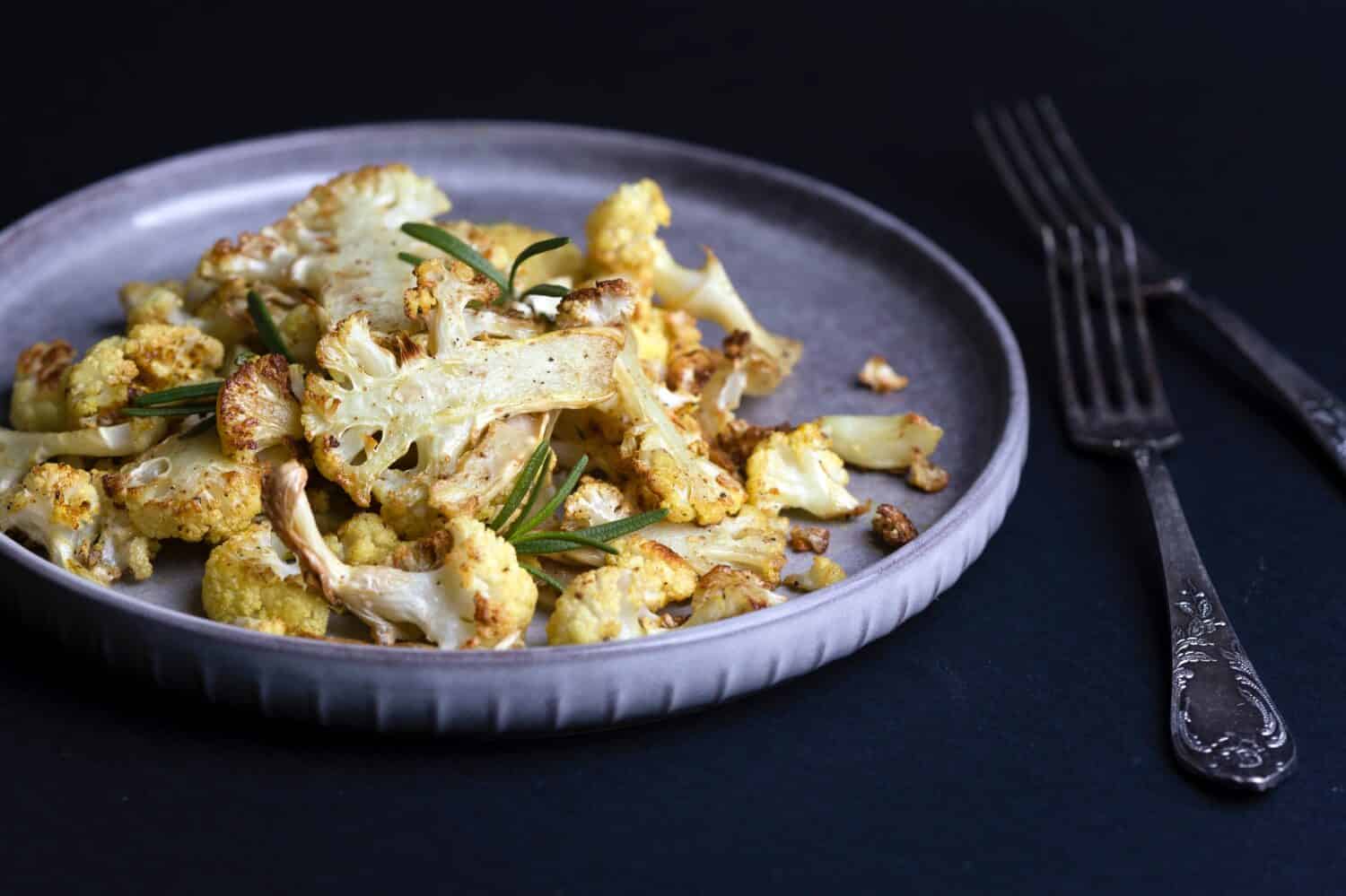 Nutritional per serving:
25-30 calories
5-6g carbs
2-3g protein
0.5-1g fat
This cruciferous veggie takes center stage with this tasty (and healthy!) side dish. And with just a few ingredients that are tossed together, it's a simple dish to whip up and serve alongside your steak.
Nutrition per serving:
30-40 calories
7-8g carbs
1-2g protein
0-1g fat
While cabbage is typically the star of cole slaw recipes, in this sauteed cabbage recipe, you'll enjoy this green in a whole new way. Chop up a head of fresh cabbage, and simply sautee in butter or olive oil. Season with desired spices, and you have a tasty and nutritious side in no time.
Nutrition per serving:
120 calories
18 grams of carbs
6 grams of protein
2.5 grams of fat
If you love Brussels sprouts, this Brussels with pancetta recipe will become a favorite. Mix the brussels in the pancetta, fresh garlic, salt, pepper, and olive oil, cook in the oven for 25 minutes, and you have a tasty and healthy side dish.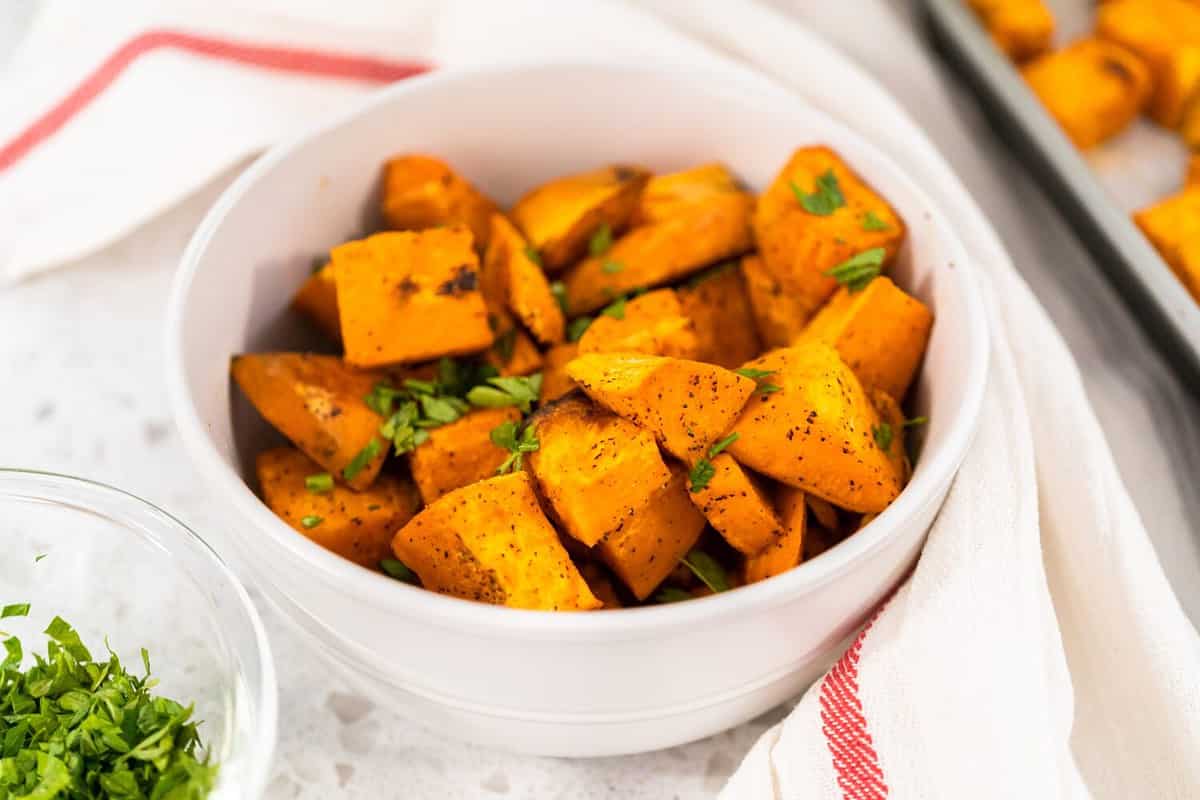 Nutrition per 1-cup serving:
180-200 calories
42-45g carb
2-3g protein
0.2-0.4g fat
Don't relegate sweet potatoes to just Thanksgiving. Enjoy these veggies year-round. And with this simple roasted sweet potatoes recipe, you can enjoy it with a more healthy bent.
It's a classic steakhouse staple, so it stands to reason that a classic wedge salad would pair perfectly with your steak entree. We find this one on Once Upon a Chef to be a stand-up version worthy of serving. Note that you may want to swap the dressing for a low-cal, low-fat version to up the healthy factor.
For a simple side for your steak dinner, this healthy sauteed zucchini recipe delivers. Simply slice up the zucchini into thin strips, saute in olive oil and douse with soy sauce. YUM!
Nutrition per serving:
120 calories
5 grams of carbs
4 grams of protein
10 grams of fat
These sauteed mushrooms are made with white wine and garlic. Sauteeing mushrooms is a great way to cook them because they soak up the flavor you cook them with. These mushrooms are bursting with flavor and a great side dish for your steak.
Sometimes the simplest recipes are the tastiest, and such is the case with this simple roasted beets recipe. Toss some slice beets with some olive oil and a pinch of salt and pepper, and you have a delightfully light and healthy side dish for your steak meal.
Nutrition per serving:
270 calories
18 grams of carbs
7 grams of protein
20 grams of fat
This arugula salad is sweet and savory with arugula, almonds, dried cranberries, parmesan cheese, lemon juice, balsamic vinegar, and honey. None of the ingredients require preparation, so you can throw it together in just 15 minutes.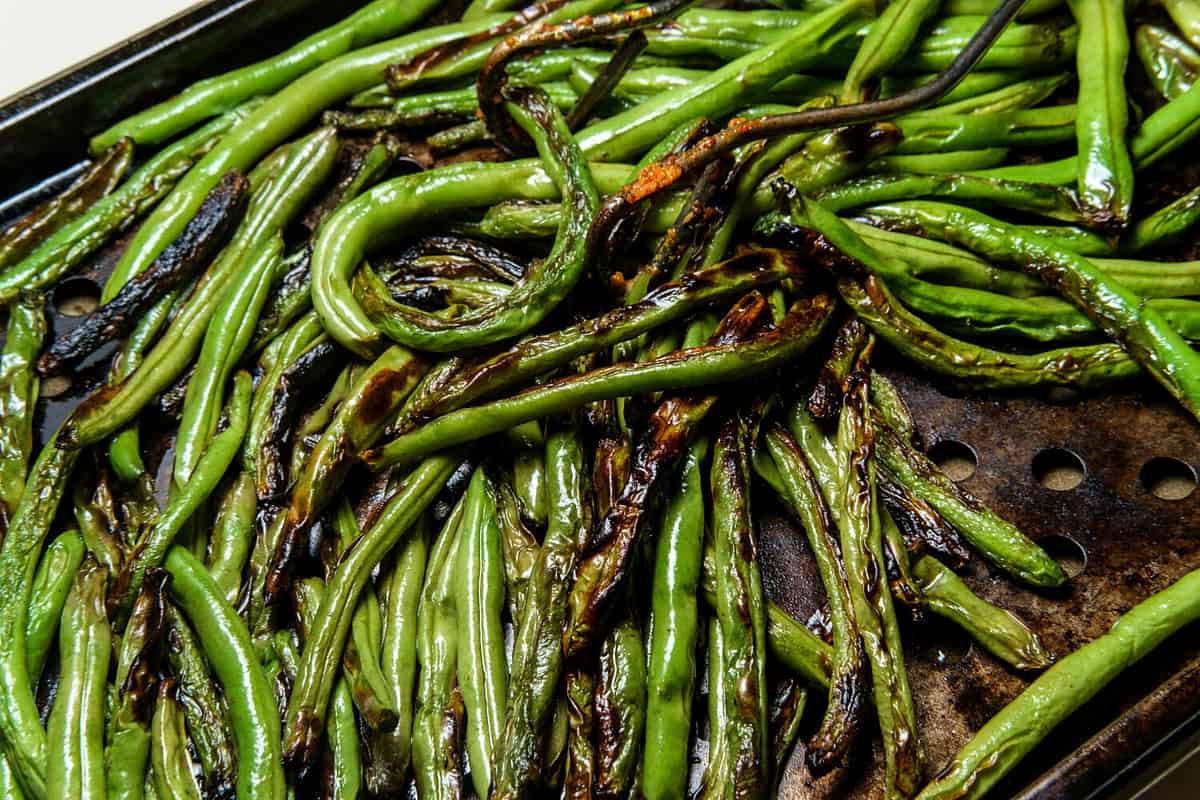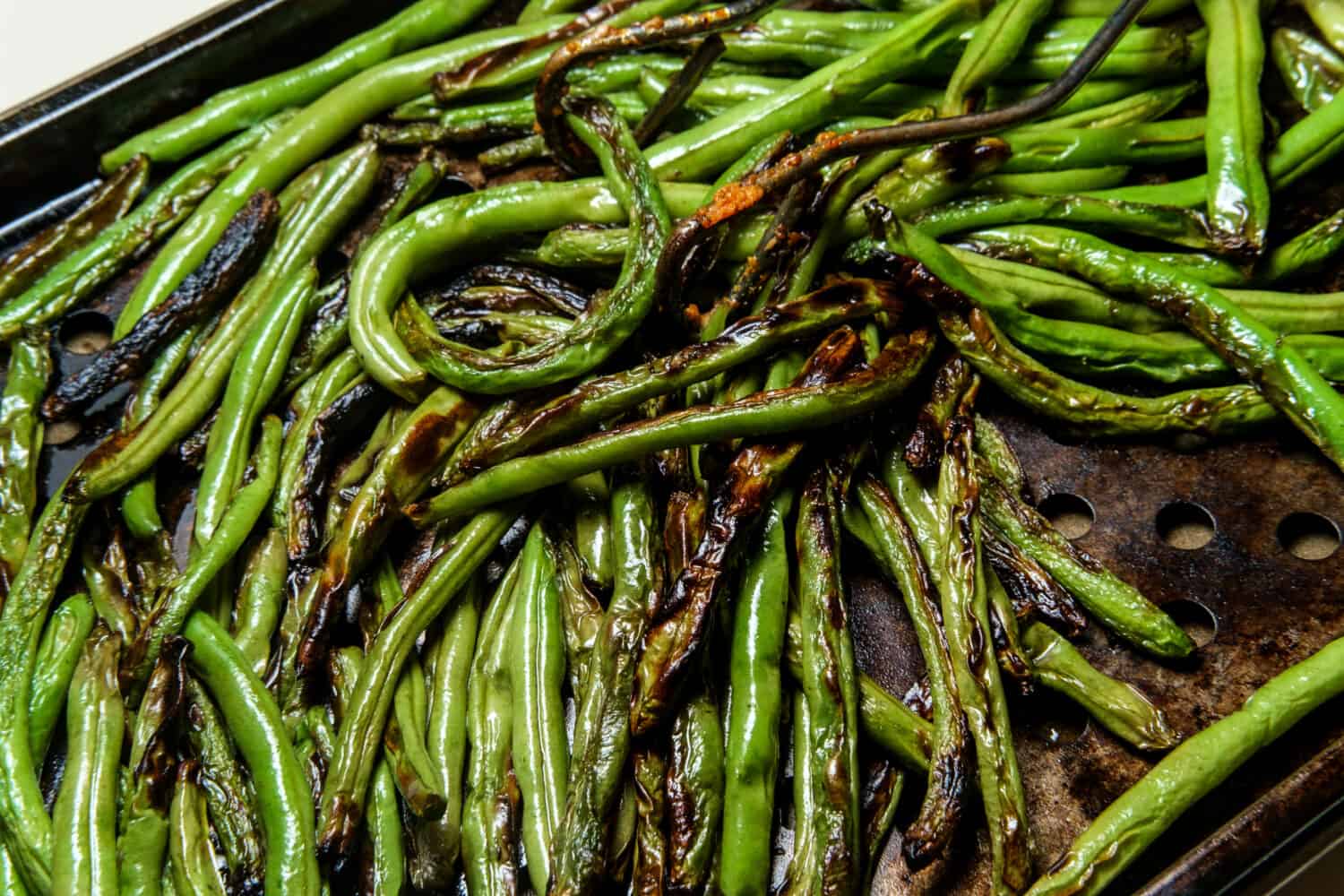 Nutrition per serving:
30-35 calories
6-7g carbs
1-2g protein
0.5-1g fat
Another simple recipe, these roasted green beans are SUPER easy to make and pack a hefty nutritional punch. Simply toss them all together and roast them in the oven. Doesn't get any easier than that!
Nutrition per serving:
292 calories
38 grams of carbs
8 grams of protein
11 grams of fat
This risotto is healthier than others because it has less cheese and uses broth instead of heavy cream. Typically risottos are high in calories and fat because of their cream and cheese content. This recipe is simple, with only 10 ingredients, most of which you probably have in your pantry.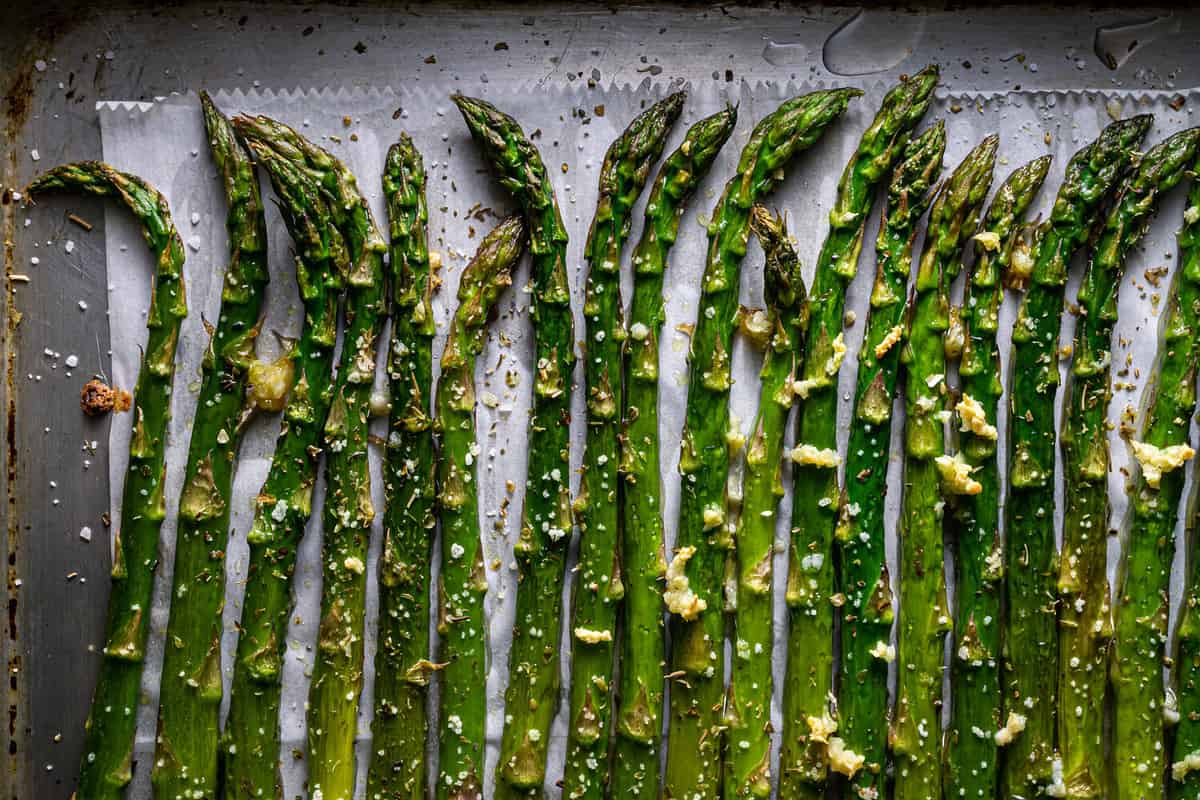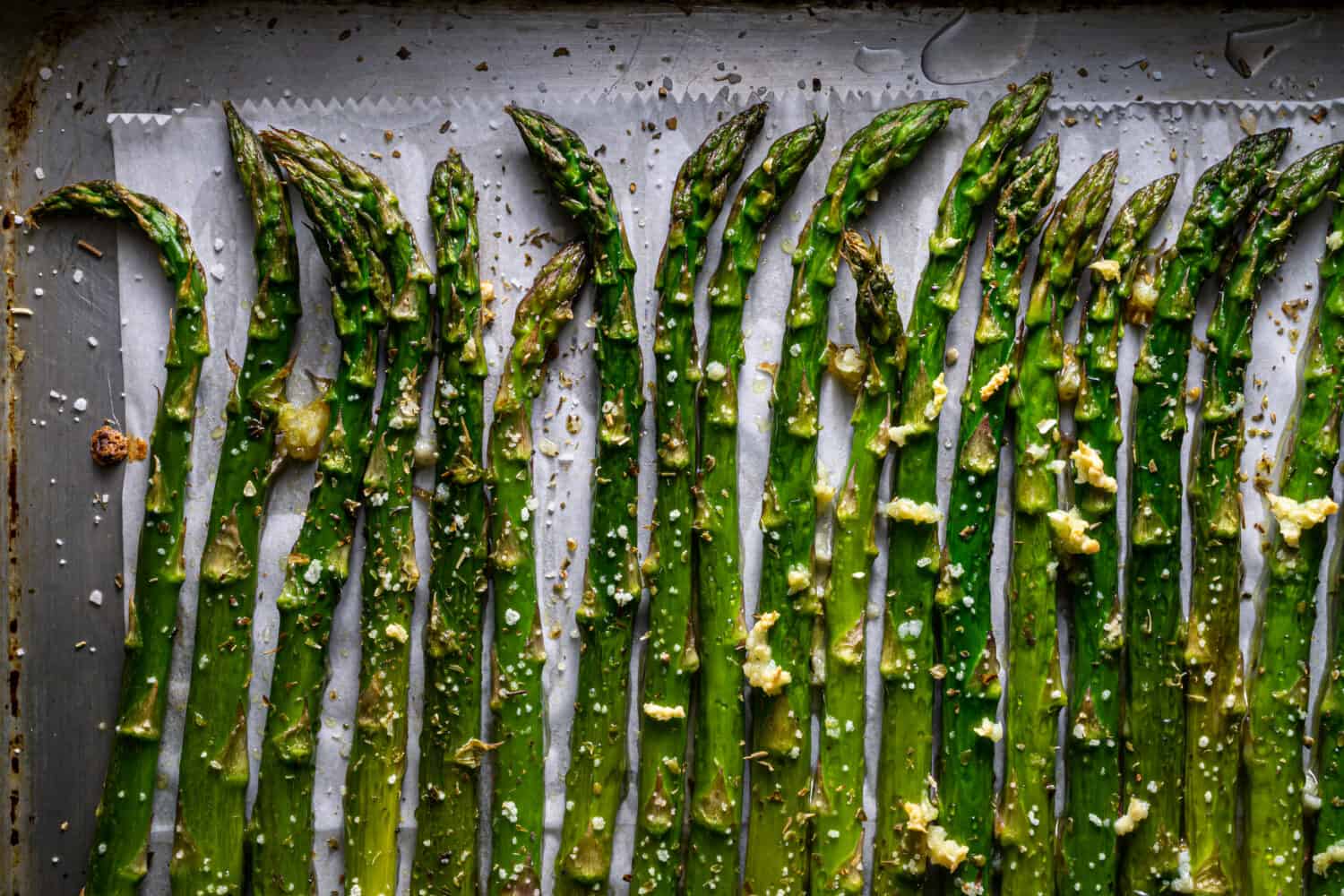 Nutrition per serving:
30-40 calories
6-8g carbs
2-3g protein
1-2g fat
Asparagus may be funny-looking, but it's got some serious flavor! This simple roasted asparagus recipe showcases just how tasty this veggie is. Douse fresh asparagus in olive oil and a pinch of salt, and you have an incredibly easy-to-make and nutritious side for your steak dinner!
The image featured at the top of this post is ©Chatham172/Shutterstock.com.