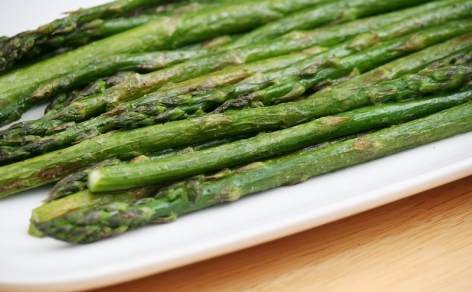 Roasted Asparagus
This roasted asparagus recipe is a nice addition to any meal. The mixture of salt and olive oil adds  flavor to the asparagus without dominating it.
Ingredients:
1 lb. fresh asparagus
1 1/2 Tablespoons olive oil
1/2 teaspoon kosher salt
Directions:
1. Preheat oven to 425 degrees F.
2. Cut off the woody bottom part of the asparagus spears and discard.
3. With a vegetable peeler, peel off the skin on the bottom 2-3 inches of the spears.
4. Place asparagus on foil-lined baking sheet and drizzle with olive oil.Sprinkle with salt.
5. Roll the asparagus around the pan until they are evenly coated with oil and salt.
6. Roast for 10-15 minutes, depending on the thickness of the stalks. Pierce with the tip of a knife to determine tenderness. Serves 4.