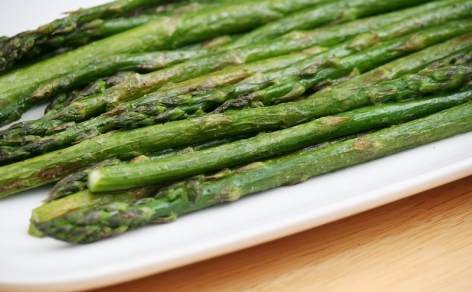 Roasted Asparagus
Let's Get Ready for Baby!
Sign up for our monthly pregnancy email series, and you'll get regular updates on your baby's development, helpful timelines to get ready for their arrival, must-have baby needs and so much more! PLUS, you'll get instant access to the MomsWhoThink "Ultimate Guide to Baby Naming in 2022."
CLICK HERE
to get started!
This roasted asparagus recipe is a nice addition to any meal. The mixture of salt and olive oil adds  flavor to the asparagus without dominating it.
Ingredients:
1 lb. fresh asparagus
1 1/2 Tablespoons olive oil
1/2 teaspoon kosher salt
Directions:
1. Preheat oven to 425 degrees F.
2. Cut off the woody bottom part of the asparagus spears and discard.
3. With a vegetable peeler, peel off the skin on the bottom 2-3 inches of the spears.
4. Place asparagus on foil-lined baking sheet and drizzle with olive oil.Sprinkle with salt.
5. Roll the asparagus around the pan until they are evenly coated with oil and salt.
6. Roast for 10-15 minutes, depending on the thickness of the stalks. Pierce with the tip of a knife to determine tenderness. Serves 4.