Holiday meals are a special time of family gathering and friendly conversation over a warm, jovial table filled with an assortment of delicious dishes. The holiday season is often centered around Thanksgiving and there is no dish more quintessentially Thanksgiving than an oven-roasted, herbal rub for a turkey.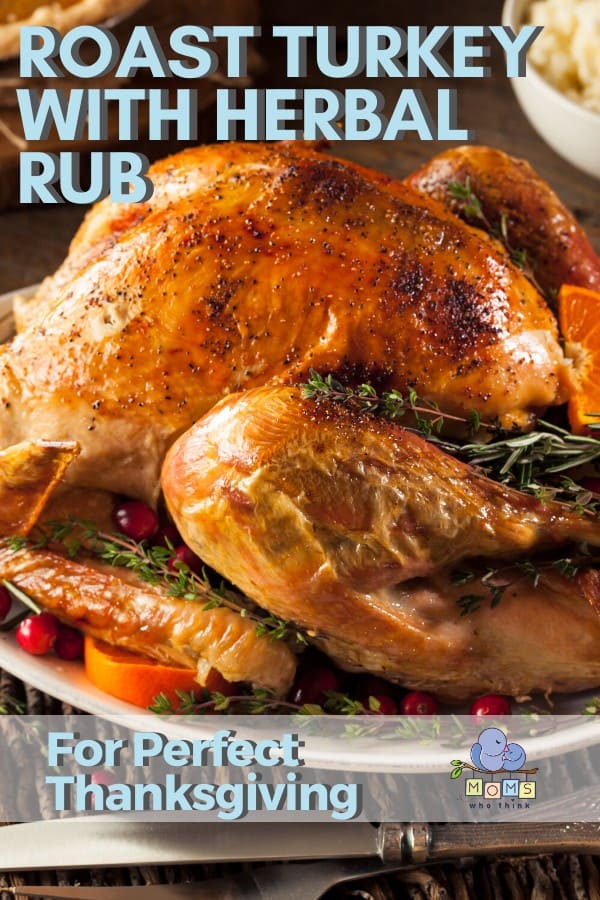 An Easy Start to the Holidays
Making this roast turkey with herbal rub for Thanksgiving will bring tradition to the forefront with this classic dish featuring an aromatic array of herbs. This herb blend will truly bring to life the star of the table, featuring a blend of herbs that are not fussy and can be easily swapped out for what you have on hand or what is available at the local grocer.
Making the bird ahead is easy, as well, as most of the preparation can be done and the bird set aside in the refrigerator for several hours until the final stretch of oven time before the meal.
Build Complex Flavor
This roast turkey with herbal rub recipe features the building of several layers of flavors on the humble turkey. Onions and lemon are used for flavor and moisture from inside the cavities, while the herbs and oil are combined to coat the outside of the turkey.
In addition to being placed on the outside of the skin, the oil and herb mixture is placed underneath the skin of the breast meat to help with moisture and flavor. In addition to this herb blend, a wonderful addition would be to place sliced lemons, coated in the herb and oil mixture, under the skin of the turkey along the breast meat. This allows for a slightly more intense lemon flavor while also allowing for more moisture being imparted into the meat.
Another way to help build flavor is to change the oil used in the herbal rub. Changing from vegetable oil to a more flavorful extra virgin olive oil can provide an additional depth of flavor to the bird that your guests will appreciate.
Finish Strong
This long-established staple of holiday tables is a great way to bring familiarity and hospitality to your gathering. Alongside this roast turkey with herbal rub recipe, serving mashed potatoes, roast carrots, Brussels sprouts, or another similar autumnal recipe would work to round out the table setting, allowing guests to enjoy a variety of harvest-time dishes and flavors. These sides can carry flavors over that are featured in the roast turkey with herbal rub – the carrots can be roasted with thyme or tarragon, or potatoes could be roasted with rosemary, salt and pepper.
These small, but meticulous details are what truly make this herbal rub for a turkey special for both you and your guests. To complete your meal pair the meal with a regional wine. Pinot noir is the traditional selection to go with a holiday turkey, but this selection can also be a personal or family favorite, so don't let tradition hold you back in this department.
Print
Roast Turkey with Herbal Rub
---
Author:

Total Time:

4 hours 5 minutes
Description
1 13-pound whole turkey, fresh or thawed
1 medium onion quartered
1 lemon quartered
¼ cup vegetable oil
1 teaspoon dried thyme
1 teaspoon dried tarragon
1 Tablespoon dried rosemary
1 teaspoon salt
½ teaspoon freshly ground black pepper
---
Preheat oven to 325°F.
Remove giblets and neck from turkey and reserve for broth.
Rinse turkey with cold running water and pat dry with paper towels. Place onion and lemon quarters in neck and body cavities.
In a small bowl, mix oil with herbs, salt and pepper. With your finger tips, gently loosen skin from the breast without pulling off the skin.
Place

1 tablespoon

of herb mixture under skin; replace skin. Rub cavities and outside of turkey with remaining herb mixture.
Secure the neck skin to the back with skewers. Fold wings under back of turkey. Place legs in tucked position. May be prepared to this point, covered and refrigerated for several hours.
Place turkey, breast side up, on a rack in a large shallow (no more than 2½ inches) deep roasting pan. Insert an oven-safe thermometer into the thickest part of the thigh, being careful it does not touch the bone.
Cover bird with a loose tent of foil. Roast turkey in a preheated 325°F. oven for about 2½ hours.
Remove foil and baste bird with pan juices. Continue to roast for about another hour until meat thermometer registers 180°F. in the thigh.
Remove turkey from oven and allow to rest for 15-20 minutes before carving. Transfer to a large platter and serve with gravy.
---
Prep Time:

45

Cook Time:

200