With almost four hundred years of tradition, the turkey has been a scrumptious dinner specialty on most Thanksgiving tables. Throughout the years, Thanksgiving day has been the time to connect people from all corners of the country.
The U.S. has been described as melting pot of cultural diversity and appreciation. To change up this year's Thanksgiving Turkey and to give your loved ones a new excitement during the holiday season try this Five Spiced Turkey recipe!
Since cultural food identity is important to the United State's past and present, try this recipe to connect families and friends on a global level.
Using soy sauce, ginger, basil, a Chinese five-spice powder, and a few other ingredients, this recipe promises to surprise your dinner guests as a delicious Asian-inspired centerpiece.
Double Five-Spice
An Asian-themed Thanksgiving table would make a perfect modern touch to this old family holiday. It connects each member of your family who maybe eager to try something new!
A Five-Spiced Turkey would be best accompanied with a Five-Spice Tarte Tatin or even a coconut pie for a delicious dessert to follow! It is also great with a classic buttermilk pie as well for a fantastic Asian Thanksgiving table.
Aside from desserts, a butternut squash soup, a cranberry sesame salad, and a mashed potato with scallion garlic oil all make terrific dinner entree accompaniments to this dish. These dishes would all use similar ingredients so the shopping would be more focused and require less overall products.
The flavor of these dishes and of this Five-Spiced Turkeyurkey listed below are distinctive to parts of East Asia but can also be altered to fit your personal taste buds. You can dial down the flavors and stick to more traditional flavors or go even further and add a greater variety of East Asian flavors.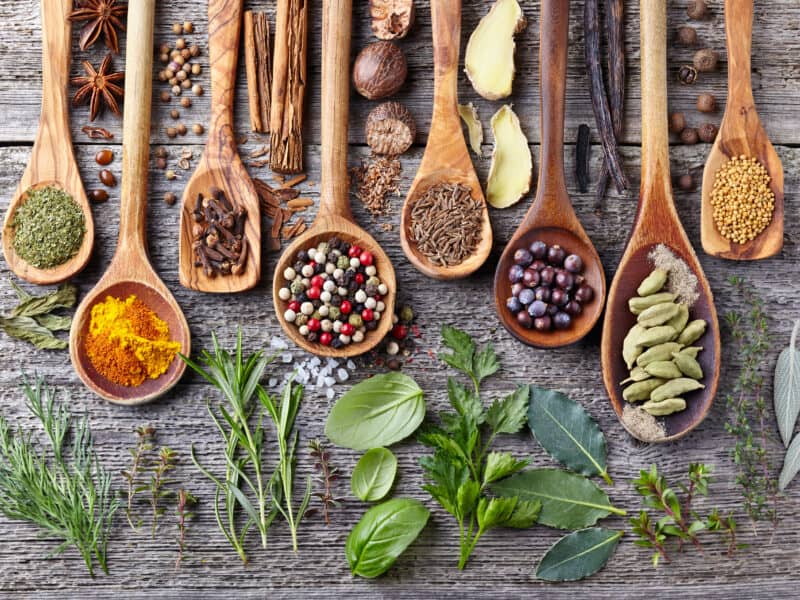 Wonderful Variations
Instead of using paprika or basil try adding 1 cup of honey to achieve a sweet glaze on your turkey. The honey will give sweetness while the soy sauce will provide an adequate amount of saltiness to the dish.
1/4 cup of toasted sesame oil will also provide a nice toasty flavor addition to the Five-Spiced Turkey recipe. This will also help the turkey develop a delicious and crispy skin!
Rather than removing the basil from the recipe, try adding parsley flakes or freshly cut parsley (approximately two teaspoons to taste).
While some do not prefer the added fat or flavor, many enjoy the addition of mayonnaise to a turkey as it softens the meat as it cooks in the oven. Smothering the turkey using two cups of mayonnaise before adding the spices may also help the spices stick to and be absorbed by the turkey.
This Five-Spiced Turkey recipe gives plenty of opportunity for change or adjustments or simple appreciation of the flavors incorporated. The use of fresh herbs is beneficial to the overall taste of the dish as it provides a refreshing change to the hearty thanksgiving dinner.
Other ingredients that could be added include Sriracha, lemongrass, or even scallions. Each provides a different take but together adds to the overall themed Thanksgiving dinner!
If you like this recipe, try these!
Print
Five Spiced Turkey
---
6 Tablespoons

low-sodium soy sauce

1 Tablespoon

garlic powder

1 teaspoon

ground ginger

2 teaspoons

paprika

1 Tablespoon

fresh chopped basil

2 teaspoon

parsley

¼ teaspoon

black pepper

2 teaspoons

Chinese five-spice powder

1

(12-pound) turkey, water
---
Instructions
Combine soy sauce, garlic powder, ginger, paprika, basil, parsley, pepper and five-spice powder in small bowl and let stand 20 minutes to thicken.
Remove neck and giblets from turkey.
Wash turkey well, then pat dry and season inside and out with salt and pepper.
Pour ½ marinade over turkey, reserving other ½ for later use.
Place turkey on rack in roaster. Pour about 1 cup water in bottom of roaster.
Prepare foil tent to cover roaster.
Spray underside of tent with non-stick cooking spray, place over turkey and seal sides.
Roast turkey at 325°F, basting often, until nicely browned, about 15 minutes per pound.
Remove from oven, let turkey rest and serve on platter with reserved marinade as dipping sauce on side.