Fall is a wonderful time of year for baking and holiday meals. If you are scouring the Internet for menu ideas, here is one the best Roast Garlic Mashed Potatoes recipe to serve at your Thanksgiving dinner. It's creamy and delicious, and you'll want to save this recipe for future use.
Roast Garlic Mashed Potatoes
Holiday dinners bring back childhood memories of the meals we ate at Grandma's house. Delicious and comforting, Roast Garlic Mashed Potatoes is one dish that we look forward to every year. The earthy aroma of the garlic feeds the senses, while the smooth, buttery texture of the potato delights our taste buds.
Substitutions: If you don't have heavy cream, a little half-and-half or milk will work. Likewise, if you do not have any olive oil or coconut oil, any good oil you have on hand will do just as well. For vegans or those who are lactose intolerant, omit the butter and cheese and substitute soy or almond milk for the cream.
Why Roasted Garlic Mashed Potatoes are the Perfect Dish for Thanksgiving
When designing or planning your holiday menu, you want to serve foods with different textures like creamy, chunky, and chewy. If you are one of those cooks that serve mashed potatoes and sweet potatoes, you will want to have the sweet potatoes cut in chunks or halves and drizzled with butter and honey for a difference in taste and texture. The mashed potatoes will have the savory taste and creamy texture, while the sweet potatoes are sweet in taste and chunky in texture. Both of these types of potatoes are a must-have at any holiday meal.
Ways to Use Up Your Leftovers
Potatoes can be served in a variety of ways. They make great main dishes as well as side dishes. They can even be transformed into something different when served as leftovers. Don't worry if you have an abundance of mashed potatoes left after Thanksgiving. To make an open-faced turkey sandwich top a slice of bread with mashed potatoes and sliced turkey and gravy. Leftover mashed potatoes can be used to make fried potato cakes, made into potato dumplings known as Kopytka, or made into an Irish potato dish called Colcannon. These dishes can be made by adding in veggies like spring onions, cabbage, and peppers and binders such as flour and beaten eggs. There are many flavorful ways to use up leftover mashed potatoes.
What Else Goes Well With This Dish?
Mashed potatoes and meatloaf go hand-in-hand. Chicken and beef are also perfect with potatoes, as well as lamb and venison. They make a perfect accompaniment to almost any source of protein, including fish and eggs. They make a great topping for a Shepherd's Pie and are good all by themselves as a main dish by adding cheese and bacon and whatever veggies you like.
Add-Ins for Mashed Potatoes
Besides butter and milk or cream, you can also add in a spoonful of sour cream, salsa, crumbled bacon, shredded cheese, fresh chives, parsley, rosemary, pimentos, cubed ham, curry powder, and turmeric. These ingredients are wonderful for spicing up boring mashed potatoes for casseroles and main dish pies. Curry powder, turmeric, and curcumin are used in Indian cooking to flavor potatoes, eggs, and many other foods.
The possibilities for this creamy, delicious side dish are endless. We hope you like this Roast Garlic Mashed Potatoes recipe and serve it often. It goes so well with just about any protein source you can imagine. No Thanksgiving dinner would be complete without the Roast Garlic Mashed Potatoes. It's like Superman without his cape; something is missing.
Print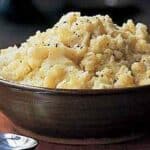 Roast Garlic Mashed Potatoes
---
Author:

Total Time:

24 minutes
Description
8 to 10 cloves garlic, peeled
1 cup olive oil
4 russet potatoes
2 Tablespoons butter
⅓ to ½ cup heavy cream
¼ cup Asiago cheese, grated
2 Tablespoon Parmigiano-Reggiano cheese, grated
Salt and pepper, to taste
---
Put the garlic and olive oil in a heavy saucepan over lowest possible heat and simmer until soft; 30 to 40 minutes.
Drain off oil (reserve for marinades or vinaigrettes).
Puree garlic; set aside.
Meanwhile, prick potatoes with a fork and bake in a 400°F oven for 1 hour, or until soft. While still hot, peel and mash, or pass through a potato ricer.
Melt butter in heavy cream; whisk in puréed garlic.
Stir into potatoes.
Stir in cheeses and season with salt and pepper.
Spoon into a gratin dish.
Place in a 400°F oven for 12 to 15 minutes or until browned and bubbling.
---
Prep Time:

10

Cook Time:

14