If you are a meat and potatoes kind of person, we probably had you at delight. The meal we offer here is simple to make and absolutely delicious. It is creamy, filling, and it appeals to a wide variety of taste buds.
To create the dish, start by sautéing butter and onion. Mix in milk, half and half, salt and pepper, and flour and bring to a boil. Add chicken and vegetables and simmer until heated.
Add mashed potatoes and you have a terrific meal that is ready to serve.
This meal is great because it includes all food groups, it's hearty and it's easy to prepare. But when you start with chicken and potatoes as your base, you can take it in any direction you want.
Read on to find out more about the chicken and mashed potato dishes you can make.
Creamed Chicken over Mashed Potatoes
Creamed chicken is defined as chicken breast simmered in cream. It can make the perfect topping for biscuits and it can also be combined with vegetables and served on its own with a side.
We think creamed chicken makes the perfect complement for mashed potatoes because it gives the whole meal a soft, creamy texture that is the ultimate in comfort food.
Our recipe is great for creating a basic version of the meal, but here are some other combinations you can choose from.
Creamy Parmesan Chicken and Mushrooms over Mashed Potatoes: A parmesan sauce is made using cream, parmesan cheese, flour, chicken stock, mushrooms, onions, and various seasoning. Top over chicken and serve with mashed potatoes for a delicious spin on an old classic.
Creamy Herb Chicken: For this recipe, the sauce is made from a mixture of garlic, parsley, thyme, rosemary, milk, and cornstarch. Top the chicken with the mixture and serve with mashed potatoes.
Potatoes Under Creamy Chicken: Here, the chicken mixture will consist of milk, condensed cream of chicken or mushroom soup, diced chicken, broccoli, and diced tomatoes. Prepare mashed potatoes and pour the chicken mixture on top for a meal your family is sure to love.
Chicken and Mashed Potatoes
If you prefer your chicken without a creamy sauce on top, there are a variety of recipes available that will suit your tastes. Here are some you can choose from.
Lemon Mustard Chicken with Chive Mashed Potatoes: This is a great way to elevate a mashed potato and chicken dish. Sour cream, butter, and chives will give your mashed potatoes a kick. Rub a mustard, lemon, olive oil and thyme mixture onto the chicken for a dish your guests will not soon forget.
Pan Fried Chicken and Mashed Potatoes: Rather than making your chicken creamy, try frying it for crispy goodness that makes the perfect complement to your mashed potatoes. Giving the chicken a garlicky kick will take the taste to the next level.
Chicken Mashed Potato Bowl: This recipe requires popcorn chicken, corn, mashed potatoes, and gravy. Combine ingredients in a bowl and top with cheese for a comforting dish you can eat just about any time.
Mashed Potato Stuffed Chicken: Why not put your mashed potatoes directly inside your chicken? Lift the skin of your chicken and put the mashed potatoes underneath. Serve with your favorite veggies to get a terrific flavor experience in every mouthful.
Health Benefits of Chicken
This recipe is amazing already because of how versatile and delicious it is, but one of the other great things about it is the health benefits it can provide. While we wouldn't call this the healthiest dish on the planet, the presence of chicken means you will be getting some benefit.
Chicken's most well-known benefit is that it has a lot of protein in it. Protein is often highlighted as an important nutrient for those trying to lose weight or gain muscle. Protein can also help you feel fuller for longer, meaning you'll be less likely to snack throughout the day.
Chicken is also loaded with important nutrients. Selenium, phosphorous, vitamin B6, and niacin are just four examples of the nutrients that chicken provides you with. Getting enough vitamins and minerals in your diet is key; this great meat can help you do just that.
By feeding this meal to your family, you'll help them get the nutrition they need. In a world where fast-paced meals often mean nutrition is sacrificed, finding the right dinner for your family is key. Plus, they'll enjoy eating it!
Chicken and mashed potatoes are such versatile staples. They make a great base for just about any dish. How will you be using your ingredients to create a meal for your hungry crew?
If you enjoyed this recipe, make sure to check out our Ham and Potato Casserole Recipe and our Mexican Shepherds Pie Recipe.

Print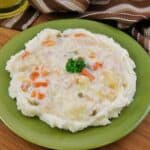 Creamy Chicken Potato Delight
---
Author:

Total Time:

30 Minutes
Description
If you are a meat and potatoes kind of person, we probably had you at delight. The meal we offer here is simple to make and absolutely delicious. It is creamy, filling and it appeals to a wide variety of taste buds.
---
½ cup

chopped onion

2 Tablespoons

butter

2 Tablespoons

all-purpose flour

½ teaspoon

salt

¼ teaspoon

pepper

1 cup

milk

1 cup

half and half

2 cups

cooked chicken breast, cubed

1 cup

mixed vegetables (frozen or canned, drained)

2 cups

hot mashed potatoes
---
Instructions
In a large saucepan, saute the onion in butter until tender.
Sprinkle with flour, salt and pepper. Stir in the milk and half & half until well blended.
Bring to a boil; cook and stir for 2 minutes or until thick and bubbly.
Add the chicken and vegetables; cover and simmer until heated through.
Spoon over mashed potatoes to serve.
Prep Time:

10 Minutes

Cook Time:

20 Minutes

Category:

Main Course

Method:

Simmering

Cuisine:

American
Keywords: creamed chicken over mashed potatoes, chicken and mashed potatoes