[addtoany]
When we think of chicken and pasta dishes, an Italian meal might be the first to come to mind. However, the recipe we have here gives chicken and pasta a great creamy texture that takes it to the next level.
Read on to find out more about our scalloped chicken recipe and variations you can make on this delicious dish.
Scalloped Chicken
Before delving into this recipe and how to prepare it, let's get a handle on what we are referring to when we use the word scalloped.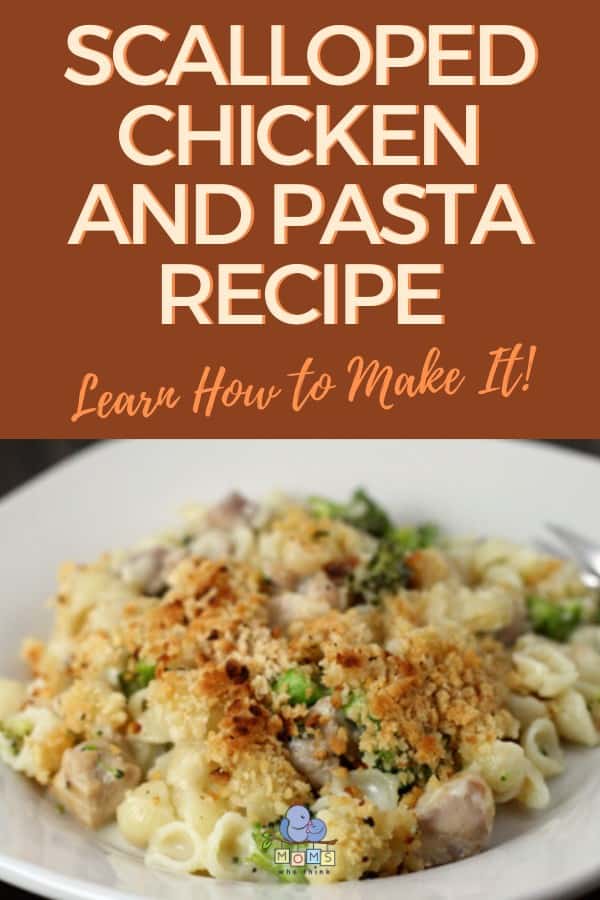 In this recipe, scalloped means baked with milk or sauce.
Scallops are also a name that is given to several species of saltwater clams or marine bivalves. For this reason, it is easy to assume that this is some sort of chicken and seafood dish. However, that is not the case. Here scallops simply refer to the use of a heavy creamy sauce.
The sauce is made with milk and the seasonings packet for the PASTA RONI Shells and White Cheddar that is used for this dish.
To make the dish, you start by bringing 2 ¼ cups of water with 2 tablespoons of butter added to a boil.
Next stir in pasta and broccoli and heat. Boil uncovered stirring frequently until most of the water is absorbed.
Add the pasta seasoning packet, milk and chicken and continue cooking for three minutes.
Next, melt 2 tbsp. butter in a small saucepan and stir in breadcrumbs.
Transfer the pasta mixture to a glass baking dish and sprinkle with breadcrumbs. Bake 10 minutes or until the breadcrumbs are browned and the edges are bubbly.
This dish provides a wide variety of tastes and textures with the creamy sauce, the crunchy broccoli and the rich texture of the breadcrumbs. These all work perfectly allowing the chicken to take on all the flavors that are added.
There is no need for a side as several food groups are included in the dish. The chicken makes for a terrific protein, the broccoli is a healthy vegetable that provides a great source of fiber, potassium, and antioxidants and the pasta and breadcrumbs are starches that give the dish a hearty texture that makes it filling and delicious.
Scalloped Chicken Casserole
The scalloped chicken casserole can refer to any dish that includes chicken, a creamy sauce and a variety of ingredients. Therefore, it should come as no surprise that there are numerous variations on the dish. Here are some we recommend.
Scalloped Chicken and Potatoes: This is a Betty Crocker recipe that uses the brand's sour cream and chives sliced potato mix.
Start by combining the contents of the uncooked potatoes and sauce mix with boiling water, half and half, chicken, peas, and mushrooms in an ungreased casserole dish.
Bake uncovered for 30 to 35 minutes until potatoes are tender.
In a small bowl, combine breadcrumbs, butter, and parsley. Sprinkle over the mixture and bake an additional five minutes.
Slow Cooker Escalloped Chicken: A slow cooker is a great way to prepare meals. The slow cooking process allows flavors to combine and marinate, and when it comes to meat, it provides the perfect level of tenderness.
To prepare this recipe, all you need to do is combine onion, butter, bread cubes, poultry seasoning, salt, sage, pepper, cooking liquid and celery and mix well. This will make a great dressing for the chicken.
Layer the chicken and the dressing mixture in the slow cooker and cook on low for 4 to 8 hours.
Low Carb Scalloped Chicken: If you are trying to avoid carbs, you will love this low carb variation.
Start by melting butter in a saucepan. Then add celery and onions and cook until the vegetables soften.
Add Herbes de Provence and chicken stock, cover and simmer on low for 3 minutes.
Add chicken and heavy cream. Stir in almond flour.
Simmer until the mixture reduces and thickens stirring often.
Stir in buttered cocotte. Rub parmesan and remaining almond flour into the butter until it becomes crumbly.
Sprinkle crumbs on top of the chicken and bake uncovered for 20 minutes.
Scalloped chicken makes the base of a rich, creamy casserole your whole family is sure to love. You can customize the recipe using different ingredients to suit the tastes of your hungry crew. What type of preparation will you be making to put a smile on their faces tonight?
If you enjoyed this recipe, make sure to check out our Chicken and Ziti Casserole and our Chicken and Macaroni Spirals.
Print
Scalloped Chicken and Pasta Recipe
---
Author:

Total Time:

22 minutes
Description
Scalloped chicken makes the base of a rich, creamy casserole your whole family is sure to love!
---
1/4 cup

butter, divided

1

package (6.2 ounces) PASTA RONI® Shells & White Cheddar

2 cups

frozen broccoli

2/3 cup

whole milk

2 cups

chopped cooked chicken

1/4 cup

dry bread crumbs
---
Instructions
Preheat oven to 450°F.
In 3-quart saucepan, combine 21/4 cups water and 2 tablespoons butter. Bring just to a boil.
Stir in pasta and frozen broccoli. Reduce heat to medium.
Boil, uncovered, stirring frequently, 12 to 14 minutes or until most of water is absorbed.
Add seasoning packet, milk and chicken. Continue cooking 3 minutes.
Melt remaining 2 Tablespoons butter in small saucepan; stir in bread crumbs.
Transfer pasta mixture to an 8 or 9 inch glass baking dish. Sprinkle with bread crumbs.
Bake 10 minutes or until bread crumbs are browned and edges are bubbly. Serves 4
Prep Time:

10 Minutes

Cook Time:

12 Minutes

Category:

Main Course

Method:

Baking

Cuisine:

American
Keywords: scalloped chicken, scalloped chicken casserole