Grab your FREE copy of one of our most popular and engaging activity packets!
Whether you're in the classroom or keeping your little ones busy at home these days, we have fun, engaging, and FREE printable activity for your kiddos to enjoy. To snag and instantly download you copy,
just CLICK HERE
!

Cauliflower can be a nutritious and delicious addition to any meal. It has a natural buttery taste, it is low in calories and it is very good for you. It is rich in antioxidants, fiber and choline. This makes it terrific for digestion and weight loss and learning and memory. It can also strengthen bones, boost the cardiovascular system and it may protect against cancer.
Because cauliflower is so good for you, it can be an excellent choice as a recipe to serve to your family or bring to a church supper. Here are some ways you can elevate the dish to encourage your guests to pile their plates with this nutritious veggie.
Oven Roasted Cauliflower
One way to server cauliflower is to oven roast it.
To roast cauliflower, start by cutting it into florets. Add roasting oil along with the seasonings you prefer. These could include salt and pepper, garlic, Cajun seasoning, Italian seasoning…and the list goes on. Squeezing lemon juice over the top is a great way to brighten the flavor.
Just toss the ingredients together, place on a baking sheet covered with parchment paper or cooking spray. Make sure the cauliflower is spread evenly on the sheet and roast for 25-30 minutes or until golden brown.
Of course, oven roasting isn't the only way to prepare cauliflower. You can also cook it and make it the base of a casserole, much like the recipe we provide here. Our recipe includes ingredients like breadcrumbs, mushrooms, green pepper, flour, milk and cheese with salt and pepper added to taste.
The ingredients are prepared separately and combined. Flour and milk are added to give the casserole a thick consistency. The dish is then baked and served making for a great vegetarian meal or a side for a variety of entrees.
Church Supper Ideas
Church suppers are a lovely way for your community to gather together and build a sense of unity. The right food can really set the tone.
The food you bring should provide a sense of comfort and have the potential to feed a lot of people. With that in mind, here are some church supper ideas that will guarantee your dish is a hit.
Ham and Swiss Potato Casserole: This is a comforting dish made with ingredients that are both familiar and irresistible. It is an affordable meal that is easy to serve and can feed a lot of people.
Church Supper Spaghetti: Spaghetti is always a hit. It is colorful and well liked by many. Take your spaghetti to the next level by adding meat, veggies and plenty of cheese.
Slow Cooker Beef Au Jus: A hearty meat dish will be a welcome sight at any social gathering. This roast has terrific onion flavor that is sure to please the masses. Add carrots and potatoes to the slow cooker to round out your meal.
Fried Chicken: Another crowd favorite, fried chicken is delicious when seasoned with sage and oregano. It is the perfect thing to take to a church dinner, summer picnic and more.
Layered Lettuce Salad: A salad offers a light alternative that makes sense at any type of potluck. Start with lettuce and add a layer of cheese and then a layer of crispy bacon for a salad that is sure to be a crowd pleaser.
If you are being asked to bring a meal to your church supper, don't stress. These are all terrific dishes that the guests are sure to find delicious. What are some of your church supper faves?
If you enjoyed this recipe, make sure to check out our Mom's Missouri Recipe and our Bourbon Chicken Recipe.
Print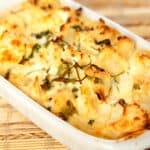 Church Supper Cauliflower Recipe
---
Author:

Prep Time:

15 Minutes

Cook Time:

30 Minutes

Total Time:

45 Minutes
Description
Because cauliflower is so good for you, it can be an excellent choice as a recipe to serve to your family or bring to a church supper.
---
1

head cauliflower (

1 ½

lbs.) cut into small florets

2 teaspoons

salt, divided

1/3 cup

plus 1 Tablespoon butter, divided

½ cup

fine bread crumbs

½

lb. sliced white mushrooms

¼ cup

chopped green bell pepper

1 teaspoon

coarsely ground black pepper

¼ cup

flour

2 cups

scalded milk

1 1/3 cups

medium sharp cheddar cheese, grated
---
Instructions
Place cauliflower florets and 1 teaspoon of the salt in a heavy saucepan. Add water to cover. Bring to a boil, reduce heat, cover, and cook until cauliflower is tender when pierced with a small knife, 10 to 12 minutes. Drain and set aside.
Melt 1 tablespoon of the butter in a saucepan over low heat. Add bread crumbs and mix to combine. Set aside.
Melt the remaining 1/3 cup butter in a large frying pan over low heat. Add mushrooms, green pepper, remaining teaspoon salt, and black pepper. Cook 5 minutes, stirring occasionally with a wooden spoon.
Remove from heat, add flour, and mix thoroughly. Return pan to heat, increase to medium heat, add milk, and cook, stirring, until mixture begins to thicken. Remove from heat.
Set the oven rack in the middle position. Preheat the oven to 350 degrees F. Coat a 1 ½ quart round ovenproof casserole with vegetable spray.
Place half of the cooked cauliflower in prepared dish. Pour half of the mushroom-pepper sauce over cauliflower and sprinkle with half of cheese. Repeat to layer the remaining cauliflower, sauce, and cheese. Sprinkle with bread crumbs mixture.
Place baking dish on cookie sheet and bake 25 to 30 minutes, or until casserole is golden brown and bubbling. Serve hot.
Category:

Main Dish

Method:

Baking

Cuisine:

American
Keywords: church supper idea, oven roasted cauliflower