Sweet potatoes have been a staple dish on our holiday tables for many years. They are as nutritious as they are delicious when made into a variety of favorite side dishes. If you're looking for holiday recipes, we have the best Praline Sweet Potatoes you ever tasted. It is a versatile dish and is great the next day as leftovers.
Praline Sweet Potatoes Recipe
Sweet potatoes are a versatile vegetable with a variety of uses. This lovely Southern-inspired dish was created to be a pudding, but it was adapted to be closer to a casserole or a crumble with the baked topping. It is sweet and is a great alternative to sweet potato pie. It has many of the same ingredients and you can even make it fancy by adding pecans for Pecan Praline Sweet Potatoes. Either way, this dish is delicious and your kids will love it.
Substitutions: as with most recipes, if you do not have cream you can substitute with a can of evaporated milk. Regular milk or soy milk may not be a thick enough consistency to "set" the dish. White sugar can be substituted for the brown sugar by adding a teaspoon or two of molasses. If fresh sweet potatoes are not available you can use the canned variety.
Why These Praline Sweet Potatoes are a Must-Have for Thanksgiving
Just like mashed potatoes and gravy, no Thanksgiving meal would be complete without the sweet, sticky pecan Praline Sweet Potatoes. Along with sweet potato casserole, it is a long-time family favorite and a dish that originated back in colonial times. Back then it was made to be a steamed pudding since the baking methods were much different than they are today. This is a good alternative for children who aren't fond of marshmallows.
What Else Goes With Sweet Potatoes?
These classic root vegetables are used in a variety of ethnic dishes. They go great with chicken wrapped in a tortilla as a taco or tostada. They make great burrito bowls mixed with black beans, avocado, and salsa.
Because they are vegetable they are also a staple of many vegan and vegetarian diets because they are very high in B vitamins and potassium. They are a good source of nutrition as well as being a very tasty vegetable.
Toppings for Sweet Potatoes
To serve, cut sweet potatoes in half and spread with a tablespoon of butter and a spoonful of sugar or honey. Likewise, maple syrup can be substituted for the sugar or honey for a little variation. You can make your sweet potatoes sweet or spicy by adding a sprinkle of cinnamon, curry powder, or chili powder.
Other Uses for Sweet Potatoes
Sweet potatoes are also used in place of pumpkin in sweet potato pie, another southern dish. Often mistaken for yams, sweet potatoes can also be substituted in many recipes that call for yams. You can bake them in the oven with a little butter and honey, or top them with marshmallows, or use them to make sweet potato candy. Although it is technically a vegetable, it can be made into sweet or savory dishes depending on the spices and ingredients used in the recipe.
Besides being baked in the oven, they can be sliced and made into sweet potato fries, cubed with ham for sweet potato hash, and mixed with flour to create a dough for flatbreads. They are also very prominent in Cuban dishes accompanied by black beans.
No matter how you serve them, sweet potatoes belong on every holiday table. Whether you like them sweet or spicy, this dish is sure to please the kids and adults in your family.
Print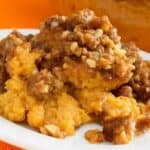 Praline Sweet Potatoes
---
Author:

Total Time:

40 minutes
4 cups

mashed sweet potato – canned or fresh

½ cup

white sugar

2 Tablespoon

vanilla extract

4

eggs – beaten

½ pint

heavy cream

¼

pounds butter or margarine

1 cup

brown sugar

½ cup

flour

1¼ cups

chopped pecans
---
Instructions
Butter one 2 quart casserole dish. Preheat oven to 350°F.
In a mixing bowl, combine potatoes, sugar, vanilla, eggs, and cream. Blend well.
Spread into casserole dish evenly.
Prepare the topping by combining the butter, brown sugar, flour, and pecans.
Mix until crumbly and sprinkle over top sweet potato mixture.
Bake for 30 minutes.
Prep Time:

10

Cook Time:

30