Sometimes you just need a sweet and salty snack. This frosted pecan bites recipe is sure to soothe your sweet tooth. It's an easy recipe that doesn't require a lot of ingredients. It great to make around the holidays, but it's also perfect for snacking anytime. You can make up a batch as big or small as you like, and they last a long time in an airtight container. Once you start snacking on these frosted pecan bites, you may not be able to stop.
Ingredient Substitutions
While pecans are the star of this recipe, you can trade them out for any other type of nut you choose. Walnuts, cashews, and even almond all work well in place of pecans. You can also use mixed nuts for an interesting texture and flavor. The sugar used to frost the pecan bites can also be substituted for artificial sweeteners if desired. You can also leave out the sale and use margarine in place of butter if desired.
When To Serve Frosted Pecan Bites
The great thing about this frosted pecan bites recipe is that it can be served any time and for any occasion. You can do a lot of things with these bites. They are great for snacking, but can also be packaged up and given as gifts around the holidays. You can make them for friends, neighbors, teachers, or even family members who love sweets. Since they keep so well, you can make them up and snack on them over time. You can also serve them around the holidays. They look great in class dishes or small bowls. Just leave them out on the counter or buffet and let everyone help themselves.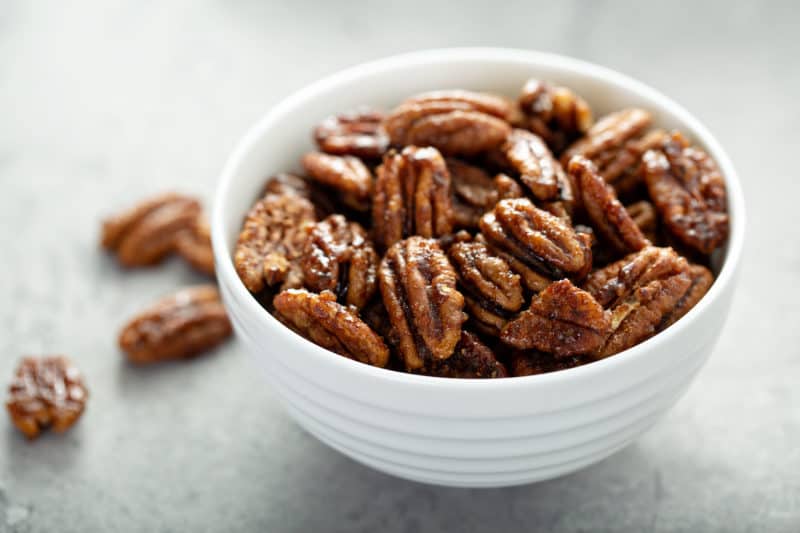 Using Frosted Pecan Bites in Other Recipes
You can definitely each these pecan bites on their own, but if you really want to add some flavor, try using them as toppers. They taste great on ice cream, in yogurt as toppers for cakes, and even in salads. They can be added to cereal, trail mix, and homemade candies. Sprinkle a handful over your favorite dish to add a nutty, sweetness that can't be beaten. You can even chop them up and add them to your favorite baked good recipes. The possibilities are endless, and the hard part won't be finding a use for them, it will be making enough of them to use in your recipes and snack on as you wish.
Serve them with a buffet of snacks like these:
Print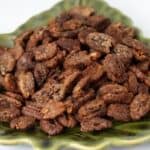 Frosted Pecan Bites
---
Author:

Total Time:

55 minutes
1

pound pecan halves

½ cup

butter

1 cup

white sugar

2

egg whites, stiffly beaten

1

pinch salt
---
Instructions
Preheat oven to 275°F (135°C).
Toast pecans for 10 to 15 minutes or until lightly toasted. Set aside to cool.
Fold sugar, salt and pecans into egg whites.
Increase oven temperature to 325°F (165°C).
Melt butter or margarine on a sheet pan.
Spread the nut mixture over pan and bake for 30 minutes, stirring every 10 minutes.
Remove from oven and allow to cool.
Prep Time:

15

Cook Time:

40