Ever considered a date-nut bread for Thanksgiving? Soon you will!
As a straightforward comfort food, this bread can make a great centerpiece to the baked-goods table or serve as an alternative to Thanksgiving rolls. But did you know that consuming dates means partaking in a tradition that goes back for millennia?
Scientists believe that humans have cultivated dates for food since at least 6000 B.C. The Bible mentions dates at least 50 times in reference to peace and prosperity, and the fruit has been an important celebratory food for everything ranging from the Feast of the Tabernacles to Palm Sunday.
Ancient Romans waved date-palm fronds as a sign of gratitude and triumph, and the date palm was also an important symbol of appreciation and victory in Phoenicia and Greece
In short, dates are among the most enduring symbols in human history. Just as many consider the Thanksgiving decor incomplete without an overflowing cornucopia, date-nut bread is a practical way to set the overall tone of abundance.
Use this date-nut bread recipe to fill your home with the heavenly aroma of good cooking, and you can also save any remaining loaves for a quick and convenient breakfast the next morning. Be sure to bake a few extra loaves to make easy, practical, and thoughtful gifts for family, friends, or the less fortunate.
Date-Nut Bread Potential Ingredient Substitutions
This date-nut bread recipe is a wholesome, hearty, and delicious addition to any table. An added bonus of this recipe is that it offers a world of possibilities in terms of ingredient substitutions. While dates and walnuts naturally complement each other, you can easily replace walnut with any edible seed that pleases your palette.
Consider using large seed alternatives like pumpkin seeds or sunflower seeds as well as smaller varieties like sesame seeds. Pumpkin seeds are seasonal and offer a texture and flavor similar to walnuts, making these seeds an ideal replacement in fall or winter dishes.
Pair your date-nut bread with pumpkin spice latte for a mood-boosting breakfast. Alternatively, serve the bread instead of pumpkin pie after dinner.
Preparing bread also offers the opportunity for unconventional substitutes in the baking process itself. Instead of using a conventional white egg, try using an organic brown egg or duck egg.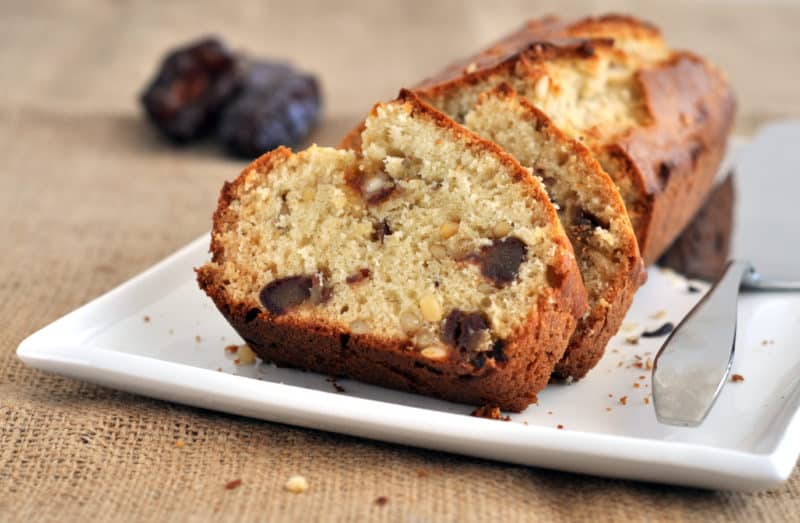 Curious about skipping eggs entirely? Try using flax seed as an egg substitute to create a delicious vegan treat. To create the substitute, whisk together 3.0 tablespoons of water and 2.5 teaspoons of ground flax seed (replaces one egg).
Once the mixture becomes gelatinous, add to the date-nut bread recipe as usual. The resulting bread is a great dish to offer vegetarians and vegans, and it a creative solution if you would like to reserve egg use for other Thanksgiving recipes.
Print
Date-Nut Bread
---
Author:

Total Time:

1 hour 15 minutes
Description
The dates in this bread recipe add moistness with a rich flavor that doesn't overpower the bread itself. Serve warm with generous swirls of butter for a pre-Thanksgiving breakfast treat that won't overstuff everyone before the main event.
---
1½ cups

hot water

1½ cups

dates, pitted and chopped

2¾ cups

all-purpose flour

2 teaspoons

baking soda

1 cup

white sugar

1 teaspoon

salt

1 Tablespoon

butter, melted

1

egg , beaten

1 teaspoon

vanilla extract

1 cup

chopped walnuts
---
Instructions
Preheat oven to 350 degrees F (175 degrees C). Grease loaf pan.
Pour the hot water over the dates and let stand until cooled.
Sift the flour and baking soda together, then add the sugar and salt.
Stir in the cooled dates and water.
Add the melted butter, beaten egg, vanilla and walnuts.
Mix well. Pour batter into the prepared pan.
Bake at 350 degrees F (175 degrees C) for 1 hour or until a toothpick insert near the center comes out clean.
Let bread cool in pan for 10 minutes. Remove bread from pan and let cool on a wire rack.
Prep Time:

15

Cook Time:

60