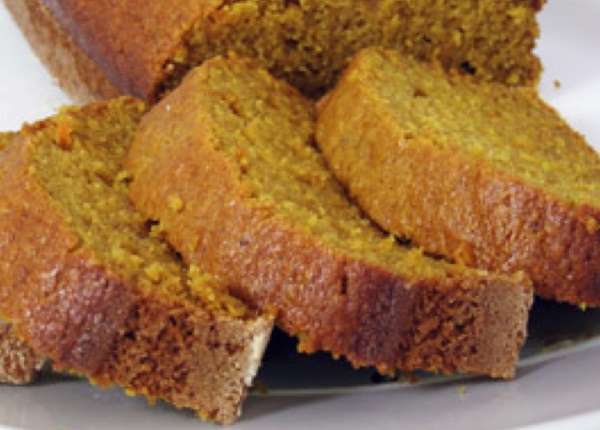 Everyone gets a craving for homemade pumpkin bread especially around the winter holidays when fresh pumpkin is so plentiful in markets. However, due to its density, pumpkin bread is not always as moist as some desire it to be.
The secret to moist pumpkin bread is the combination of ingredients as well as baking time and type of bake ware. For example, the old fashioned way to bake pumpkin bread is to bake it in well-oiled one-pound coffee cans.
Another tip is to use Wondra flour which is more finely granulated than all-purpose flour. If you can't find Wondra flour, sift all–purpose flour at least two times to reach the same finely granulated texture.
If you prefer, use an electric whisk and whisk flour for at least two to three minutes until the flour becomes lightly granulated.
Baking pumpkin bread in coffee cans gives it a round, rather than rectangular shape. The recipe makes a quantity of two. Note that a one-pound coffee can holds two cups of batter and serves four generous servings.
Most any shape Pyrex baking pan will make moist pumpkin bread. Pumpkin bread can be made from fresh or canned pumpkin.
If you choose fresh pumpkin, there is a bit more time and work to it. Choose a kabocha, honey nut, fairy tale or pink banana pumpkin as these are less fibrous and easier to puree.
Cut the pumpkin into four sections and remove the fibrous strands and seeds. Reserve the seeds and roast and sugar them to use for garnish for your pumpkin bread. Next, use a small knife to remove the pumpkin membrane, place in a large bowl, and set aside.
If you choose to make pumpkin bread from canned pumpkin, you need two 15-ounce cans of pumpkin puree. Now you have the basic start to your moist pumpkin bread recipe.
And while you're in the Thanksgiving pumpkin spirit, don't forget our other amazing pumpkin recipes:
Print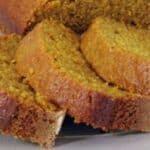 Moist Pumpkin Bread
---
Author:

Total Time:

1 hour 30 minutes
Description
This is a moist, flavorful pumpkin bread that has a surprise hint of coconut blended into the batter. With warm fall spices and brown sugar, it's Fall and Thanksgiving in a loaf. You'll want to make extra to have with morning coffee or as an afternoon snack.
---
1 cup

chopped walnuts

3½ cups

all-purpose flour

2 cups

packed dark brown sugar

⅔ cup

white sugar

2 teaspoons

baking soda

1 teaspoon

salt

1 teaspoon

ground nutmeg

1½ teaspoons

ground cinnamon

2 cups

pumpkin puree

1 cup

vegetable oil

⅔ cup

coconut milk

⅔ cup

flaked coconut
---
Instructions
Preheat oven to 350 degrees F (175 degrees C). Grease and flour two 8×4 inch loaf pans.
Spread walnuts in a single layer on an ungreased baking sheet. Toast in the preheated oven for 8 to 10 minutes, or until lightly browned. Set aside to cool.
In a large bowl, stir together the flour, brown sugar, white sugar, baking soda, salt, nutmeg, and cinnamon. Add the pumpkin puree, oil, and coconut milk, and mix until all of the flour is absorbed.
Fold in the flaked coconut and toasted walnuts. Divide the batter evenly between the prepared pans.
Bake for 1 hour and 15 minutes in the preheated oven, or until a toothpick inserted in the center comes out clean. Remove from oven, and cover loaves tightly with foil.
Prep Time:

15

Cook Time:

75