Although they look similar, there is a difference between cornstarch and flour. Flour is typically from wheat but can also come from various sources. Corn starch, on the other hand, comes specifically from corn. Another difference is that corn starch is gluten-free, but flour is not. Let's take a look at more of the differences below.
Corn Starch vs. Flour: What are the Differences?
Both cornstarch and flour are great resources for baking, household uses, and more. They are also typically essential ingredients in baking and are starches. However, there are some basic differences.
Corn starch is explicitly from the endosperm of corn. It is also a delicate and white powdery substance.
On the other hand, flour is usually from wheat.
Both cornstarch and flour are typically thickening agents. Yet, the degree to which they are useful in this area also varies.
Overall, cornstarch is better when it comes to being a thickening agent. It does not have an odor or any flavor. Likewise, when cornstarch is added to the gravy or soup, it becomes gel-like. The gel is transparent and does not clump together.
On the other hand, flour is more of an opaque and white color. It can even be cloudy. Another difference is flour's tendency to clump together, especially when added to the liquid.
Flour has gluten and corn starch does not. Since corn starch doesn't contain gluten, it is a more ideal thickening agent than flour.
The Flavor of Corn Starch
Corn starch is an ideal additive for many reasons. However, one of the favorite characteristics of corn starch is that it has no flavor and no aroma. This works in corn starch's flavor, making it very versatile and adaptable. This starch can be great as a thickening agent in any soup, gravy, stew, or baking.
The Flavor of Flour
The flavor of flour will vary depending on the type of grain. Some flour has no flavor at all. This happens when the flour undergoes more processing. Other times, the flour will taste salty or nutty. Usually, when the flour is wheat or bran flour, the nutty and salty taste will be present. The nutty flavor is usually present when most wheat kernel is not removed. Flour is mild in taste and does not drastically change your food's flavor profile.
Nutritional Profile
Regarding nutritional profile, corn starch, and flour vary a bit from each other. Take a look at the comparison chart below to see how they stack up against one another.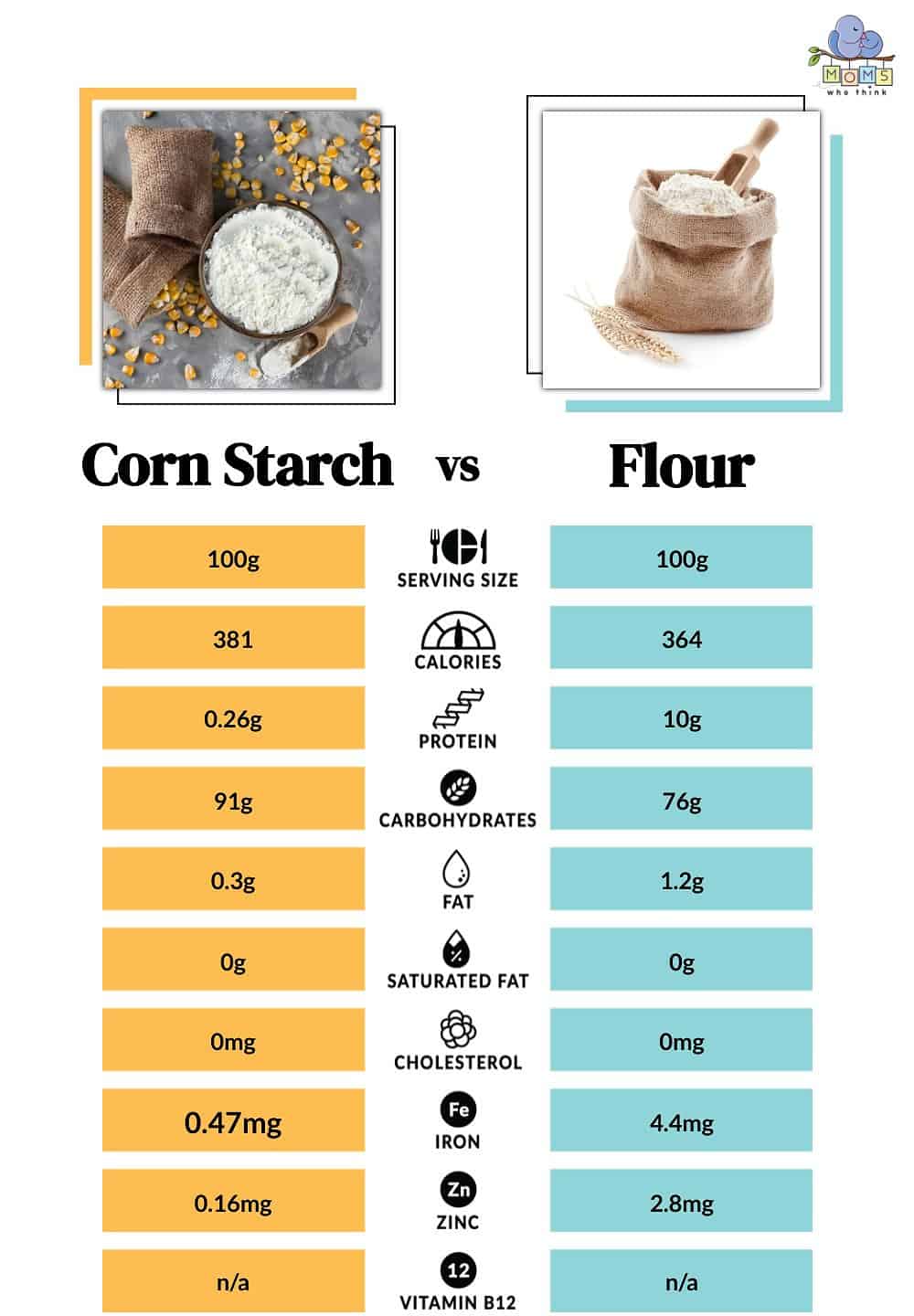 The Use of Corn Starch
Corn starch has a variety of versatile uses. This starch is popular as a thickening agent in gravies and stews. Yet, did you know it can also be great to use as an all-natural household aid?
Corn starch is often utilized as dry shampoo, skin relief, or deodorant! It can dry up and absorb moisture. The fact that it is odorless is a huge plus as well.
The Use of Flour
Flour is often a base used during baking. Pies, bread, cakes, muffins, and more all use flour. It can also be great for coating meats.
Like corn starch, flour has household uses as well! These include dry shampoo, repelling ants, DIY glue, and making homemade playdough for your kids.
What is Corn Starch?
We know it is a great thickening agent and fantastic for household uses; however, what exactly is corn starch? Corn starch is made from the endosperm of corn. Many qualities make corn starch excellent and versatile.
First, corn starch is gluten-free. The fact that it doesn't carry any gluten and has two times the thickening power than flour makes it a perfect thickening agent.
Corn starch is a white powdery substance that is flavorless, odorless, and versatile. It also keeps the batter from lumping together.
When it comes to nutrition, corn starch only carries a little. However, don't discount its usefulness. Corn starch is also great as a fried food batter and in baking. It is a staple that is handy when kept in your pantry.
What is Flour?
Flour is a powdery and white substance as well. Yet, instead of corn, it is typically from wheat.
Flour is what happens when the dry grain goes through a milling process. This process is called pulverizing. Although flour is typically wheat, it can have various sources. These sources include oats, barley, corn, and rice.
To make flour, any part of the wheat can be used. These are the endosperm, bran, or germ.
All-purpose white flours typically only contain the endosperm. It has carbohydrates, protein, and some oil. Nevertheless, if you have ever made your way through the baking aisle, you know that more than just simple white flour is available.
Whole grain flour will have the brain still attached. This is the outer part of the grain, which gives whole grain flour a brown color. Whole grains also have a coarser texture than white flour.
It is possible for flour to still have all three, germ, bran, and endosperm. When this is the case, the flour will have various minerals, fibers, and vitamins. This is because the germ contains most of the grain's nutrients.
Types of Flour
The most popular type of flour is all-purpose. It is prevalent in many baking recipes, and if you look in your pantry right now, a bag of all-purpose flour will probably be sitting there. That is because it has expansive versatility. All-purpose flour has been stripped of everything except the endosperm of the wheat. It also undergoes bleaching and enriching. Enriching is when the nutrients are put back into the flour because most of it is lost during processing.
All-purpose flour is only one of many types of flour available, though. Self-rising, whole wheat, rice, bread, cake pastry, and unbleached flour are all on the shelves found in grocery stores.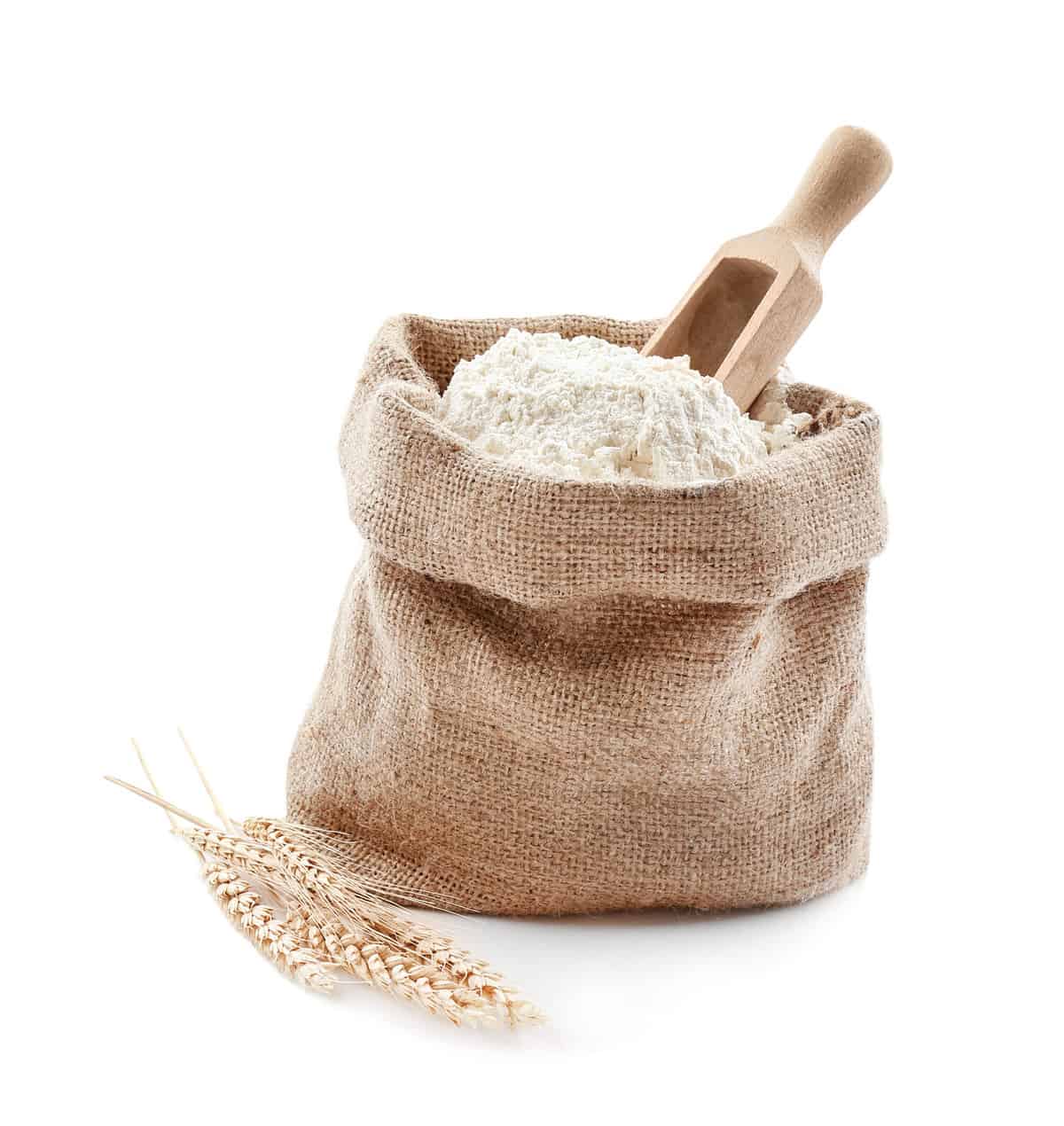 Can You Substitute Corn Starch for Flour?
It is possible to substitute cornstarch and flour as a thickening agent. Corn starch has two times thickening ability. Use two times less cornstarch or two times more flour, depending on which one you are substituting.
One Last Note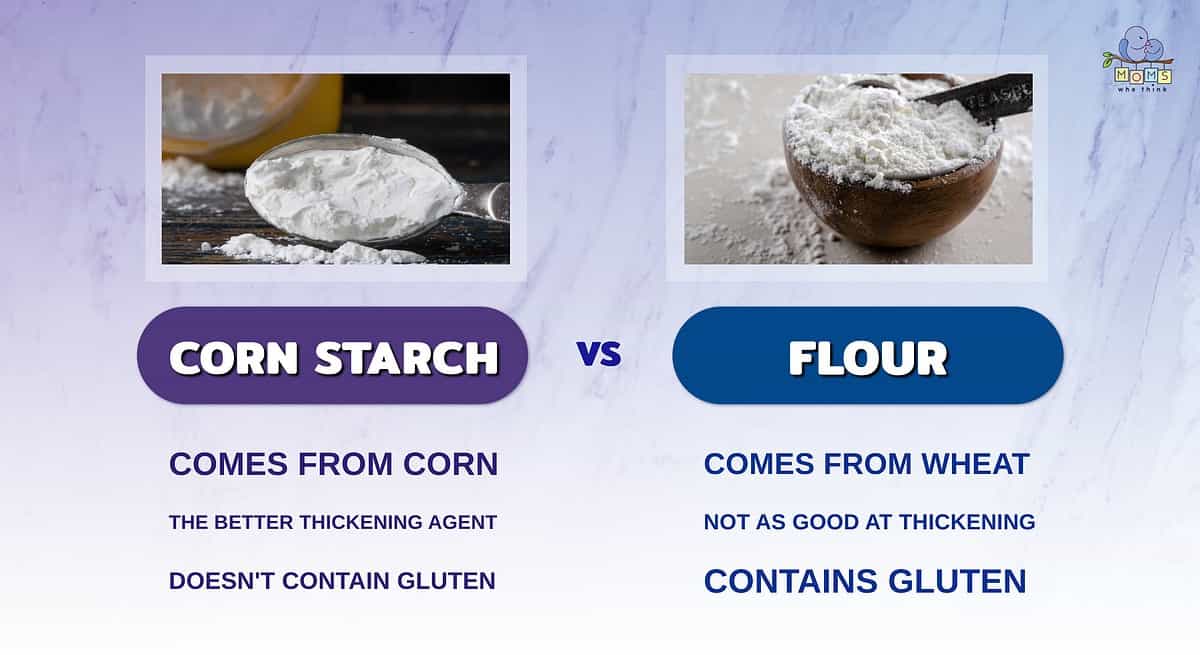 Like the name suggests, corn starch comes from corn. Meanwhile, flour comes from wheat. This difference is important to know if you want to fully understand corn starch vs. flour.
While both flour and corn starch work as thickening agents, corn starch is generally considered the better thickener between the two.
Corn starch doesn't contain gluten, which is an important distinction from flour. Those with a sensitivity or allergy to gluten will want to pick corn starch as their thickener.
Corn starch and flour are both excellent ingredients popular in baking and cooking. Whether you are looking for a thickening agent, fried foods batter, dry shampoo, or something else, either option is great! Corn starch comes specifically from corn, whereas flour is from wheat typically. Although cornstarch and flour are similar in appearance, their differences set them apart. Which one is better? It all comes down to personal preference!
Soup Recipes
Baking Recipes
Print
Pumpkin Bread
---
Author:

Total Time:

1 hour 30 minutes
1 cup

 chopped walnuts

3½ cups

 all-purpose flour

2 cups

 packed dark brown sugar

⅔ cup

 white sugar

2 teaspoons

 baking soda

1 teaspoon

 salt

1 teaspoon

 ground nutmeg

1½ teaspoons

 ground cinnamon

2 cups

 pumpkin puree

1 cup

 vegetable oil

⅔ cup

 coconut milk

⅔ cup

 flaked coconut
---
Instructions
Preheat oven to 350 degrees F (175 degrees C). Grease and flour two 8×4 inch loaf pans.
Spread walnuts in a single layer on an ungreased baking sheet. Toast in the preheated oven for 8 to 10 minutes, or until lightly browned. Set aside to cool.
In a large bowl, stir together the flour, brown sugar, white sugar, baking soda, salt, nutmeg, and cinnamon. Add the pumpkin puree, oil, and coconut milk, and mix until all of the flour is absorbed.
Fold in the flaked coconut and toasted walnuts. Divide the batter evenly between the prepared pans.
Bake for 1 hour and 15 minutes in the preheated oven, or until a toothpick inserted in the center comes out clean. Remove from oven, and cover loaves tightly with foil.
Prep Time:

15 minutes

Cook Time:

75 minutes