In the culinary world, flours and starches are necessary to produce delicious soups, bread, stews, and more! However, have you ever given thought to the actual differences between each one? In particular, what is the difference between tapioca flour and corn starch?
Both are powdery white substances that can be interchangeable. Corn starch and tapioca flour are great as thickening agents and can be versatile. Yet, there are a few main differences. The most basic difference is in where each starch comes from. Corn starch comes from corn, and tapioca flour comes from the cassava plant.
There are more differences that we will explore below.
Tapioca Flour vs. Corn Starch: The Main Differences
Starch is popular for both cooking and household uses. In the cooking world, starch is primarily a thickener. Cornstarch, in particular, is an excellent thickener for soups and gravies. The taste is nonexistent, and the appearance is translucent. The nonexistent flavor and translucent appearance allow the cornstarch to thicken the soup yet act as a ghost, so to speak.
Starches are also perfect as a filler, stabilizer, and binder for meats, baby foods, sauces, and more.
Around the house, cornstarch is also popular. It can be great as a deodorant, dry shampoo, chafing, and even soothe bug bites. The ability to soothe irritable skin is because the cornstarch acts as an aid to dry out the skin, reducing itching.
Tapioca flour is also fantastic as a thickener in puddings and soups.
With their similarities, finding any differences between the two can feel challenging. However, there are a few! Let's get started with the main ones below.
Cornstarch and Tapioca Flour Roots
The main difference between cornstarch and tapioca flour lies in their origins. The two specific roots are the vegetable corn and the cassava plant.
What is Corn?
Corn is a common vegetable that is grown in the ground. The cob has a covering called a husk. It is a very popular vegetable that also goes by the name maize. You may hear it said that corn doesn't offer many health benefits.
The lower health benefits may be partially true. Our bodies do have a difficult time digesting corn.
The difficulty in processing is because corn has an insoluble fiber called cellulose. Cellulose is a fiber that our bodies are unable to digest. However, don't discount corn entirely. It can offer a few nutritional benefits! These benefits include providing our bodies with fiber, vitamin C, and lutein. Vitamins B, E, and Ki are also in corn.
What is Cornstarch?
Cornstarch comes from the vegetable plant corn. Primarily, the endosperm is where cornstarch comes from. The endosperm is in the corn kernel. Once extracted, grinding the corn grains into a powder will make cornstarch.
Cornstarch does not have any flavor, and it does not have any odor. Primarily a true starch, cornstarch's main attribute is the ability to change a food's texture.
How Does Cornstarch Work?
Although cornstarch is odorless, flavorless, and offers little nutritional value, it has a bit of resourcefulness in the kitchen and around the house.
Getting the right soup, gravy, or stews consistency can sometimes feel challenging. You do not want your soup to be so thin it feels like you are drinking a beverage. However, too thick of a soup is not enjoyable either.
Since it is a thickening agent, this is where the magic of cornstarch comes in handy. Cornstarch is full of polysaccharides. More specifically, they are amylose and amylopectin. These work as molecules that can gelatinize and connect with the liquids it comes in contact with. In simple terms, the hotter the cornstarch gets, the more delicate the molecules become. The result of heating is erupting (you can't see this, of course). Once the erupting of the molecules happens, the beauty begins. The sauce will become thicker because the amylopectin dissolves further into the liquid. Once cooled, the starch will create a paste, thus allowing the dish to become thicker than it started.
What is Cassava?
Now on to tapioca flour. Tapioca flour is from the cassava plant. You may have heard of this specific plant before, but just in case not, let's dive deeper in.
Cassava is a root vegetable. It is popular worldwide but is native to South America. The root of the cassava plant is versatile, and the plant itself can grow in various conditions. Cassava does contain nutritional value, including vitamin C and resistant starch.
It is from the cassava plant that tapioca flour is born.
What is Tapioca Flour?
Tapioca flour is made explicitly from the starch found in the cassava plant. It is powdery, white, and very fine. One of the benefits of tapioca flour is that it is gluten-free.
However, although tapioca flour is gluten-free, it contains little protein. Instead, it is almost wholly carbohydrates, just like cornstarch.
Being almost all carbohydrates means that the nutritional value of tapioca flour is minimal.
Also, like cornstarch, tapioca flour is a resourceful thickening agent for pudding, soups, gravies, and more!
Nutritional Profile
Regarding their nutritional profile, cornstarch and tapioca flour offer little to be desired. They are both primarily made up of carbohydrates and are high in calories. When it comes to protein, they both contain very little. Tapioca flour does contain iron, which is a benefit!
Take a look at the comparison chart below to see how they nutritionally stand up against one another.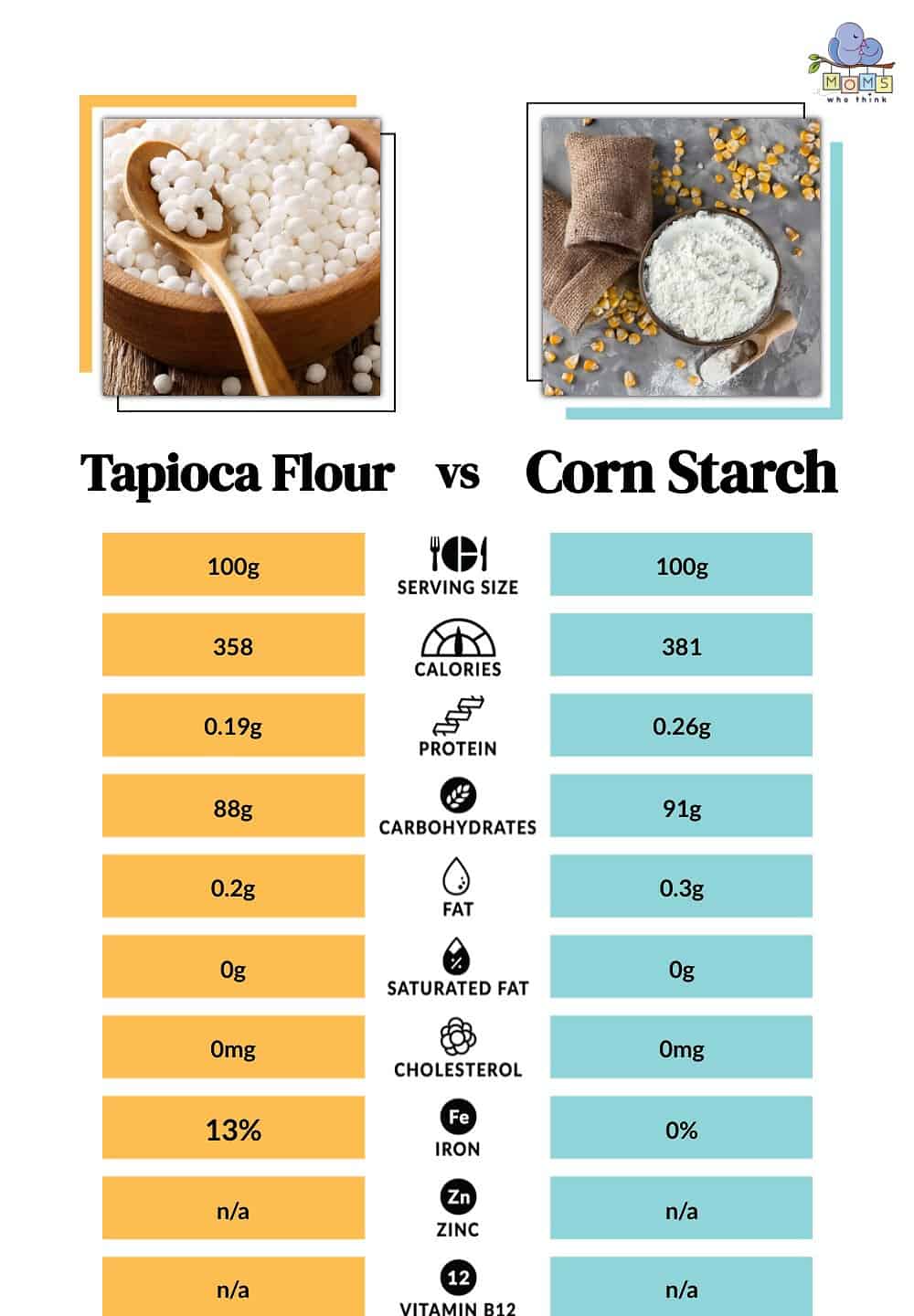 Uses For Cornstarch
Cornstarch is a staple in the kitchen. It is fantastic for thickening and binding, as we touched on earlier. However, did you know it can also be handy around the household?
For starters, cornstarch can reduce skin irritation. It can dry up that pesky bug bite or ease the pain of a sunburn!
For a homemade deodorant, you can try cornstarch. It can absorb moisture. Plus, it is odorless!
Making homemade spray starch with cornstarch for your clothes is also possible.
Uses for Tapioca Flour
Tapioca flour is a superb resource in the kitchen. It is a gluten-free thickening agent.
Tapioca flour is perfect in rolls, pizza crust, pudding, cake, and more if you want a gluten-free option. Tapioca flour may be worth the try!
Texture and Flavor
Cornstarch is flavorless and odorless. It is very fine and white. When it comes to the texture of cornstarch, it is silky smooth.
Tapioca flour is also white, and the flavor can be a bit sweet. However, it doesn't add much flavor to your food. Having little flavor is a great attribute, making it perfect as a thickening agent.
In Conclusion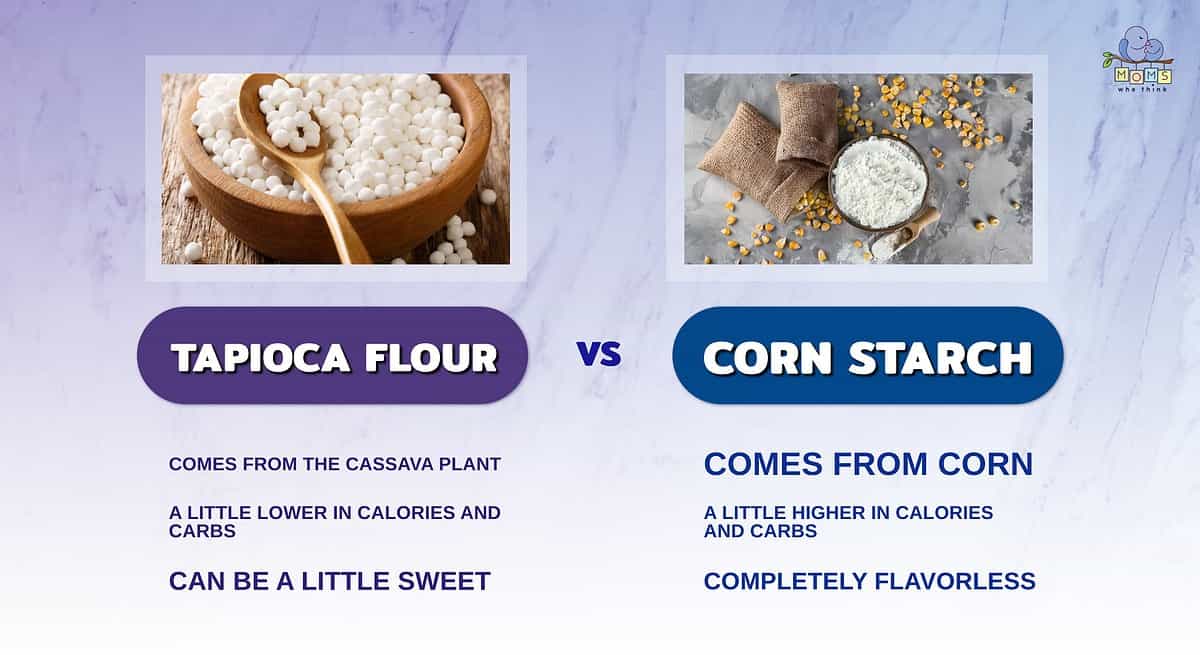 One of the biggest differences between these two products is their origin. Tapioca flour comes from the cassava plant, while corn starch comes from corn.
Tapioca flour is a little lower in calories and carbs compared to corn starch. The difference is fairly negligible, but it's worth noting if you're in a situation where every calorie counts.
Corn starch is completely flavorless, while tapioca flour has a slight sweetness to it. This sweetness shouldn't change the final flavor profile of your food too much, but it's worth keeping in mind if you're looking to keep a dish's flavor profile as-is.
Tapioca flour and cornstarch are very similar; however, they do have some main differences. The most fundamental difference is where they come from. Cornstarch comes from the vegetable corn. On the other hand, tapioca flour comes from the cassava plant.
They are both excellent thickeners and binding agents used primarily in the kitchen. Aside from the kitchen, cornstarch does have usefulness around the house.
If you want a gluten-free option, tapioca flour is a great choice. This flour works excellently with several batters, puddings, and more! Cornstarch is also a gluten-free grain when it is in its raw form. However, this isn't always the case once it hits the shelves. During processing, cornstarch may come in contact with gluten. It is necessary to always read the labels before deciding on which option to use!
Both corn starch and tapioca flour are primarily odorless and flavorless. However, tapioca flour can have a sweet undertone. Yet, this sweetness is mild and rarely tasted in any dish.
These options make excellent thickeners that can up your next soup or stew to its top-notch consistency!
Use cornstarch in this recipe:
Print
Boston Cream Pie Cupcakes
---
For the filling:
1 1/3 cups heavy cream
3 large egg yolks
1/3 cup sugar
1/8 teaspoon salt
4 teaspoons cornstarch
2 Tablespoons unsalted butter
1 1/2 teaspoon vanilla extract
For the cupcake:
1 3/4 cups all-purpose flour
1 cup sugar
1 1/2 teaspoons baking powder
3/4 teaspoon salt
12 Tablespoons unsalted butter, cut into 12 pieces and softened
3 large eggs, at room temperature
3/4 cup whole milk, at room temperature
1 1/2 teaspoons vanilla extract
For the glaze:
8 ounces bittersweet chocolate, chopped
2/3 cup heavy cream
1/4 cup light corn syrup
1/2 teaspoon vanilla extract
---
Instructions
1. For the filling: Bring the cream to a simmer in a medium saucepan over medium heat.
2. Meanwhile, whisk the egg yolks, sugar, and salt together in a medium bowl, then whisk in the cornstarch until pale yellow and thick, about 30 seconds.
3. Slowly whisk the hot cream into the egg mixture, then return the mixture to the saucepan and cook over medium heat, whisking constantly, until thick and glossy, 1-2 minutes.
4. Off the heat, whisk in the butter and vanilla.
5. Transfer the mixture to a small bowl and refrigerate until chilled and set, about 2 hours.
6. For the cupcakes: Adjust the rack to the middle position and preheat oven to 350°F. Grease and flour 12-cup muffin tin.
7. In the bowl of a stand mixer, whisk together the flour, sugar, baking powder, and salt.
8. On medium-low speed, beat the butter into the flour mixture, one piece at a time, about 30 seconds each. Continue to beat the mixture until it resembles moist crumbs, 1 to 3 minutes.
9. Beat in the eggs, one at a time, until combined about 30 seconds.
10. Beat in the milk and vanilla, then increase the mixture speed to medium and beat the batter until smooth, light, and fluffy, 1 to 3 minutes.
11. Fill the muffin tins ¾ full. Bake the cupcakes 18 to 20 minutes, until a toothpick inserted comes out with a few moist crumbs attached. Cool in the tins for 10 minutes, then transfer to a wire rack to cool completely.
12. For the glaze: Microwave all of the ingredients together, whisking often, until melted and smooth, 1 to 2 minutes. Let the glaze cool, uncovered until it is thickened but pourable, about 20 minutes.
13. To assemble: Cut the center from each cupcake, leaving the top intact, and fill with 2 tablespoons filling.
14. Trim and replace cupcake top and set on wire rack over a parchment-lined baking sheet.
15. Pour the glaze over the cupcakes, letting it run down the sides. Refrigerate until set, about 10 minutes.
Comparison Posts