One is excellent for dipping breadsticks the other adds flavor and spice to our pizzas. These two terms are often interchangeable. However, one may wonder, what really is the difference between marinara sauce and pizza sauce? They are very similar, yet different. Marinara sauce is thinner than pizza sauce. On the other hand, pizza sauce is a tomato sauce with added ingredients like garlic, basil, and oil. It is primarily on our pizzas and carries a stronger flavor and thicker consistency than marinara sauce.
Marinara Sauce vs. Pizza Sauce: What are the Differences?
Although marinara sauce and pizza sauce are similar, they actually have subtle differences. As one would say: it is close but no cigar. (Isn't that what they would say in old carnival games?) Simply put, marinara sauce and pizza sauce do have some fundamental differences.
The base of both sauces is tomatoes. However, their preparation contributes to their main difference, which is consistency. Marinara sauce is thinner than pizza sauce. The texture of the marinara sauce is also smooth.
Pizza sauce has a thicker consistency. Also, the tomatoes in this sauce undergo puree. The puree method allows the pizza sauce to blend well enough together, and it is smooth enough to spread across the crust. Yet, the pizza sauce has a thick consistency to hold the ingredients onto the pizza.
Pizza sauce also tends to be spicier than marinara sauce. However, it is important to note that the spiciness will come down to the herbs and spices in the pizza sauce.
Lastly, another difference is in the versatility of both sauces. Marinara sauce is great in spaghetti, meatballs, dip, and even on pizza if you are in a pinch.
Pizza sauce is mainly on pizzas.
The Flavor of Marinara Sauce
Marinara sauce has a more savory flavor. This is because it typically combines many herbs and seasonings. There are several different combinations of marinara sauce to choose from. The combinations change the flavor slightly.
Marinara sauce is typically very simple. It has a strong tomato flavor and a smooth texture.
The Flavor of Pizza Sauce
Pizza sauce also has a strong tomato base. The texture is thicker than marinara sauce. However, what gives pizza sauce the kick are the added herbs. Typical pizza ingredients include:
dried basil
salt
pepper
dried oregano
onions
garlic
This can vary depending on whether you make your own or buy in the store. The brands will vary in their ingredients.
Overall, the consensus is that pizza sauce is spicier in flavor than marinara.
Nutritional Profile
Regarding their nutritional profile, the marinara sauce and pizza sauce are identical in their benefits. Take a look below at the nutritional profile comparison chart.
The Uses of Marinara Sauce
Marinara sauce is very versatile and a popular and delicious sauce perfect on pasta dishes, as a dip, in meatballs, with french fries, eggs, mac n cheese, and more.
The Uses of Pizza Sauce
Pizza sauce is primarily used as a pizza topping. The ingredients of the pizza are cooked into the sauce, making it easier to stick to the crust. Additionally, the flavor adds a delicious bit of spicy flavor.
What is Marinara Sauce?
Marinara sauce is a tomato blend sauce. Also, it is a base in many Italian recipes.
Marinara sauce is excellent in lasagna, spaghetti, or even as a dip for breadsticks.
This sauce is one of the simplest Italian pasta sauces. It doesn't include many herbs or seasonings. Also, the tomatoes are blended, and salt, pepper, and a few different herbs can be added. Sometimes garlic is also added to marinara. This sauce has a slightly sweeter flavor than pizza sauce. Although this can vary, slow roasting is the typical method for cooking pizza sauce.
There are variations of this simple sauce. The thin nature and smooth texture make the marinara sauce versatile and excellent in many pasta dishes! Sometimes marinara sauce can have added chunks, depending on how well the tomatoes blend and preference. However, traditional marinara sauce is thin, smooth, and very simple.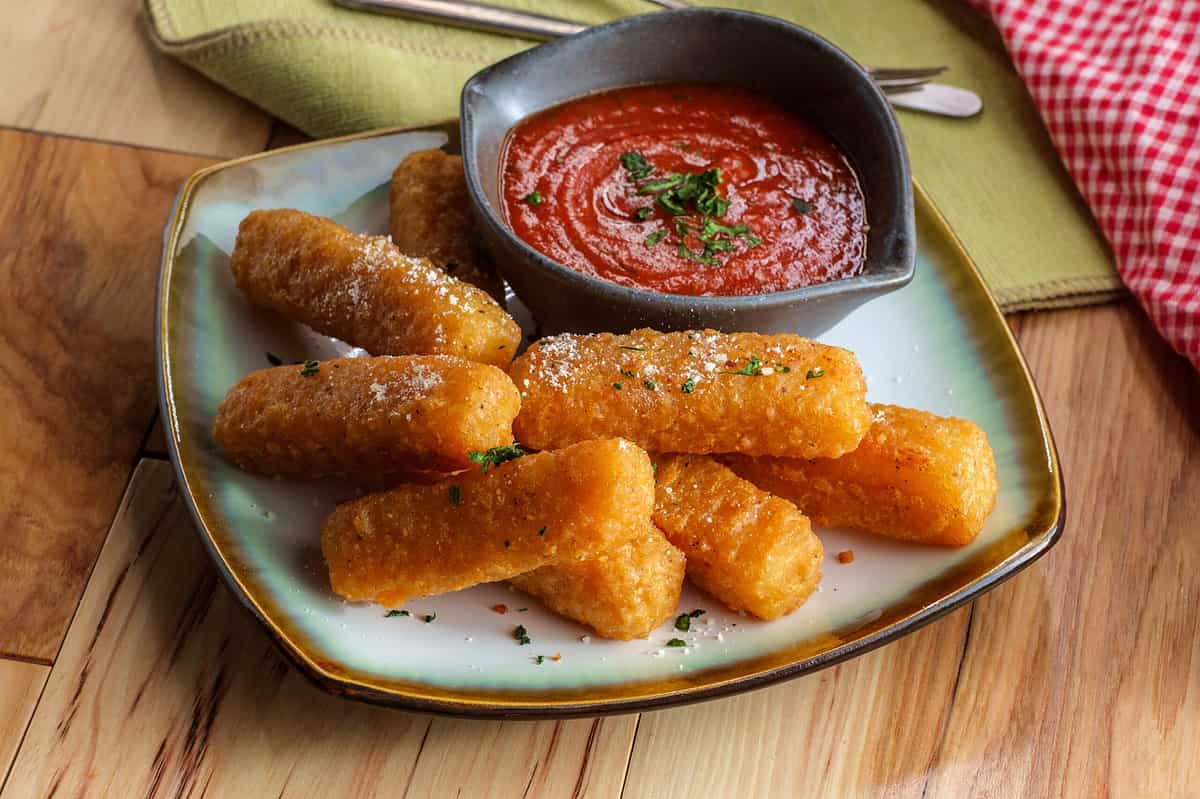 What is Pizza Sauce?
Pizza sauce is very similar to marinara sauce. However, the flavor is more complex. It is a base on the pizza crust and adds spice and a kick to the other ingredients.
Pizza sauce can contain numerous herbs. However, the most traditional ingredients include garlic, onions, basil, and oregano. Sometimes it can contain carrots or cheery tomatoes. The pizza sauce ingredients all cook together until the sauce is thick.
With that said, pizza sauce can come in a variety of different flavors. There are sweet pizza sauces, savory, spicy, and even peppery. There are also pizza sauces that are not tomato based. These include white pizza sauce, pesto, and oil pizza sauce. However, these variations are less popular than tomato-based pizza sauce.
Pizza sauce has a smooth texture that is easily spreadable yet thick enough to complement the other ingredients on the pizza.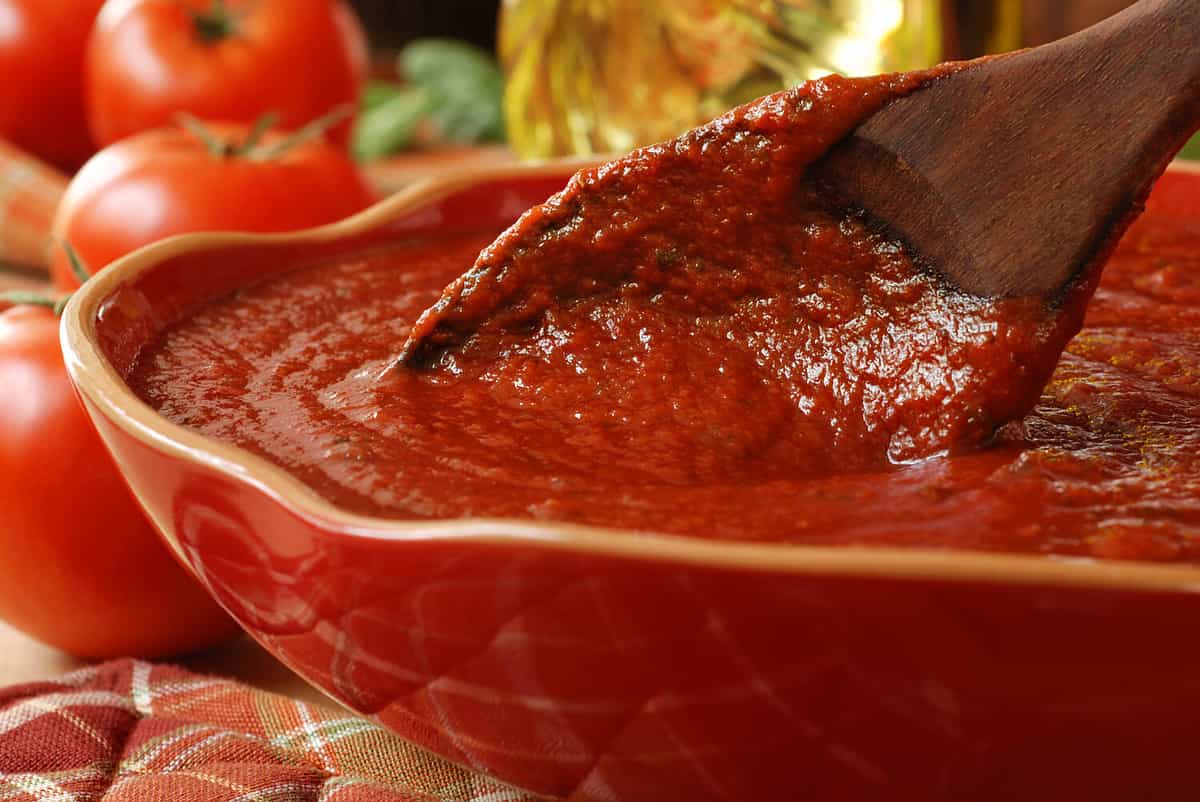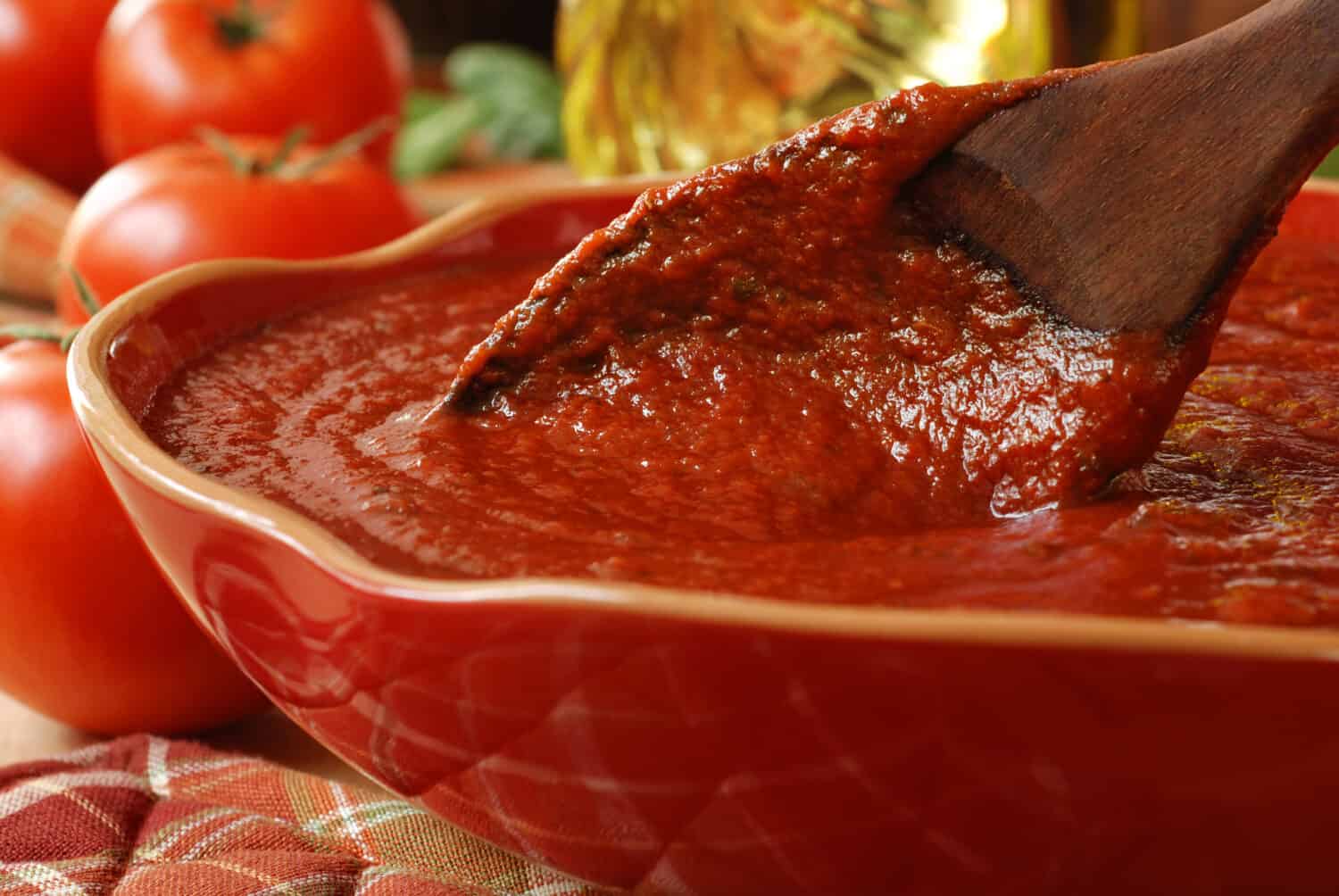 Can You Substitute Marinara Sauce for Pizza Sauce?
The answer is it depends. The flavor of marinara sauce and pizza sauce will vary from one another. While pizza sauce is meant for pizza, it can also be fantastic as a dip.
However, the flavor of the spices may overwhelm your pasta dishes. When adding marinara as a pizza sauce, the sauce may need to be thicker, contain more water, and have a more mild flavor.
It all comes down to personal preference.
One Last Note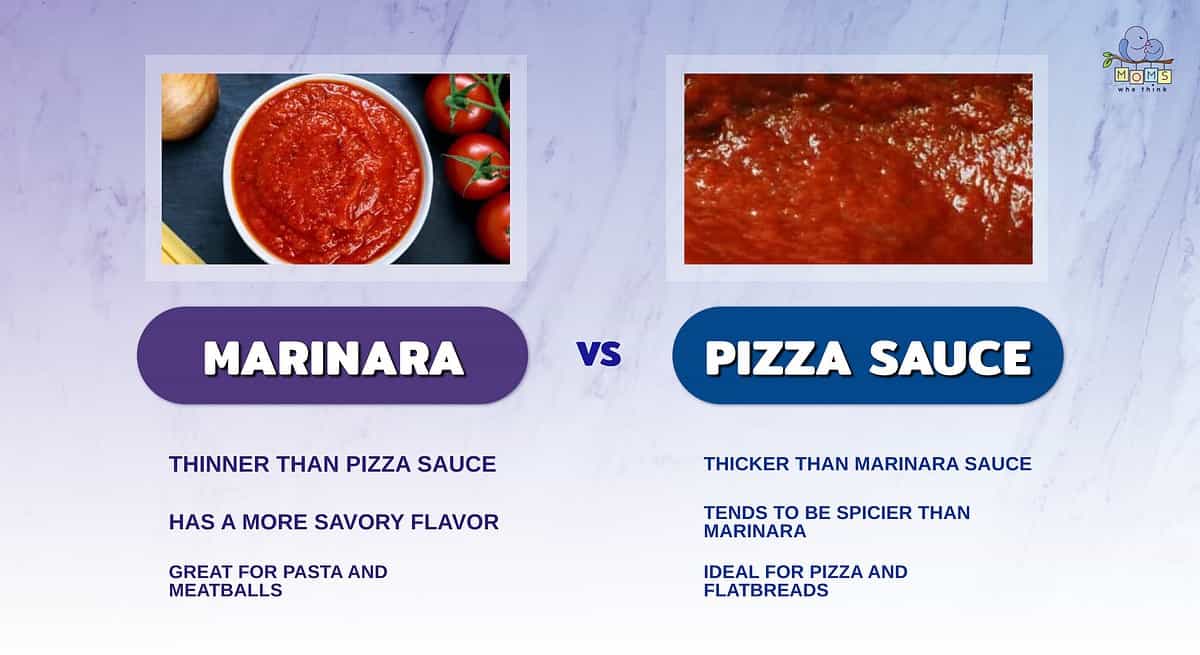 Marinara sauce is thinner than pizza sauce. Pizza sauce needs to be thick to hold all the toppings together.
Pizza sauce tends to be spicier than marinara, but this is dependent on the herbs and spices used in it. Marinara is well-known for its savory flavor.
Marinara is usually used on pasta and meatballs, while pizza sauce is ideal for pizza and flatbreads.
When it comes to pizza sauce and marinara sauce, they may appear the same. However, there are some main differences. Marinara sauce is thinner and milder than pizza sauce. The herbs and spices in pizza sauce give it a stronger flavor that adds spice to your pizza.
Regardless of which flavor you prefer, one thing is certain. Pizza and marinara sauces are delicious staples in Italian cuisine that can transform a dish into something extraordinary.
Take a look at this yummy pepperoni pizza supreme:
Print
Pepperoni Pizza Supreme
---
Author:

Yield:

6

slices

1

x
1 prebaked 12 inch thin pizza crust
1 can (8 ounces) pizza sauce
1 Tablespoon grated Parmesan cheese
1 teaspoon Italian seasoning
1/2 teaspoon garlic powder
1/2 cup sliced fresh mushrooms
1/2 cup chopped fresh broccoli florets
1/4 cup chopped green pepper
1/4 cup chopped sweet red pepper
1/2 cup shredded reduced fat cheddar cheese
38 slices turkey pepperoni
1 cup (4 ounces) shredded part skim mozzarella cheese
---
Instructions
1. Place crust on an ungreased baking sheet. Spread with pizza sauce; sprinkle with the Parmesan cheese, Italian seasoning and garlic powder. Top with the mushrooms, broccoli and peppers.
2. Sprinkle with cheddar cheese. Top with pepperoni and mozzarella cheese. Bake at 400° for 14 to 18 minutes or until vegetables are crisp tender and cheese is melted.
Nutrition
Serving Size:

One slice

Calories:

244

Sodium:

698mg

Fat:

9g

Saturated Fat:

3g

Carbohydrates:

26g

Fiber:

1g

Protein:

17g

Cholesterol:

28mg
Comparison Posts