While they seem similar in context, in the argument of tomato sauce vs ketchup, there are some key differences. Among them is the fact that tomato sauce doesn't use vinegar and the idea that ketchup is typically served cold and tomato sauces are served hot.
We'll dive deeper into this argument and share some tasty recipe ideas that you must try at least once.
Tomato Sauce vs. Ketchup: What Is the Difference?
The primary difference between ketchup and tomato sauce is their ingredients and flavors. Ketchup is made from tomatoes, sugar, vinegar, and spices while tomato sauce is made from tomatoes, oil, meta or vegetable stock, and spices. These ingredients create a sweet and tangy flavor in ketchup whereas tomato sauce has more of a savory flavor.
While both are tomato-based condiments, tomato sauce does not contain vinegar (which ketchup does) and is usually served hot, often as a base for pasta dishes, casseroles, and stews. There are other key differences we'll identify in more detail below.
People around the world have been cooking sauces and meals with tomatoes since the beginning of time because it makes a great base for so many tasty dishes. Tomato sauce has been around for centuries, while ketchup was first introduced in the 1800s. As time has gone on, ketchup has become more of a dipping condiment, while tomato sauce is typically used when cooking a dish. However, both can be great toppings on meals like meatloaf.
There are many other key ways that you can differentiate tomato sauce from ketchup, with the following being the most prominent differences:
1. Ketchup Has More Ingredients
Though delicious, tomato sauce is a more basic concoction. Ketchup, on the other hand, is typically acidic and sweet because it has vinegar and sugar added, which tomato sauce does not include.
2. Tomato Sauce Is a Much Simpler Recipe
The reason that tomato sauce often has a more earthy flavor is that it has a very simple recipe. In most cases, tomato sauce includes only tomatoes and onions. Anything else that is added is strictly optional. Some people add meat, wine, or herbs like garlic to give it a bit more of a flavor punch.
While we often associate tomatoes with ketchup, and there are some tomatoes there, they are accompanied by a long list of other ingredients, including sugar, mustard seeds, vinegar, cinnamon, coriander, and a variety of other elements depending on the manufacturer. Because of this laundry list of ingredients, most ketchup recipes are incredibly flavorful, and it goes with almost anything.
3. Ketchup Lasts Longer
Many people love ketchup so much that they can't stand going through a meal without it. That's one of the reasons why standard ketchup is available at all restaurants, eateries, and delicatessens. This is easier because ketchup is made with those extra ingredients, which gives it a longer shelf life than tomato sauce. Ketchup is also much lighter than tomato sauce, which makes it great for dipping and seasoning food. Tomato sauce is heavier and usually doesn't have the same effect.
4. Tomato Sauce vs. Ketchup with It Comes to Pizza
Besides the dough, the most important part of most pizzas is the tomato sauce. It's a great base that adds the flavor necessary for good taste and additional toppings. Tomato sauce also provides the necessary moisture and texture necessary to make it more edible. Ketchup is typically never used on pizza because the flavor would be too overwhelming, and it would be generally unenjoyable.
5. Ketchup Has a More Complex Taste
Loaded with tasty ingredients, ketchup has many herbs and spices that give it a kick that tomato sauce doesn't provide. The main difference as far as ingredients are the inclusion of vinegar. The vinegar in ketchup elevates the taste, which is why it makes for such a good condiment.
That doesn't mean that tomato sauce is any less tasty, it's just delicious in a different way. Plus, since it's more natural, you're less likely to get heartburn when eating meals with tomato sauce.
Ketchup vs Tomato Sauce Nutrition: Calories and Carbs in Each
Generally, ketchup is more calorie-dense than tomato sauce. A single tablespoon of ketchup has the same amount of calories as 1/4 cup of most tomato sauce brands. Keep in mind that different brands of ketchup and tomato sauce can have added sugars, which will increase calories. However, neither food is high in calories when considering their standard serving size.
What Are Substitutes for Tomato Sauce and Ketchup?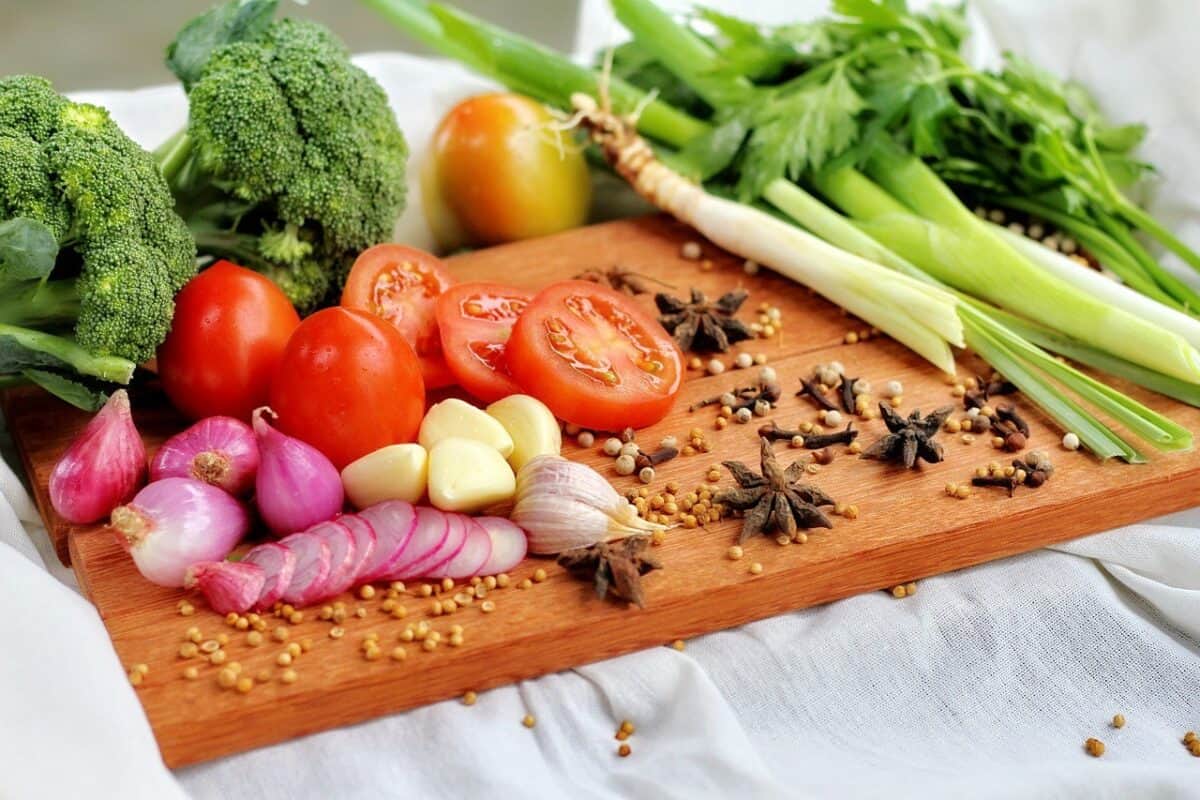 If you're not too keen on either side of the tomato sauce vs ketchup argument, then there are alternatives to consider.
Alternatives to Tomato Sauce
While many people enjoy tomato sauce just the way it is, some may be allergic or dislike the taste. If that's the case, there are many substitutes that you can put in its place.
Tomato Paste – It's very similar in flavor to tomato sauce and when you thin it out with water, it has a similar consistency.
Canned Tomatoes – Add some seasoning to canned tomatoes, and you'll have something similar to the great taste of tomato sauce.
Tomato Soup – You can make soup taste like sauce by removing ¼ cup of liquid from the recipe.
Spaghetti Sauce – Depending on the type, you'll find that spaghetti sauce is packed with flavor, so it makes a great substitute that is almost equal in flavor.
Marinara Sauce – Like spaghetti sauce, it's very close in consistency and flavor to tomato sauce.
Tomato Puree – It's thicker than tomato sauce, but it's basically the same.
Fresh Tomatoes – Make your own tomato sauce with freshly grown tomatoes and add your desired seasoning.
Alternatives to Ketchup
If you like the unique taste and kick of ketchup but you want to try something different, especially when it comes to cooking meals, then consider these alternatives.
Tomato Paste – Once again, tomato paste comes to the rescue. However, it's not acidic, so if you want that, then add a bit of vinegar.
BBQ Sauce – Ketchup is often an ingredient in BBQ sauce, which makes it a great alternative. It won't taste exactly the same, but it makes for great dipping.
Sriracha – If you love the spice in ketchup, but you want a bit of a different taste then Sriracha can deliver. It's also made without tomatoes.
Tomato Jam – Some consider tomato jam to be a fancier version of ketchup because it is less processed, but it still has an acidic taste. It's also chunkier, so it can add a more robust flavor.
Apple Cider Vinegar – You probably wouldn't want to dip your fries into apple cider vinegar as it is very strong, but it makes for a great ketchup substitute when cooking meals.
Salsa – Like ketchup, salsa is great for dipping, and it's packed with flavor. Also like ketchup, it's often also made with tomatoes and onions.
Chili Jam – Many people also consider chili jam to be a fancy alternative to ketchup. It doesn't include tomatoes, but it offers a zippy taste for extra flavor.
Hummus – It doesn't taste anything like ketchup, but hummus is another of the classic dipping conditions that could elevate your next meal.
Substitutes If You Don't Like Either Option
If you want to add some extra flavor to your food, but you're not keen on tomatoes, then there are some tomato-free options to consider.
Carrots and Beets – They won't taste exactly the same or have the same appearance, but when they're cooked together, they create a comparable consistency. Add some garlic, oil, and water, and the combination can taste great.
Ajvar – This is a red bell pepper and eggplant spread that is available at most grocery stores. Add one cup of tomato sauce and water to create a tasty condiment.
Pureed Bell Peppers – If all you have is some bell peppers, then roast and blend them into a tomato-esque paste. Then, thin the mixture out with water to create the same consistency as tomato sauce.
Tomato Sauce Recipes
There are many ways that you can add tomato sauce to new and exciting dishes that will amaze your family. Check out these links to some amazing recipes:
Conclusion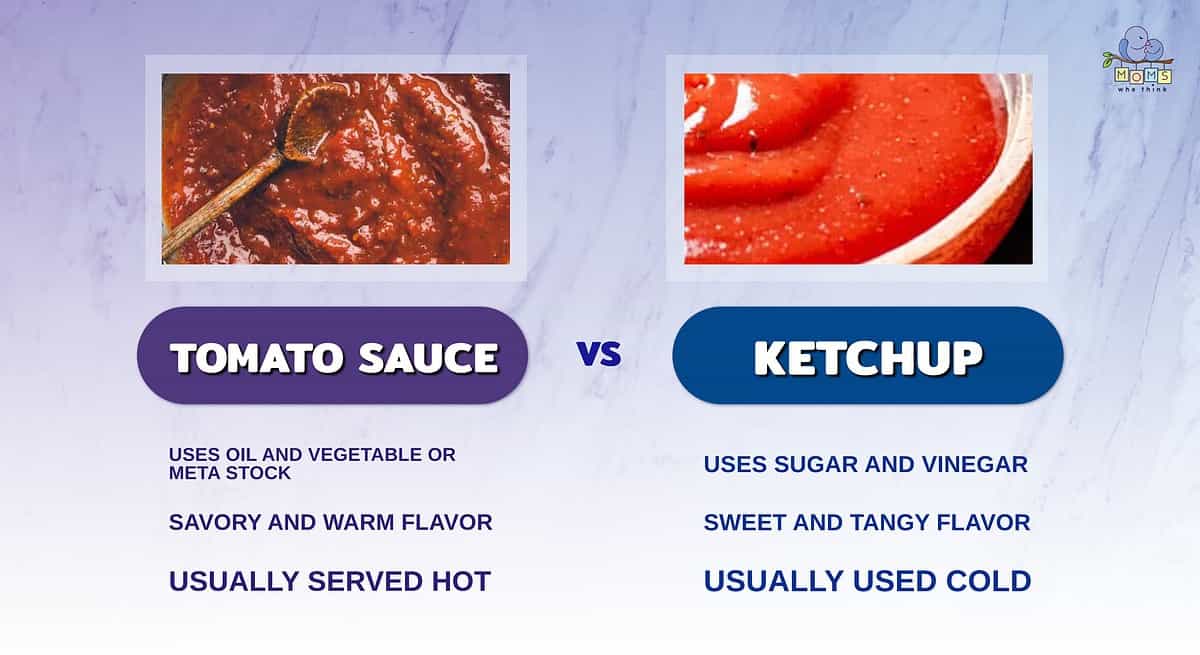 Tomato sauce uses oil and a vegetable or meta stock as part of its ingredients, while ketchup uses sugar and vinegar. You can find sugar-free versions of ketchup in stores if you're looking for something a bit healthier.
The use of sugar and vinegar gives ketchup a sweet and tangy flavor, while tomato sauce has more of a savory and warm taste.
Tomato sauce is usually served warm, often over pasta or as a dipping sauce. Meanwhile, ketchup is often used cold and applied as a condiment to hot dogs, hamburgers, and French fries.
As you can see, while they have a similar appearance, there are plenty of differences between tomato sauce and ketchup. However, both have their benefits when it comes to elevating your favorite dishes. Learn the differences and use the best option for your next meal.
Still looking for a great recipe? Take a look at this:
Print
Healthy Chicken Stroganoff
---
Author:

Yield:

6

servings

1

x
1 pound fresh mushrooms, sliced
1 large onion, chopped
2 Tablespoons butter
1 1/2 pounds boneless skinless chicken breasts, cut into 2 inch strips
2 Tablespoons Worcestershire sauce
2 Tablespoons soy sauce
11/3 cups reduced sodium beef broth, divided
1 cup white wine or additional reduced sodium beef broth
2 Tablespoons ketchup
2 garlic cloves, minced
1 teaspoon salt
3 Tablespoons all-purpose flour
1 cup (8 ounces) fat free sour cream
6 cups cooked no yolk noodles
---
Instructions
1. In a large nonstick skillet, sauté mushrooms and onion in butter until tender. Remove and set aside.
2. In the same skillet, cook the chicken with the Worcestershire and soy sauces until browned.
3. Add 1 cup broth, wine or additional broth, ketchup, garlic and salt. Bring to a boil. Reduce heat; cover and simmer for 15 minutes.
4. Combine flour and remaining 1/3 cup broth until smooth; stir into chicken mixture.
5. Add reserved mushroom mixture. Bring to a boil; cook and stir for 2 minutes or until thickened. Reduce heat to low.
6. Stir in sour cream; heat through (do not boil). Serve over noodles.
Nutrition
Serving Size:

1 cup chicken mixture with 1 cup noodles

Calories:

535

Sodium:

1,339mg

Fat:

7g

Saturated Fat:

3g

Carbohydrates:

66g

Fiber:

4g

Protein:

41g

Cholesterol:

80mg