Many different cultures have different types of sauces that they often use with food. The cuisine becomes well known for these sauces, such as Asian dishes. Sriracha and chili garlic sauce are two different sauces that many Asian cultures enjoy using in their food. While the two sauces are extremely popular, they differ in a variety of ways. The sauces have different bases, different textures, flavors, spices, and usage.
What Is Sriracha?
Sriracha is a chili sauce that originated in Thailand. The Thai sauce is well known for being spicy and hot. The sauce itself is named after Si Racha, Thailand, where it originated and came from. Thanom Chakkapak was the original creator of Sriracha, and when she first created it, she initially only shared it with close friends and family. However, she then began selling it all over Thailand under a different name, Sriraja Panich.
While the sauce is used much like a hot sauce commercially, it involves far more complex flavors. There is a much deeper garlic flavor in sriracha than in a typical hot sauce, as it's based on garlic and chilis. The consistency of ketchup is much thicker than traditional hot sauce as well.
The History Of Sriracha
The sauce originally came from the eastern coast of Thailand when Thanom Chakkapak created it. It was originally only available in Asian countries, until the 1980s when it made its way over to the United States. The brand Huy Fong Foods, which is synonymous with its sriracha sauce, was the first one to bring it over to the US. Vietnamese immigrant David Tran, founder of Huy Fong Foods, created his version of sriracha and bottled it in the signature bottle with the green cap. The rooster on the clear bottle comes from Tran's Chinese zodiac sign.
Since the 80s when sriracha was brought over to the States, it has expanded far beyond Asian cultures and their recipes. Today, many people enjoy using sriracha in a variety of foods, in all different kinds of cultures and ethnicities.
What Is Chili Garlic Sauce
Chili garlic sauce is a condiment that is used to spice up many dishes, originating in Asian cultural recipes. The sauce itself is made by combining red chili peppers, garlic, vinegar, and salt. Chili garlic sauce is on the thicker side and oftentimes can be classified as "chunky" due to the chili peppers in the recipe. It can be used in a variety of ways. Mainly, people use chili garlic sauce as a dipping sauce or paste for things like spring rolls, egg rolls, dumplings, and even chicken. It can also be used as a marinade or placed into a recipe while cooking.
The History of Chili Garlic Sauce
The sauce itself does not have one single creator but has been traced back to China, Thailand, and Vietnam. Asian countries have used the sauce in their dishes for centuries, specifically in China. However, other Asian countries have their version of chili garlic sauce and use it in a variety of ways, as well. As cultural assimilation brought recipes and flavors over borders and across the globe, many brands began to package and sell chili garlic sauce in stores.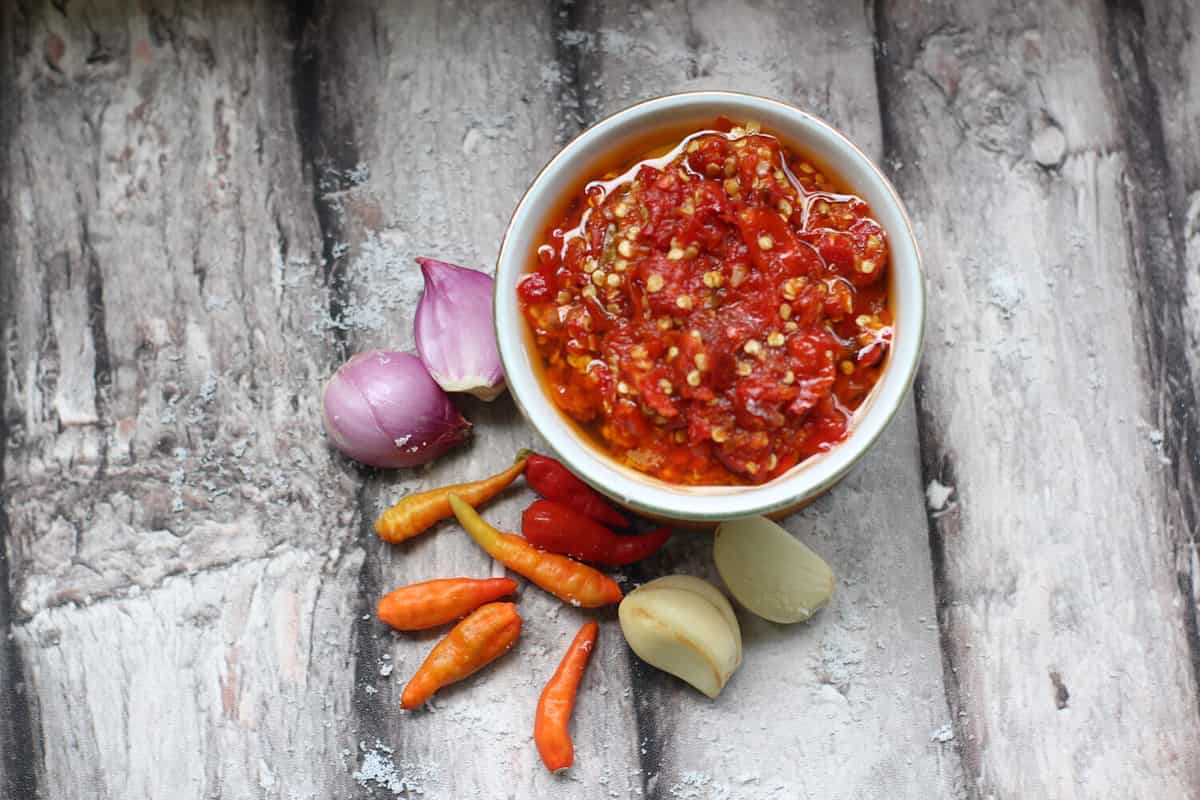 Differences Between the Sauces
Ingredients
Both sriracha and chili garlic sauce are used to bring heat and spice to a dish, but they are made from different ingredients. Sriracha is made from red jalapenos and a mixture of garlic, sugar, apple cider vinegar, water, and salt. Chili garlic sauce, on the other hand, is made from chili peppers, garlic, sugar, salt, and vinegar.
Texture
The texture of chili garlic sauce and sriracha is vastly different. Chili garlic sauce is much thicker and chunkier than sriracha. It has pieces of chili pepper flakes still in the sauce when being used and served. Sriracha is more ketchup-like. There are no flakes or pieces in it, but it is also thicker than most hot sauces.
Flavor
When it comes to flavor, the two sauces are primarily used as a spicier hot sauce. However, there are subtle differences in the flavors. Sriracha tends to be hotter than chili garlic sauce because it is made from jalapeno peppers. Chili garlic sauce has a sweeter underlying tang to it.
The Bottom Line
Sriracha is usually used like a hot sauce, although it's thicker than most hot sauces. Chili garlic sauce, on the other hand, is often used as a dip or paste for a variety of dishes, particularly Asian recipes.
The main difference between sriracha and chili garlic sauce is the pepper they use. Sriracha uses the red jalapeno, while chili garlic sauce, true to its name, uses chili peppers. This makes each sauce unique in both taste and spice.
Sriracha is thinner than chili garlic sauce, which is part of what leads to the hot sauce comparison. Chili garlic sauce has chunks in it, which is what makes it a great dipping sauce. Some may prefer the smoother consistency of sriracha, while others will enjoy the pleasant complexity of chili garlic sauce.
When it comes down to choosing between sriracha and chili garlic sauce, it depends on what you are looking for in your sauce and spice flavor. Sriracha is a thick, hot sauce that can spice up any dish. It's on the spicier side if you are looking for a kick in flavor. Chili garlic sauce is better as a dipping sauce and is more subtle in its heat complexity. It has an underlying sweet taste due to the garlic and sugar. Both are great options when looking to subtly spice up a sandwich or as a dipping sauce for any appetizer.
Print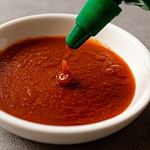 Sriracha Honey Glazed Chicken
---
For the Sriracha Honey Glaze:
1/4

cup

Sriracha sauce

3 tablespoons

honey

2 tablespoons

soy sauce

1 tablespoon

rice vinegar

1 teaspoon

minced garlic

1 teaspoon

grated fresh ginger

1 tablespoon

sesame seeds (optional)
Salt and pepper to taste
For the Chicken:
4

boneless, skinless chicken breasts
Salt and black pepper, to taste

2 tablespoons

vegetable oil (for cooking)
---
Instructions
In a small bowl, whisk together the Sriracha sauce, honey, soy sauce, rice vinegar, minced garlic, grated ginger, sesame seeds (if using), salt, and black pepper. Set aside.
Season the chicken breasts with a pinch of salt and black pepper.
Heat the vegetable oil in a large skillet over medium-high heat. Once hot, add the chicken breasts. Cook for about 4-5 minutes per side, or until they are cooked through and have a golden-brown exterior. Cooking time may vary depending on the thickness of the chicken breasts.
Pour the Sriracha honey glaze over the cooked chicken in the skillet. Reduce the heat to low and simmer for an additional 2-3 minutes, allowing the glaze to thicken and coat the chicken.
Transfer the glazed chicken to serving plates. Drizzle any remaining glaze from the skillet over the chicken. Garnish with additional sesame seeds and chopped fresh cilantro or green onions if desired.
The image featured at the top of this post is ©Gayvoronskaya_Yana/Shutterstock.com.