Head to your local Thai restaurant and you're bound to see two dishes on the menu: Pad See Ew and Drunken Noodles. These popular Thai dishes are two of the most well-known dishes in Thai cuisine, but you may have wondered about the difference between them.
Even though Pad See Ew and Drunken Noodles may appear similar, they bring very different flavors to the table. Pad See Ew is a noodle dish that consists of stir-fried rice noodles. It includes noodles, broccoli, and scrambled egg. The sauce of Pad See Ew also has a sweet and salty flavor. Drunken Noodles, on the other hand, is a spicier dish made with Thai chilies. When you look at Pad See Ew vs. Drunken Noodles, the main difference is their sauce.
Let's take a closer look at the differences in taste between Pad See Ew vs. Drunken Noodles and how you can make them at home.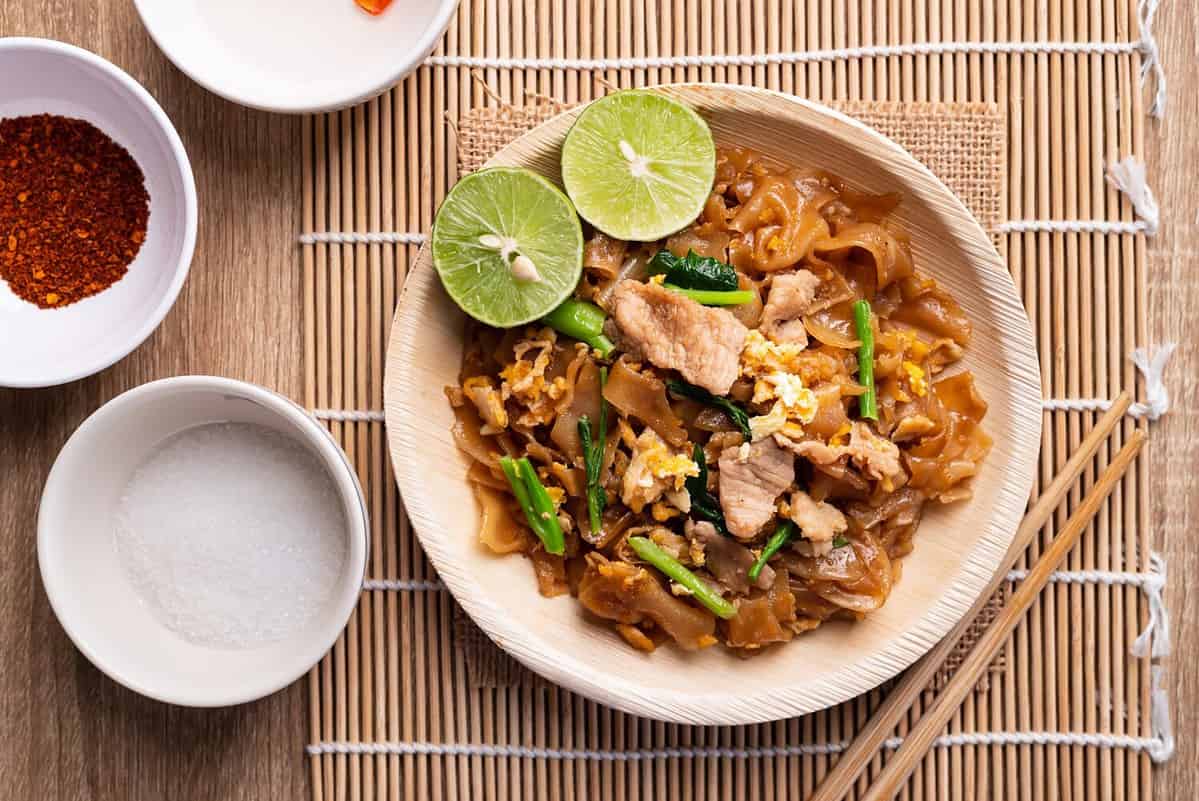 Pad See Ew vs Drunken Noodles: What Is the Difference?
If you're a fan of Thai takeout, you've likely tried Pad See Ew or Drunken Noodles. Or, you might have a favorite dish you stick to but have seen them on the menu and wondered how they taste. When it comes to Pad See Ew vs. Drunken Noodles, they seem similar because they're both noodle dishes with vegetables. However, their flavors and presentation are different.
Drunken Noodles is a spicy dish whereas Pad See Ew has a sweet and salty flavor. The savory sauce that comes with Drunken Noodles is often a combination of oyster sauce, fish sauce, and soy sauce. It also includes chilis which makes it much spicier than Pad See Ew.
Both of these dishes originated in China but when immigrants brought them to Thailand, they adapted the flavors to fit the Thai cuisine. Pad See Ew and Drunken Noodles also both include wide rice noodles that make it easy to experience all the delicious flavors in the sauce at one time.
What Is Pad See Ew?
Pad See Ew is a Thai dish made with stir-fried noodles, soy sauce, and vegetables. It generally comes with a fish or oyster sauce and includes a type of protein such as pork, chicken, and/or scrambled egg.
This dish is sometimes called Thai stir-fried noodles and is popular Thai street food. The ingredients include rice noodles, meat, Chinese broccoli, egg, and garlic. The sauce of Pad See Ew is what makes it stand out from other dishes, and includes a combination of dark soy sauce, light soy sauce, vinegar, sugar, and oyster or fish sauce. To make an authentic sauce, it's essential to include dark and light or regular soy sauce instead of only using one type.
Instead of other typical stir-fry vegetables, Chinese broccoli, also known as Gai Lan, is a signature part of Pad See Ew. If you can't find this green vegetable in your local grocery store, you can substitute broccolini, spinach, or other leafy greens.
What Does Pad See Ew Mean?
The name of a meal can often say a lot about it. In this case, Pad See Ew is a fitting name for this delicious noodle dish. Literally translated, Pad See Ew simply means fried with soy sauce. This dish originated in China like many Asian recipes, but it was adapted when it made its way to Thailand. It has now become a staple in Thai restaurants around the world.
How Do You Make Pad See Ew?
To make Pad See Ew at home, you'll need the ingredients listed above as well as a wok. Part of the flavor of Pad See Ew comes from the rice noodles being caramelized. The best way to make this dish is to cook the meat and vegetables separately from the noodles and sauce.
Rice noodles can easily break during the cooking process and cooking them without the meat helps them stay intact. The best method of cooking Pad See Ew is by cooking the chicken or meat first, then the vegetables, and then the noodles. Once everything is cooked, you can toss all the parts together.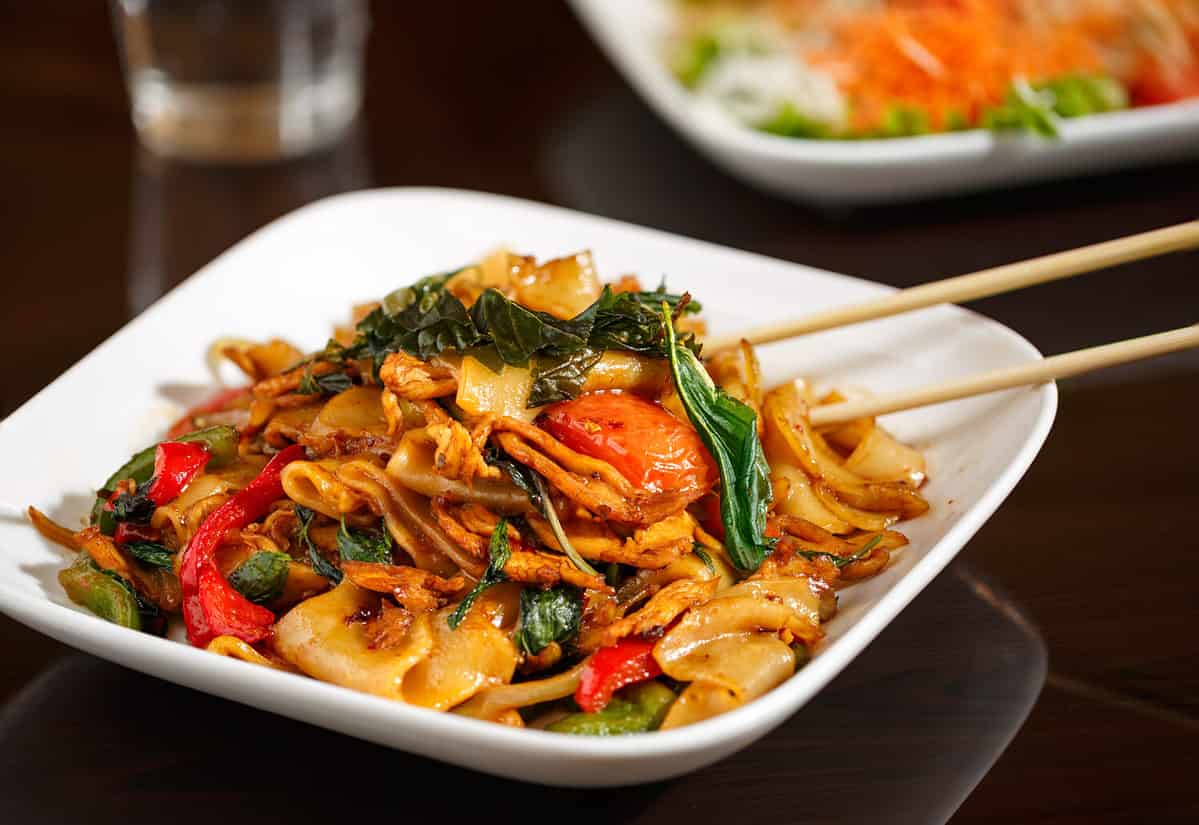 What Are Drunken Noodles?
Drunken Noodles is a noodle-based dish that is popular in Thai restaurants. Also known as Pad Kee Mao, this dish is full of flavor, spice, and crunchy vegetables. It's a common misconception that there is alcohol in this dish due to the nickname Drunken Noodles. Although there are numerous stories about how this became the name of the dish, there isn't any actual alcohol in it.
One possible explanation for the name is that those selling street food would tempt those out drinking late at night with this delicious and spicy dish. No matter how it got its name, Drunken Noodles is a favorite Thai takeout meal and is perfect for lunch or dinner.
The Drunken Noodles you see in Thai restaurants here in the U.S. may look different from what you would see in Thailand. However, the signature parts of this dish are the chicken, Thai basil, and baby corn.
Drunken Noodles is known for its delicious sauce, which is a combination of light soy, dark soy, fish sauce, oyster sauce, and chili peppers. The spice of the chili peppers and the addition of Thai basil are what make Drunken Noodles stand out from Pad See Ew and even from Pad Thai, another popular Thai dish. Pad Thai, like Pad See Ew, is sweet and not spicy like Drunken Noodles.
How Do You Make Drunken Noodles?
The flavors and spice of Drunken Noodles will vary depending on where you order it from. Making the dish at home is a great way to cater it to your own taste, and even make it healthier if that's your style.
To make Drunken Noodles, you'll need all the sauce ingredients as well as chicken, rice noodles, onion, green onion, and Thai basil. You can substitute regular basil as well and when it comes to choosing rice noodles, the wider the better.
You can prepare the dish by preparing the sauce and the noodles separately, then frying the chicken in the fish sauce. Once the chicken is cooked, you can toss the meat, noodles, and sauce together in the wok until they're fully coated.
Nutritional Value of Pad See Ew vs. Drunken Noodles
Most people don't order meals like Pad See Ew or Drunken Noodles for their health benefits, but you may still wonder about their nutritional value. The two meals are relatively similar when it comes to their nutritional values, except Pad See Ew is much higher in sodium. Here's a look at the values of both dishes:
| | | |
| --- | --- | --- |
| Nutritional Values | Pad See Ew (1 Cup) | Drunken Noodles (1 Cup) |
| Calories | 255 | 249 |
| Total Fat | 10 g | 7.6 g |
| Saturated Fat | 2.3 g | 1.4 g |
| Trans Fat | 0 g | 0.1 g |
| Cholesterol | 63 mg | 35 mg |
| Sodium | 1352 mg | 696 mg |
| Carbs | 27 g | 34 g |
| Dietary Fiber | 1.8 g | 1.9 g |
| Sugar | 3 g | 2.1 g |
| Protein | 13 g | 11 g |
| Potassium | 277.7 mg | 341.1 mg |
Takeaway
If you stop by a Thai restaurant, Pad See Ew and Drunken Noodles would both be delicious choices for your meal. Even though they may look similar, there are several differences between Pad See Ew vs. Drunken Noodles.
The sauce is the main difference between the two popular Thai dishes. While Drunken Noodles comes with a savory and spicy sauce, Pad See Ew is more sweet and savory. The Thai basil in Drunken Noodles also gives it a unique flavor.
It may seem intimidating at first, but both these dishes can be made at home with the right recipe. If you're feeling adventurous, try making one of these Thai dishes and see how it compares to your favorite Thai restaurant.